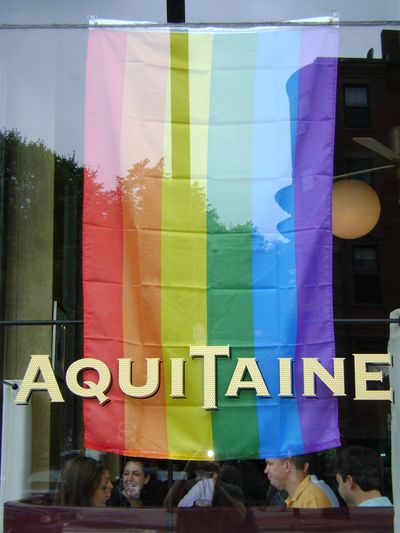 [Image via Bosguy.blogspot.com]
After talking to the awesome staff at Aquitaine for a small Q&A and tasting with beer, Todd and I stayed for dinner. We were invited to do a small tasting and talk to the staff about beer to help answer any questions the staff had in preparation for the Things We Love Summer Of Beer dinner series being hosted at Aquitaine. Life is so hard drinking beer and talking about it with awesome people. We worked up quite an appetite.
** I chose this image in doing a search for Aquitaine's logo. This is an awesome picture due to the fact that not only does Aquitaine support the community in the South End of Boston, but because that flag is still up.
Appetizers:
Summer corn and clam chowder.
Rich and divine summer corn chowder with fresh locally sourced corn and clams. Fantastic and filling. Good balance of cream and wine. And as you can see, meaty clams.