It's fall again and it's beginning to get cold. New England certainly brings the cold. It seems like everyone is ready and has been waiting all summer for fall. The foods, the colors of the leaves changing, the smell of fall and fire places. It's my favorite time of year. I am ready for fall and all it has to offer.

I had a real bad hankering for a rich beef stew. I have never made one before, and like all my cooking adventures, I have to go big. So I made a rich beer stew made with a stout. Founders Breakfast Stout. A chocolate, coffee, oatmeal stout with 60 IBU's, and 8.3% abv. Word to your mothers!

I am roughly following a recipe I found online for my stew. I am going to show you the original recipe but what you see on my post here is the modified version. Anything with an asterisk next to it on the recipe I post has been modified from the original.



The biggest modification to this recipe is the beer. I substituted out the red wine for the beer. The beer I chose is a robust, American/Imperial (double) stout with high IBU's (international bittering units). The complex flavors make for a unique twist on this recipe. The deep cocoa flavors and roasted malts are really amazing for a rich stew. The meat ended up holding on to all of the hoppy bitterness. The vegetables were the sweet contrast to the dish. Also the huge flavor profile on this beer with the vegetables added almost a hint of ginger coming out despite not using any ginger at all. A very good and unique reaction I didn't quite expect.
If you don't want to use something as robust or as bitter as this beer, and believe me it might be too much for some, there are plenty of lighter variations to choose from as well as using porters, brown ales, and Belgian dubbels.
Get a good read of the reviews first to understand why I chose this beer and if this will be the right one for you to use.
Be advised that this is an overnight recipe. You have to marinate your meat overnight.
The Original Recipe

Parker's Beef Stew via Food Network




Founders Breakfast Stout Beef Stew

*2 1/2 pounds of sirloin tips cut into 1 1/2 inch cubes
*2 12oz bottles of Founders Breakfast Stout
*3 to 4 whole cloves of garlic, smashed
*3 to 5 bay leaves
*1/2 tbls onion powder
*1/2 tbls garlic powder
*1 tbls Worcestershire sauce

2 cups all-purpose flour
kosher salt
freshly ground black pepper
olive oil
2 yellow onions, cut in 1 inch cubes
1 pound carrots, peeled and cut diagonally in 1 1/2 inch chunks
1 pound small potatoes halved or quartered
1 tbls minced garlic
2 cups or 1 (14 1/2 oz can) chicken broth or stock
1 large (or two small) branch of fresh rosemary
1/2 cup sun-dried tomatoes
2 tbls Worcestershire sauce
1 10oz package of frozen peas

*The original recipe called for chuck stew, but my meat man had very little offerings by way of chuck stew. I told him I was making a stew and he said sirloin steak tips would work well for stews. Do what the original recipe says and use chuck stew, but for this particular recipe it's sirloin tips. It worked just as well.

Place the beef in a bowl with beer, garlic, and bay leaves, garlic and onion powder and worcestershire sauce. Lightly toss the meat around with the marinade. Place in the refrigerator and marinate overnight.
The next day, preheat the oven to 300 degrees F.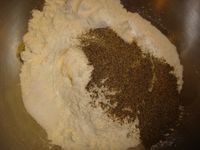 Combine the flour, 1 tablespoon salt, and 1 tablespoon pepper.
Lift the beef out of the marinade with a slotted spoon and discard the bay leaves and garlic, saving the marinade.
*Chop carrots, potatoes, and onions before your begin to brown your meat.
In batches, dredge the cubes of beef in the flour mixture and then shake off the excess. Heat 2 tablespoons of olive oil in a large pot and brown half the beef over medium heat for 5 to 7 minutes, turning to brown evenly.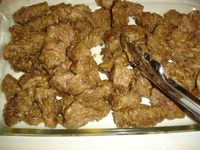 Place the beef in a large oven-proof Dutch oven and continue to brown the remaining beef, adding oil as necessary. (If the beef is very lean, you'll need more oil.) Place all the beef in the Dutch oven.
Heat another 2 tablespoons of oil to the large pot and add the onions, carrots, mushrooms, and potatoes. Cook for 10 minutes over medium heat, stirring occasionally. Add the garlic and cook for 2 more minutes. Place all the vegetables in the Dutch oven over the beef.
Add 2 1/2 cups of the reserved marinade to the empty pot and cook over high heat to deglaze the bottom of the pan, scraping up all the brown bits with a wooden spoon.
Add the chicken stock, rosemary, sun-dried tomatoes, Worcestershire sauce, 1 tablespoon salt, and 2 teaspoons pepper.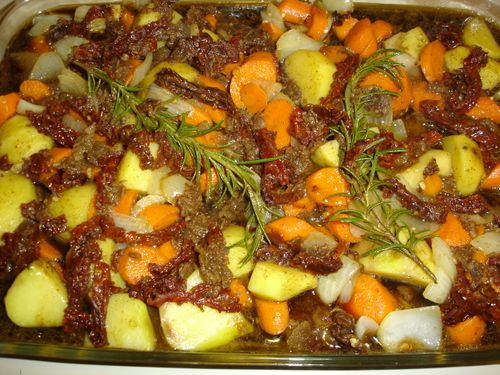 Pour the sauce over the meat and vegetables in the Dutch oven and bring to a simmer over medium heat on top of the stove. Cover the pot and place it in the oven to bake it for about 2 hours, until the meat and vegetables are all tender, stirring once during cooking.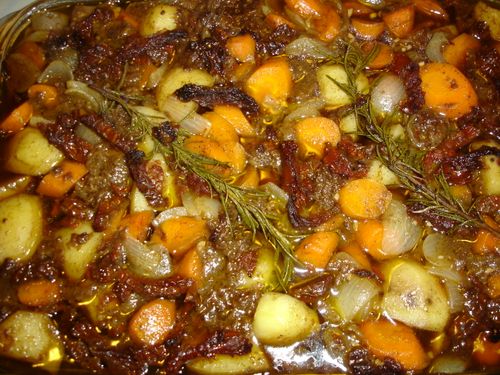 If the stew is boiling rather than simmering, lower the heat to 250 or 275 degrees F.
Before serving, stir in the frozen peas, season to taste, and serve hot.

Serve with warm brown bread and butter.


A couple of things to take notice of. I did not use a proper dutch over for this recipe as you can see in the pictures. I have one, a gorgeous La Creuset. But sadly I only have one and it simply wasn't big enough for this recipe. I used a 9x13 pan because I did not have anything else big enough. And I merely covered it in foil. Still cooked it at 2 1/2 hours. I had a little bit of marinade left over before baking it off. Instead of stiring it up because the pan was so full, I cooked it for an hour and let some of the marinade reduce a bit and then added the remaining marinade to coat the top of the stew. I then transferred the stew to big serving dish where I added the peas.

The flavors from this stew are very big, bold and complex. The beer has oats, chocolate, and coffee in it. The meat retains a lot of the beer's bitterness which I found to be wonderful. Also the bloody iron taste and chocolate flavors from the meat are to die for.
The sun-dried tomatoes were a nice touch to this dish. The carrots, peas, onions, and sun-dried tomatoes added the perfect balance of sweetness to this dish. The original recipe does call for mushroom, but I went ahead and skipped that step. You can easily add celery to this dish as well to make it a bit more classic.

The marinade had a bit of a boozy smell, but with the fresh garlic permeating the entire fridge, that boozy smell comes and goes. You will get big wafts of garlic, chocolate, coffee, and sometimes alcohol. Same aromas once cooked, but much deeper and richer.

And as always, the longer the stew sits, the better it gets. Leftovers will be divine and some of the initial bitterness will tone down a bit. But not too much.

Make sure you serve yourself a pint of the Breakfast Stout to go along with it.
One small disclaimer, a few of my pictures came out blurred. Sometimes I can't tell with my digital camera until I have uploaded them. Forgive my shoddy photography.