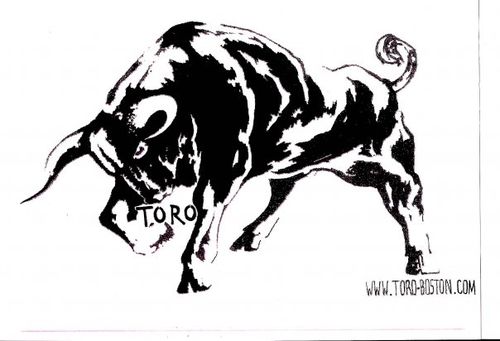 And last but certainly not least, the final Things We Love Summer Of Beer dinner hosted by Toro.
This is how all beer dinners should be hosted. This dinner was quite possibly the best beer dinner we have ever hosted. Toro not only brought it, but they have set a bar that all restaurants should strive to follow or achieve for any beer dinner being hosted.
Jen Fields, the GM and I got together and sorted out a plan to host the final Things We Love Dinner for the summer. We wanted to go big on this dinner. Price was not an object and the size was to be very limited. I am not going to lie, it was once of our more pricey beer dinners. But once you see what it entailed, it was well worth it. If you have never been into Toro before, it's a very quaint and small restaurant. They have two large high tops in the center of the restaurant and we put them together for a limited 20 person engagement. We wanted it to be exactly what the restaurant is, super casual and super chill with some of the best food in the city being served to you. Again following the mantra of Things We Love, we chose beers and ciders that the everyone in the restaurant agreed on, and Sous Chef Mike Smith, created a wonderful menu to compliment the choices.
In my evil mind, I wanted people to feel sorry for themselves if they missed this dinner. I wanted them to feel bad about not jumping all over this opportunity. Toro is not only one of the best restaurants in Boston, but they treated this beer dinner so well, you should feel sorry for yourself if you missed it. And let it be a warning to you to never miss a beer event at Toro ever again.
I don't want to spend too much time hyping this up. I want to get right into this recap and waste no time getting to the glorious food.
Welcoming:
Bud Light Lime Margarita with tequila, elderflower, grapefruit, and lime.
B.L.L tempura rock shrimp with lime salt, shrimp mayo, and charred jalapenos.
I don't need to get into the controversy that we stirred up by backing Toro's decision to use BLL in a swanky beer dinner. I already did that in way too much detail here. We did it to be cheeky on purpose. We did it because it was a pricey dinner and we were there to have fun.
Needless to say, this is was an awesome choice. The BLL margarita was delicious. The rock shrimp and shrimp mayo were wonderful with slightly spicy charred jalapenos, nice crisp but light batter and creamy mayo. It was on both plate and in drink, sweet and tangy flavors.
First Course: Cheese, Charcuterie, Condiments
Beer: Oude Geuze Vielle, 6% (Belgium)
Isastegi Cidra (Spain)
So much going on here. What we did for this course was highlight the comparison of a Belgian Geuze to this terrific Spanish cider Toro carries that drinks just like a sour ale or a geuze. We were really surprised at how much the cider was like a gueze and how terrific it was. We wanted beer geeks to know that something like this existed.
When Jen mentioned cheeses and charcuterie for this course, I immediately agreed knowing how acids and sour beers are perfect for cheeses and fatty meats. What I didn't know was that huge trays of meat and cheese would be coming out in bulk portions. Each one of the cheese and meat boards was served to every four people at the table family-style. We had agreed that family-style was the best way to serve this dinner. We have been big fans of this since the Journeyman dinner. But this was impressive.
Now, you will have to forgive me because I did not write down every cheese or bit or charcuterie. There was so much going on with both plates. But I encourage you to click on each picture and enlarge them to see the details on the boards. I was most impressed with the crab apple butter on the meat board. The little pink dollop in the center of the board. It was a well rounded condiment for all the meats. So fun to explore and try the different condiments.
Continue reading "BeerAdvocate Presents: Things We Love Summer Of Beer @ Toro 8/29/11" »