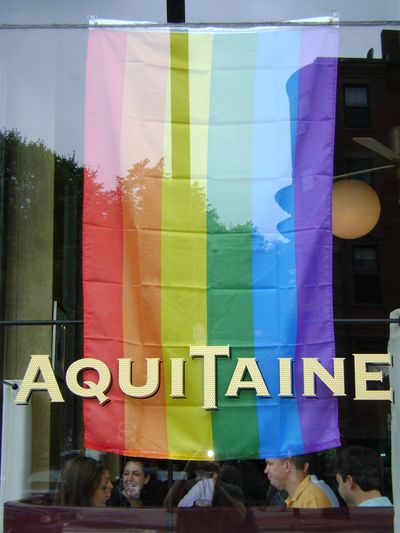 [Image via Bosguy.blogspot.com]
After talking to the awesome staff at Aquitaine for a small Q&A and tasting with beer, Todd and I stayed for dinner. We were invited to do a small tasting and talk to the staff about beer to help answer any questions the staff had in preparation for the Things We Love Summer Of Beer dinner series being hosted at Aquitaine. Life is so hard drinking beer and talking about it with awesome people. We worked up quite an appetite.
** I chose this image in doing a search for Aquitaine's logo. This is an awesome picture due to the fact that not only does Aquitaine support the community in the South End of Boston, but because that flag is still up.
Appetizers:
Summer corn and clam chowder.
Rich and divine summer corn chowder with fresh locally sourced corn and clams. Fantastic and filling. Good balance of cream and wine. And as you can see, meaty clams.
Chicken Liver mousse terrine.
I LOVE chicken liver pates and mousse. This was perfectly whipped liver mousse, and beautifully flavored. None of that overly steely liver taste. Delicious. Some of the best liver mousse I have had in a while.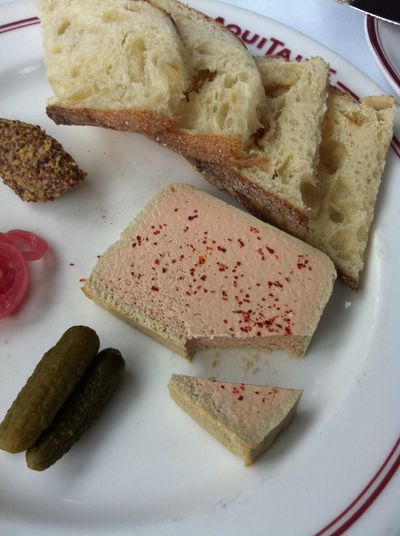 Chef's treats:
Melon and pork cheek soup.
Fresh melon soup with crispy pork cheeks and champagne grapes. Dunk the grapes, sip the soup, bit the bacon. Salty, sweet, cool, and awesome. So much flavor in one little tasting. The perfect summer bite.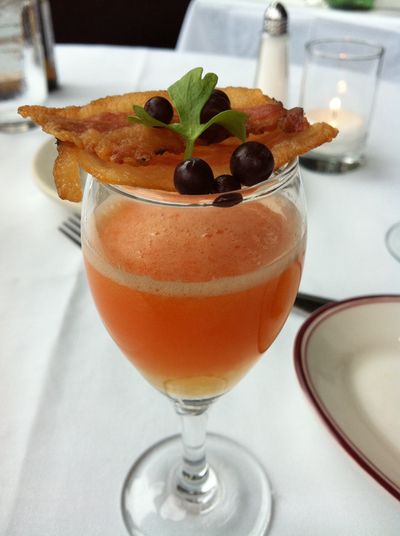 Wild Boar schnitzel with beets and olive croquette.
Juicy, delicious wild boar schnitzel with an olive croquette and beets. It doesn't sound like it would all come together, but it did. Lightly pickled beets and the soft croquette with olives were amazing together with a bite of the schnitzel. Good breading and lightly pan fried.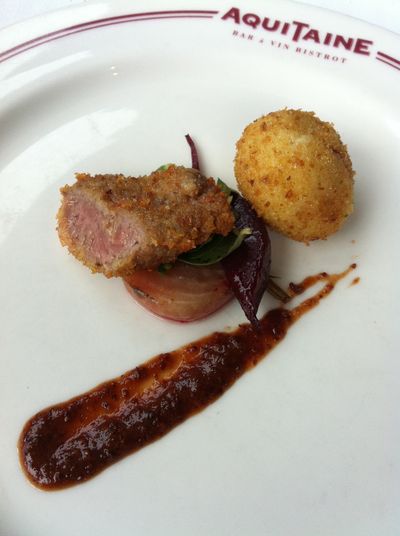 Entrees:
Pan roasted Hake with quinoa and summer carrots.
Juicy and large portion of fish. Rich red quinoa with locally sourced carrots. Again, rich and filling with lovely rustic flavors for a fish dish.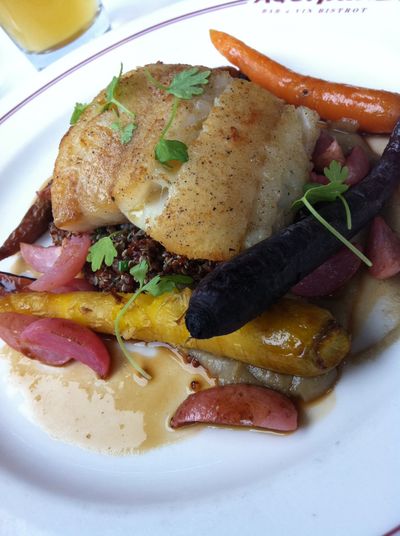 Braised Beef Short Rib with English peas and potatoes.
My favorite thing, beef short rib. This was the epitome of a rich dish. Buttered whipped potatoes, English peas with spring onions, and a delicious mustard braisage. So unbelievably rich but I couldn't stop eating it. Peas are my absolute favorite too.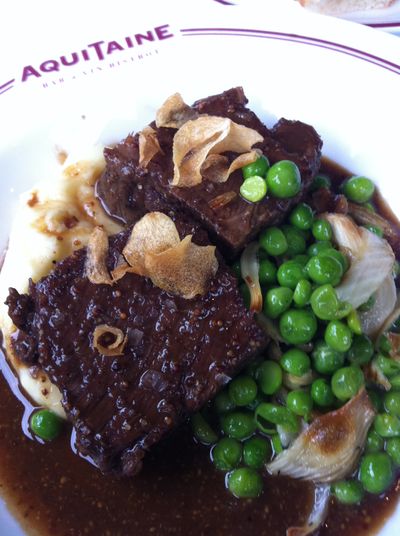 Desserts:
Bittersweet chocolate mousse with malted Chantilly cream.
As if I didn't send myself over the edge with the Braised Short Rib, I push myself further with a cappuccino and a super rich (I can't stress rich enough during this meal) chocolate mousse with Felchlin 60% bittersweet cacao and malted whipped cream. Big bold chocolate taste with rich coffee flavors.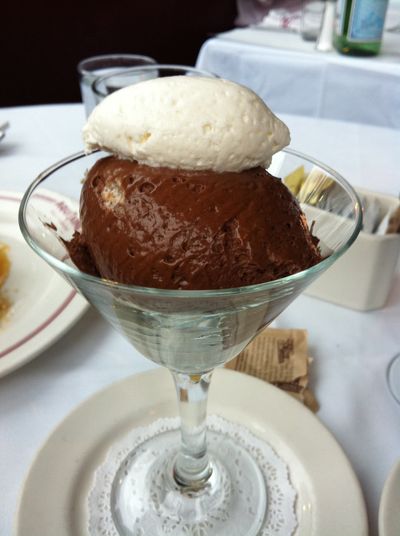 Chocolate bread pudding with vanilla ice cream.
And even worse, the chef sent us the chocolate bread pudding. Crispy pudding, with an insanely rich buttery caramel sauce drenched all over the pudding. The vanilla ice cream only barely cut the richness. I couldn't stop eating it even though I was already so full. If someone sends you a delicious dessert you don't turn it away. Especially when it's made with butter and awesome Swiss chocolate.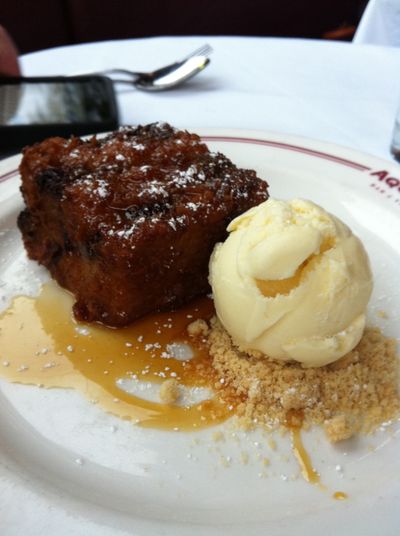 Best gluttonous meal I have had in a long time. I was sent completely overboard on the full card, but it was worth it. Aquataine rules my world right now.