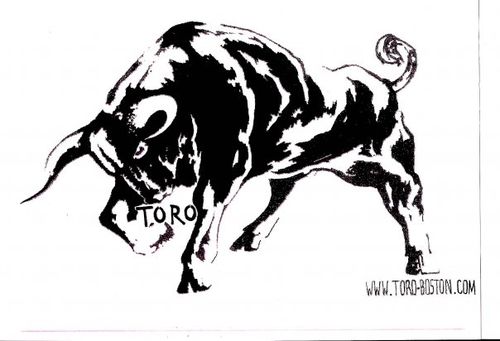 And last but certainly not least, the final Things We Love Summer Of Beer dinner hosted by Toro.
This is how all beer dinners should be hosted. This dinner was quite possibly the best beer dinner we have ever hosted. Toro not only brought it, but they have set a bar that all restaurants should strive to follow or achieve for any beer dinner being hosted.
Jen Fields, the GM and I got together and sorted out a plan to host the final Things We Love Dinner for the summer. We wanted to go big on this dinner. Price was not an object and the size was to be very limited. I am not going to lie, it was once of our more pricey beer dinners. But once you see what it entailed, it was well worth it. If you have never been into Toro before, it's a very quaint and small restaurant. They have two large high tops in the center of the restaurant and we put them together for a limited 20 person engagement. We wanted it to be exactly what the restaurant is, super casual and super chill with some of the best food in the city being served to you. Again following the mantra of Things We Love, we chose beers and ciders that the everyone in the restaurant agreed on, and Sous Chef Mike Smith, created a wonderful menu to compliment the choices.
In my evil mind, I wanted people to feel sorry for themselves if they missed this dinner. I wanted them to feel bad about not jumping all over this opportunity. Toro is not only one of the best restaurants in Boston, but they treated this beer dinner so well, you should feel sorry for yourself if you missed it. And let it be a warning to you to never miss a beer event at Toro ever again.
I don't want to spend too much time hyping this up. I want to get right into this recap and waste no time getting to the glorious food.
Welcoming:
Bud Light Lime Margarita with tequila, elderflower, grapefruit, and lime.
B.L.L tempura rock shrimp with lime salt, shrimp mayo, and charred jalapenos.
I don't need to get into the controversy that we stirred up by backing Toro's decision to use BLL in a swanky beer dinner. I already did that in way too much detail here. We did it to be cheeky on purpose. We did it because it was a pricey dinner and we were there to have fun.
Needless to say, this is was an awesome choice. The BLL margarita was delicious. The rock shrimp and shrimp mayo were wonderful with slightly spicy charred jalapenos, nice crisp but light batter and creamy mayo. It was on both plate and in drink, sweet and tangy flavors.
First Course: Cheese, Charcuterie, Condiments
Beer: Oude Geuze Vielle, 6% (Belgium)
Isastegi Cidra (Spain)
So much going on here. What we did for this course was highlight the comparison of a Belgian Geuze to this terrific Spanish cider Toro carries that drinks just like a sour ale or a geuze. We were really surprised at how much the cider was like a gueze and how terrific it was. We wanted beer geeks to know that something like this existed.
When Jen mentioned cheeses and charcuterie for this course, I immediately agreed knowing how acids and sour beers are perfect for cheeses and fatty meats. What I didn't know was that huge trays of meat and cheese would be coming out in bulk portions. Each one of the cheese and meat boards was served to every four people at the table family-style. We had agreed that family-style was the best way to serve this dinner. We have been big fans of this since the Journeyman dinner. But this was impressive.
Now, you will have to forgive me because I did not write down every cheese or bit or charcuterie. There was so much going on with both plates. But I encourage you to click on each picture and enlarge them to see the details on the boards. I was most impressed with the crab apple butter on the meat board. The little pink dollop in the center of the board. It was a well rounded condiment for all the meats. So fun to explore and try the different condiments.
Second Course: Samurai pickled oysters, foie gras, kabayaki, puffed rice, and yuzu.
Beer: Great Divide Samurai Ale, 5.1% (Colorado)
This was certainly a mouthful of pure richness. I am not sure if you were supposed to eat this in one bite or not, but I did. Flavor explosion and slowed arteries. As you can see, the foie gras was more than generous in the shell, the pickled oysters added a balance of acidity as well as the softer yuzu foam. Of course it was paired with the Samurai ale, a very nice and clean, yet fuller bodied rice ale from Great Divide. Clean but robust hops to cut the fats of the foie. All three delicate acids worked in tandem against the giant slab of foie gras. Each adding a unique flavor as it interacted with the foie gras.
Third Course: Pork Belly, heirloom succotash, burgundy snails.
Beer: Lost Abbey Red Barn Ale, 6.7% (California)
Shit just got real! There has been foodie snobbery lately proclaiming that pork belly is over used in restaurants today and that it's getting played out. I am in the house of STFU! Pork Belly never gets old and especially when it's cooked to perfection with tender meat and crispy skin.
Huge portion of pork belly and a spectacular succotash with the burgundy snails drenched on top. Another plate of flavor exploding goodness. Red Barn Ale is a spicy farmhouse-style ale with complex flavors that really turned itself out with this dish. Peppery notes, cloves and cinnamon, slightly sour and a tad funky. Excellent beer for fatty pork belly. And the complex richness of it's flavors worked tremendously well with the succotash.
Our large table was quite a lively table with lot's of different discussions happening. You know this was a serious course when it kind of quieted down, and people were concentrating on this dish.
Fourth Course: Late summer vegetables with hazelnuts and goats milk yogurt.
Beer: Avery "Salvation," 9% (Colorado)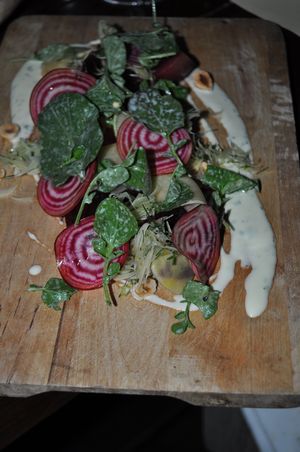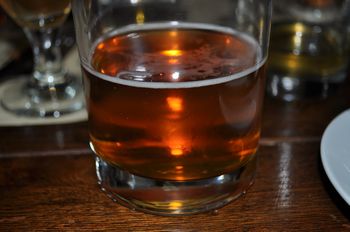 Earth and malts course. Sweet malty Avery Salvation ale with earthy greens and herbed goat yogurt. Very rustic, and very clean. A good way to slow things down a bit and lighten the load. Creamy and tangy goat cheese yogurt and steel-y malts from the beer, earthy and dirt flavors from the salad, and hazelnuts to round it all out were just fantastic. Again served on wood blocks for every four people at the table.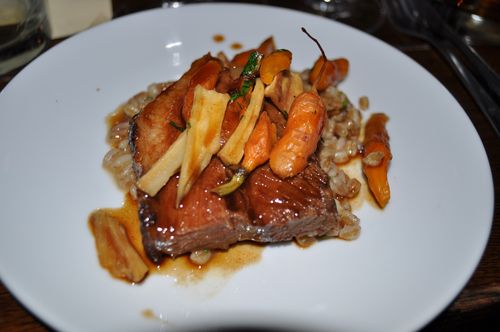 Fifth Course: Maple glazed brisket, toasted farro, marrow roasted root vegetables, horseradish.
Beer: Shmaltz "He'Brew Bittersweet Lenny's" R.I.P.A.," 10% (New York)
The piece de resistance. Jesus Christ Bananas this was good! The perfectly tender brisket with amazing maple glaze and the root vegetables were to die for! The beer of course is one of my favorites from Smaltz. Perhaps one of the best in their profile. A double rye IPA with big malty flavors and yet still has the drying clean effect from the rye. The sweet malts and the maple glaze on the brisket, the toasted farro for the right approach for a starch on the plate, with the hops working on the fatty marrow roasted vegetables was the best combination of the night..... Well, until dessert came anyway.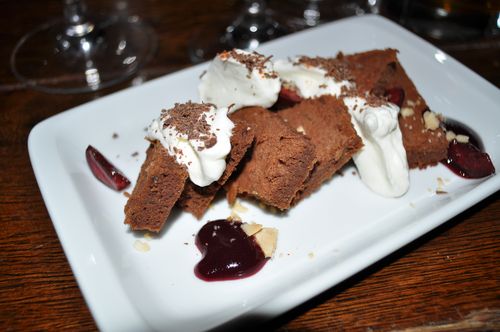 Dessert: Cherries, Mast Brothers Chocolate, Marcona almonds.
Beer: Brouwerij Van Honsebrouck N.V. "Kasteel Rouge," 8% (Belgium)
Finally! A chocolate dessert in this town NOT made with Taza. Sous Chef Mike Smith, really likes Mast Brothers and decided to to a light and airy chocolate cake made with Mast Brothers chocolate, topped with fresh whipped cream and chocolate shavings. Oh yeah, and cherries! Cherries in the beer and on the plate.
Deep black cherry flavored beer with a deep black cherry color. Sweet and rich but completely drinkable. Not cloying and over the top just rich and pretty. The chocolate cake was light and exactly what we needed after an insanely rich meal. The beer itself could have been served alone as dessert and I think everyone would have been happy with that. But this cake just light enough for everyone to be able to finish dessert with some ease.
What can I say? Toro killed it. I mean absolutely nailed it. It was an easy, casual dinner with some exceptional food and beer pairings. A special thank you to Andy McNees, for making the best Vieux Carre's in the city and ones we shamelessly imbibed on after the dinner.