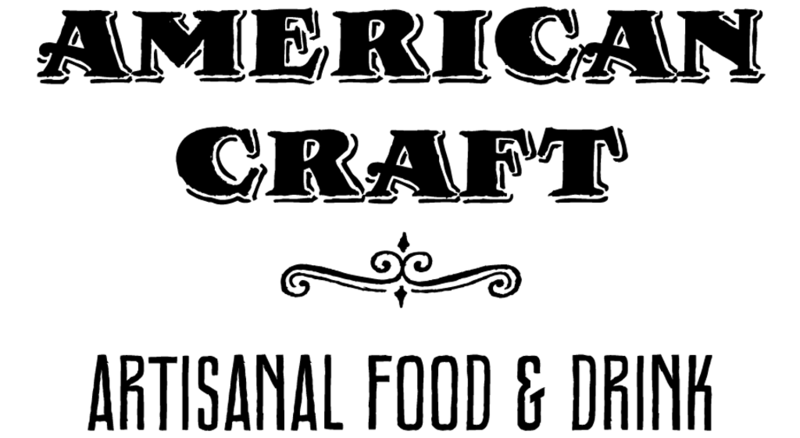 I attended American Craft's very first beer dinner last night featuring rare beers from Rob Tod of Allagash Brewing Co. and American-style comfort food.

American Craft has been off to a really great start. Their focus is on local foods and ingredients, with American craft wines and beers. The food is really good and comforting, the beers are great, and this first beer dinner was spectacular.

You can see a couple of their menu items here. This was from their opening night.

A Quick Glance @ American Craft

I don't want to waste anytime here, so let's get right into it.






We were first welcomed with a glass of Interlude. An American-style wild ale with about 9.5% abv.


Allagash Interlude
(via Allagash's website)
The first release in our new experimental series, Allagash Interlude pushes the limits of beer. An innovative brewing process, special fermentations, and French oak barrel aging all contribute to a beer that has remarkable wine-like qualities.
Two yeast strains were used to create this unique 9.5% ABV Belgian style ale. The first, a Belgian farmhouse yeast, establishes the flavor foundations of a classic Belgian-style ale. The second, a house strain of Brettanomyces yeast, brings it to the next level contributing an intriguing myriad of flavors including pear, apricot, graham cracker, and bread crust. Finally, a portion of the Interlude is aged in French Merlot and Sirah oak barrels, which impart a distinctive vinous plum character and a drying, almost tannic finish. Try complementing its audacious character with food pairings such as sausages, salami, smoked meats, and bold cheeses.
True to traditional Belgian-style brewing, we bottle condition the Interlude. Just prior to bottling, a fresh dose of sugar and yeast is added to the 'still beer' (at this stage there is no carbonation present). After bottling, the beer is aged in a warm room, where the fresh dose of yeast ferments the sugar and naturally carbonates the beer.
Available in: 750 ml bottles
Original Gravity: 1080
Recommended Serving Temp: 40-50°F
Recommended Cellaring Temp: 50-54°F

I am not a Brettanomyces fan in general, but I have been coming around to Interlude for a while now. It's a delicious beer. A little fruity and bread-y, and a hint of tartness.







First course: Confit Beef tongue with Foie Gras Mousse

Beer: Vagabond, American Wild Ale with 10% abv.


Vagabond is the second offering in our limited 375 ml series. With only 500 bottles made, this beer is from one of the only barrels to move with us into our new brewery three years ago. Aged four years in American oak barrels, it boasts a complex aroma of maple syrup and port, with background notes of marzipan, plum and dill. Flavors of tart, unripened plum and caramel give way to a warming, toasted almond finish. As always...an adventure.



Topped with micro greens and a hit of a sea salt. This course was decadently rich. The beef tongue was thin and rich. Sadly for me, I was only able to eat the beef tongue and greens and one or two small bites of the foie gras. It was so rich and fatty and I could feel my arteries clogging on the spot. This sort of indulgence shouldn't exist.

However, this pairing worked amazing with the beer. Vagabond has a deep rich dark fruit aroma and toasted almonds, a light carbonation, a bit of tartness with a nice oak flavor and a deep dried fruit taste like figs or dates.

The flavors just worked so well with the fatty foie gras. This pairing also worked with the Interlude. I still had my welcoming beer in front of me and the tartness helped cut through through the fats and allowed some of the grape-y flavors to present itself on the beer.

This is some of the last offerings of Vagabond. This super indulgent pairing was the right way to go with this beer.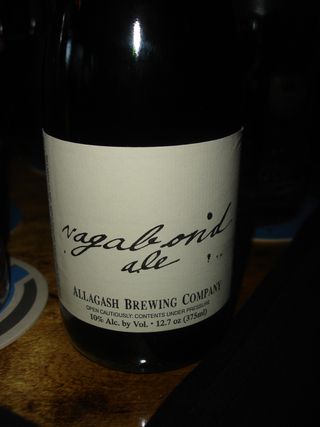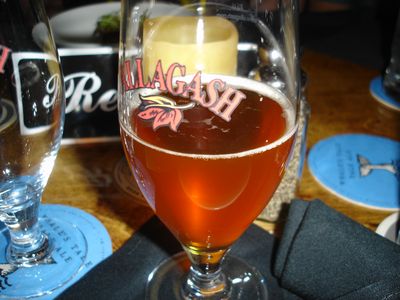 Second Course: Braised pork belly with bacon vinaigrette.

Beer: Allagash White, witbier with 5.2% abv.


Allagash White
Our interpretation of a traditional Belgian wheat beer, Allagash White is unique and truly refreshing. Brewed with a generous portion of wheat and our own special blend of spices, this beer is light and slightly cloudy in appearance, with a spicy aroma. Overall, it is a beer that is very drinkable and smooth any time of the year.


The menu description was a little deceptive here. It was braised pork belly, but breaded and deep fried and it had a dab of apple puree on top.

The transition of beers was a bit awkward at first. A sip of Vagabond and then a sip of a refreshingly light witbier flooded the palate with yeasty banana flavors. I wasn't sure at first how this pairing would work out.

But when the pork belly arrived, this pairing was fantastic together. Bright carbonation and spices from the beer helped cut through the fat, and add a delicious pop to the pork flavor. The apple puree added a nice balance of sweet to this course.

The pork belly was rich, meaty and fatty at the same time. Delicious and well executed. The Allagash White was a surprisingly good pairing for this course. Sometimes you are just not sure if a lighter beer will hold up to a heavier course, but the effervescent carbonation and spicy character held up well and took on the fatty pork to make a nice contrasting paring.



Third Course: Tuna with parsnip puree and black truffles.

Beer: Coolship Cerise


Cooled in a traditional Coolship and fermented in oak barrels w/ tart local cherries; 5.5%" I was at the inaugural brewday for this beer ... around 3 years ago.
The stainless steel coolship is in a shed off of the brewery w/ stainglass windows that open to allow wild bacteria and yeast to infect the beer.

Todd Alström


January 2008
Always an adventure… Allagash is taking experimentation to the next level by brewing a 100% spontaneously fermented beer in the tradition of the Belgian Lambics.
Last month we brewed the first two of our spontaneously fermented beers at Allagash. In brewing these beers we are using an authentic, traditional process honoring the classic Belgian Lambic tradition, including the use of a cool ship, which we built specifically for these spontaneous beers.
The process begins with a specialized decoction mash, which utilizes the addition of both two row barley and raw, unmalted wheat. After the mash and sparge, we add aged hops during the boil, which are traditionally used because they impart many of the beer stabilizing benefits of hops without contributing bitterness. The use of aged hops (aged a minimum of three years) necessitates an unusually long boil of over four hours.
After boiling, rather than cooling the beer in a sterile environment and adding a brewer's yeast culture, the hot wort is pumped to a cool ship in a special room designed specifically to make these beers. The cool ship is a commonly used tool in Belgium, but is rarely seen beyond Belgium's borders, if at all. It is a large, open tray that is 12 feet long, 8 feet wide and 1 foot deep. Once in the cool ship the hot wort spends the night cooling from near boiling temperatures to about 60 degrees Fahrenheit. To facilitate the cooling process, windows in the cool ship room are left open overnight. The cool Maine air, containing natural bacteria and wild yeast, drifts in and cools the wort. As soon as the wort is cool enough, the natural airborne yeasts and bacteria are able to survive in what will eventually be the spontaneously fermented beer (it is these natural yeasts and bacteria which will ferment the beer, rather than a yeast added by the brewer). Next, the wort is pumped back into a brewery tank, where it will spend one further day before it is pumped into special French oak barrels. Within one to three weeks, spontaneous fermentation begins in the oak and will continue for over one year. After the yearlong fermentation this traditional beer will age in French oak for at least one more year, sometimes with the addition of fruits, before it is finally bottled.


This was my favorite course. The tuna was cooked perfectly and the sweet parsnips added an unbelievably good balance to this dish. Everyone else was savoring this course, while I foolishly ate all of mine in about two minutes.

The beer was quite amazing. It had a very, very funky and robust nose. All the hallmarks of a dank and nasty sour beer. For sours heads, they will understand what all of this means. It doesn't sound very appetizing, but it the nature of sour beers. It smelled like a stank-ass barnyard, small hints of mint and medicinal notes, baby diapers, but underneath all of that, was a quite peculiar aroma of cinnamon.

The cherries presented themselves after it had warmed a bit. They added a lovely kick without being overpowering and did not make this a typical fruit beer. A tart beer but not overly sour. One thing I can't deal with when it comes to sour beers are the ones that are so acidic and sour they burn your throat. Some people love, that but I prefer to enjoy my beers without psychical pain. This funky beast was good for that. The nose is disarming as it is so funky on it's aroma, but almost delicate in it's taste.

This pairing was interesting. The parsnips added the sweet balance while the sour tartness on the beer mixed with the tuna giving the tuna an almost creamy texture. Sounds strange, but man oh man was it good!

This beer is not for sale any where and will be very different with each batch brewed. It's meant for special occasions at the breweries discretion.


Fourth Course: Duck breast with cider and peppercorns.

Beer: Victoria, Belgian strong pale ale with 9% abv.



To create our unique, Belgian-style Victoria Ale, the brewers drew on references to Bacchus, the Thracian god of wine, in the history and artwork of the Victoria Mansion as inspiration for this new beer. One hundred and fifty pounds of Chardonnay grapes were brought in, crushed on site and added directly to the mash.
Victoria Ale's aroma is of fruity spice with a hint of the Chardonnay, and the taste presents subtle notes of green banana, black pepper, and fresh-crushed mint. With a focus on the subtle, wine-like character of the grapes, the 9.0% ABV brew boasts a pale copper color, Belgian yeast influence, and a medium body with a long candied fruit finish with hints of honeydew melon, and, of course, Chardonnay.
Allagash Victoria Ale is a tribute to the historic Victoria Mansion here in Portland, Maine. Also known as the Morse-Libby House, it is one of the greatest 19th century houses in the United States. Designed by architect Henry Austin, the mansion was built between 1858 and 1860 and survives as a unique example of the princely palaces created for America's wealthiest citizens in the pre-Civil War era. With superb architecture and well-preserved original interiors, the Victoria Mansion is an unparalleled document of America's highest aspirations in architecture, interior design, and the decorative arts.



Perfectly cooked duck breast served nearly rare and incredibly juicy. This was one of those pairings where I wasn't sure how the beer would hold up to the rich gaminess of the duck. The sweet Belgian yeast profile worked well with the steel-y game taste of the duck.

The peppercorns added a nice spicy kick and flavor that played with the sweet beer. The cider added a nice sweet and tart balance while the puree gave it another added layer of depth with it's creaminess.
I wasn't a huge fan of the beer. Chardonnay's are not my style of wine and having the grapes in the beer didn't do anything for me. I also found the beer to be a little too sweet. But this is all personal preference because my palate only wants dry, bitter, and hoppy beers these days. Technically this is a very cool beer which did work wonderfully with the duck.
I was wrapped up in conversation, and managed to forget to take a picture of the beer for this course.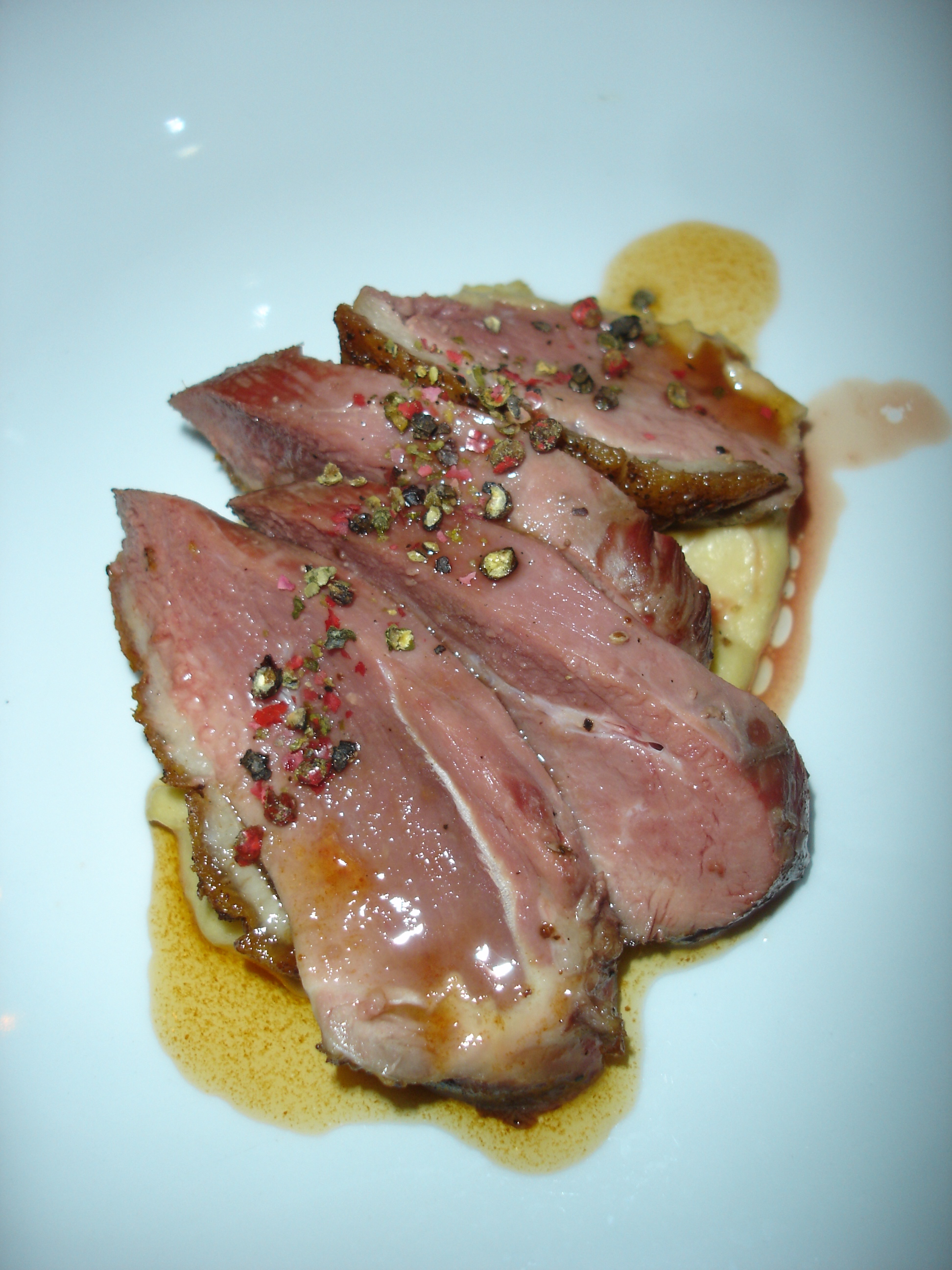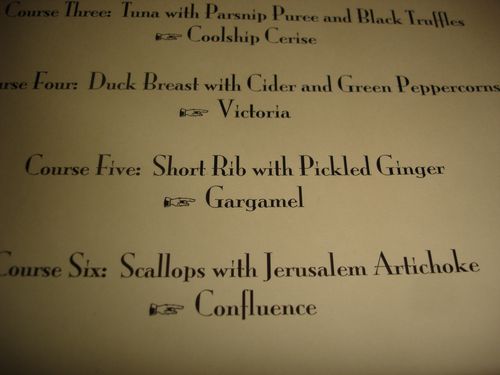 Fifth Course: Braised short rib with pickled ginger.

Beer: Gargamel, American wild ale, 9.2% abv.



Gargamel, a Belgian Style sour ale, is the first offering in our limited release 375 ml series. Our brewers used a blend of American 2-row barley Malt, Raw and Malted wheat and selected caramel malt to brew this beer. After primary fermentation the beer was inoculated with our house Brettanomyces aged in French Oak wine barrels with a generous amount of local raspberries for over 18 months. Gargamel's aroma is full of un-ripened raspberry, vanilla and citrus notes. This medium bodied beer has hints of biscuit and graham cracker with a clean, fruity and refreshingly tart finish.
Gargamel is the first in the hand-filled, 375 ml series that Allagash will release throughout the years. More exciting barrel-aged beer to come!


This was one of the first entrees I had when American Craft first opened. They serve you a huge slab of short rib that is so tender it's a miracle it keeps it's shape.

This was served a bit differently with the pickled ginger on top. The pickled ginger really brought this pairing together. Again all the textures were present with a beautiful fatty and super tender short rib, creamy mashed potatoes and sweet and tart kick of the pickled ginger coupled with the tart beer. Slight fruity hints on the aroma with some fruity hint in the flavor. The slight fruit notes on the beer really worked with the rich beef flavor while the sourness on the beer helped cut right through those fats.

Once again I managed to not get a picture of the beer. But the short rib picture was enough for me. That thing was so tender and delicious.

Rob Tod discussing Gargamel. What's your buzz level Rob? On a scale of 1-10?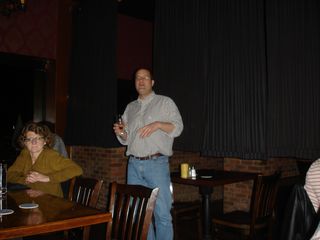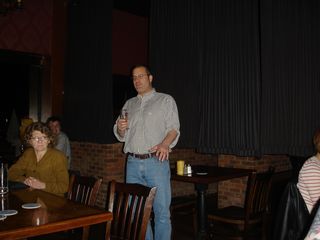 Sixth Course: Scallops with Jerusalem artichokes.

Beer: Confluence, American wild ale, 7.4% abv.



Allagash Confluence Ale
Allagash Confluence Ale is created with a mixed fermentation; utilizing our house primary Belgian style yeast in combination with our proprietary Brettanomyces strain. The two yeast strains work in tandem creating a marriage between spice and fruit flavors that ultimately leave a lingering silky mouth feel.
Confluence is brewed with a blend of both imported pilsner and domestic pale malts as well as a portion of caramel malt, resulting in a complex malty profile. Tettnang and East Kent Golding hops are added in the brew process to balance the intricate malty profile while adding a sweet and spicy citrus aroma.
After fermentation, Confluence undergoes a lengthy aging process in stainless steel tanks to enhance the flavors. Prior to bottling, it is dry hopped with a Glacier hops, providing a pleasant balance of aromas. Confluence is then bottle conditioned and aged in our cellar prior to release.
Original Gravity: 1064
Recommended Serving Temp: 40-50°F
Recommended Cellaring Temp: 50-54°F




This seems like an odd choice to have served scallops last or after the braised short rib. But, these scallops were so fresh, soft, and flavorful. They really held their own after the deeply rich and fatty courses before it. And without a dessert course it was a nice softer way to end the meal.

The quintessential contrast pairing for the night. Sour, lightly fruity beer with big sweet scallops and a gorgeous creamy artichoke puree. The beers mild carbonation allowed for more of the sweet creamy texture of the scallops to come through. Just a fantastic and lovely way to end the dinner.



Sadly there wasn't a dessert for the dinner. The restaurant will be introducing them soon to the menu. This menu was so rich and to top it off with some more rich chocolate cake and some Allagash Odyssey could have pushed us all over the edge, but it was have been worth it. But I am not complaining about an amazing six course dinner. Those scallops were sweet and rich enough to have acted like a dessert. We had a conversation for a few hours after the fact about this dinner. Everyone was satisfied and everyone had good detailed thoughts about what they got out of the dinner.

Besides, we all took a walk down to the Publick House afterward to drink "Larry" from Wachusetts. Can't say there is anything wrong with ending the night with some DIPA's.

If you still think American Craft is like the former Roadhouse or possibly isn't any good after seeing this menu, you're a fool and the joke is on you if you avoid this place. Hears to many more wonderful beer dinners that are on the way from American Craft.