I had a real bad hankering for yellow cake with chocolate frosting. So I looked around the net and found some good recipes. One was for basic yellow cake, but I didn't have any milk, so I substituted the milk with heavy cream. I had a lot of cream left over from when I recently made a batch of ice cream. Then I found an awesome recipe for hot fudge frosting. It's every bit as good as it sounds. Let's jump into this recipe shall we?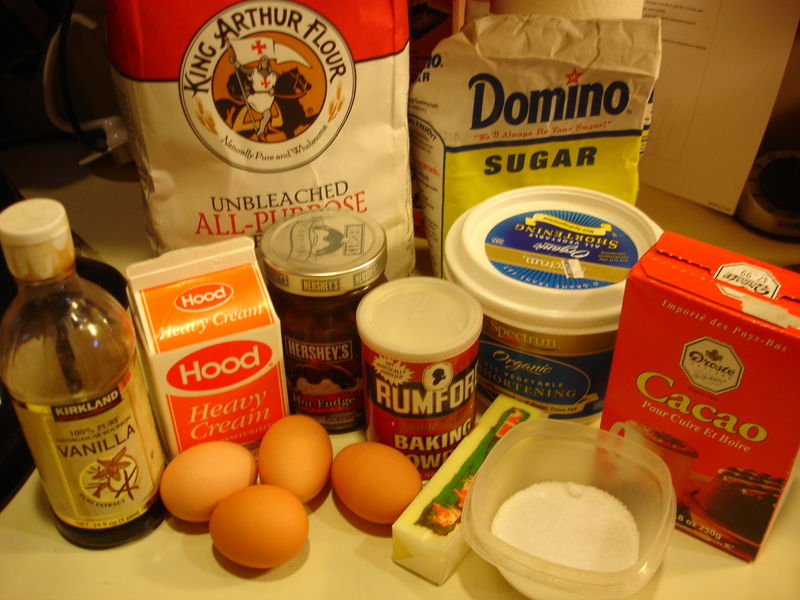 Side Note: Look at how manky my vanilla bottle looks? That was a huge bottle from Costco. It only cost $7 bucks and has lasted me forever, but it's messy to use.

The recipe for this cake comes courtesy of Allrecipes.com.

Four Egg Yellow Cake


INGREDIENTS
1 cup shortening

2 cups white sugar

4 eggs

2 teaspoons vanilla extract

2 3/4 cups all-purpose flour

3 teaspoons baking powder

1 teaspoon salt

1 3/4 cups milk
DIRECTIONS
Preheat oven to 350 degrees F (175 degrees C). Grease and flour one 9 x 13 inch pan.

Cream together shortening and sugar. Beat in eggs and vanilla.

In a separate bowl, combine flour, baking powder, and salt. Add to creamed mixture alternately with milk. Mix well. Pour batter into prepared pan.

Bake for 45 minutes, or until cake tests done. Cool.




Start by creaming the shorting and sugar together. Beat in the eggs and vanilla.


I didn't mix my powders in a separate bowl. The recipe calls for that, but with my mixer, I just put the ingredients in one at a time. Some recipes are a very explicit that you follow it step by step. I generally recommend that, but since it's simple cake it's not necessary.







Flour, baking soda, salt (no picture of the salt), and heavy cream.

I mixed in the flour one cup at a time and added some cream in to the mix in parts as well. Keeps it blended well through out.






How to properly grease your cake pans. I am using two 9' rounds. There is only one real way to grease your pans. Soft butter or shortening and flour. Though I am a fan of cooking sprays with flour added. I use those mostly for intricate bundt pans.






Use a paper towel and get a good wipe of the shortening. That's what I used in this case. Coat the pans really well making sure to coat the sides of the pan and into the creases of the pan.






Take a small handful of flour and toss it into the greased pan. Lightly tap the flour around the pan to make sure it coats all of the greased areas including the sides. You can do this over your sink or trash can. Dump out the excess flour.






Take half of the batter and spread it into one of the cake pans. The batter will be thick based on using heavy cream. This is okay.

Make sure you have even amounts in both pans. I use a scale to make sure the batter weights the same in each. If you don't have a scale, make sure you eyeball it as accurately as you can.






Bake for around 45 minutes. Make sure you do a clean knife test before pulling out of the oven to cool. Once the cake is done. let it cool for around 15 minutes in the pan, and then remove from pan and cool on a rack upside down. The cake will be heavy, do not over handle or it will break apart.

Chocolate Fudge Butter Cream Frosting


INGREDIENTS
1/2 cup butter

1/4 cup shortening

1/3 cup unsweetened cocoa powder

2 cups confectioners' sugar

2 tablespoons milk

1 cup hot fudge topping

1 teaspoon vanilla extract
DIRECTIONS
Cream together the butter or margarine with the shortening.

Sift the cocoa with the confectioners' sugar and add to the creamed mixture. Mix together adding 1 tablespoon at a time of milk to keep mixture smooth. Don't add more than 1/4 cup of milk.

Add the hot fudge topping and the vanilla extract. Blend until smooth and creamy.
I had to double this recipe. So what you will see in my pictures is exactly this recipe but doubled. I will explain later why I doubled this recipe.





Cream together the butter and shortening.





Sift powdered sugar and cocoa powders together. I have a marvelous hand sifter. I simply tossed the powdered sugar in and the cocoa together and sifted it out onto a plate.








Mix in half of the sugar mixture with half of the milk and mix for a few seconds. And then repeat with the remaining milk and sugar. Some of the pictures came out blurry but I am putting them up just in case. The last picture is what you want your mixture to look like. A very thick butter cream.





And last but not least, add the vanilla and hot fudge and whip this sucker on high speed. You should have a nice and smooth frosting.

On frosting a cake, I happen to be awful at frosting a cake. I get the job done, but it's never fancy or pretty. I will understand if you have a better method for frosting a cake.

Why I needed more frosting than the recipe called for. Sadly my oven was uneven. So when I baked my cakes, the one that sat on the top rack wasn't cooked all the way through. It passed the clean knife test, but when I came in to the kitchen to check on their cooling, it had collapsed in the pan. So I had to whip up more cake. I decided since I had one layer, and the recipe yields me two cakes, I would make a triple decker cake. It's a freaking monster cake.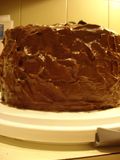 Just to give you an idea of just how big this cake is. This is my portable cake carrier, but I use it for storage. These are kind of odd pictures but it shows you that the cake goes to the very top. Nearly too big for the damn thing.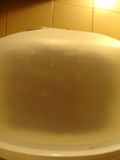 And there you have it. Heavy Cream Yellow Cake with Hot Fudge Frosting.