A financier, a Chocolate Advocate, an opera singer, a doctor, and a BeerAdvocate walk into a restaurant.....
Seth Hill, the beverage director for Journeyman in Union Sq. Somerville, Ma., invited us to a small wine tasting on a quite little Monday evening. Me being a wine lover, I was absolutely interested in going. Dragging Todd out to expland his horizons on wine a bit, wasn't as hard of a push as I thought it was going to be. He was thinking the same thing I was. The last time we had dinner at Journeyman's it was unbelievable. And wine or not, we just knew this was going to be good. We were so right.
Seth had us sit at a communal table with some nice people Neil, Neil, and Tania. The doctor, the financier, and the opera singer. Made for a fantastic evening of good and widespread conversations.
Click to enlarge the pictures.
Flight of Vermouths
Sutton Cellars Brown Label Vermouth, Dolin Blanc Vermouth, and Cocchi Americano.
Paired with cured fish and a white bean salad.
This was the most surprising course for me. I know next to nothing about vermouths. I didn't even know they were wines. I thought it was a liqueur of some sort added to cocktails and martinis. Being able to sit back and taste them, get a better understanding of them was great for me. The men at the table seemed to like the more herbal, earthy one which had a lot of Fernet Branca qualities about it. It is the last one pictured, the Cocchi Americano, but I liked the Dolin Blanc the best. The one pictured int he center. It was soft, subtle, and floral. Really delicate and delicious.
They all worked really well with the white beans and the cured mackerel. There was also some cured ham on the plate that added some smokiness that really brought out those herbal notes on the Cocchi Americano. It went in the right succession. The white beans for the Sutton Cellars, the fish for the Dolin, and the smoked meats for the cocchi.
Sour-style Beers
Panil "Bariquee Riserva" and Cantillon "Bruocsella 1900 Grand Cru"
Paired with Wheatberry risotto, bone marrow, herb, and pea tendril salad.
Fats and acids. Fatty bone marrow and acidity from two sour beers. The buttery broth, and earthy wheatberry risotto, creamy and butter-like bone marrow with just enough sear on it to make it have crispy edges, with bright green and fresh tasting pea tendrils paired with the more fruity and acidic Panil Bariquee, and the much more mild and softer Cantillon.
I felt like the bone marrow was best paired with the Panil based on the deep fruit character of the beer and the acidity, while the Cantillon balanced the wheatberry and pea tendrils. Deliciously rich, but not overbearing. A perfect pairing and a delicious way to highlight contrasts in these sours.
It was also nice to feature this beer pairing in the center of a wine tasting. The folks at our table who were not that familiar with these kinds of beers, really liked it. For us, it felt like home.

Category-Foiling Wines
Heidi Schröck "Furmint" and Frères Grosjean "Premetta"
Paired with Spanish Mackerel, potato and tarragon.
Mackerel has been slowly but surely becoming one of my favorite sea food dishes as of late. I hadn't really been that familiar with it before going to Belgium. I love it. This again was a fats vs. acid course. Fatty fish oils versus bright wine acidity.
This was one of the first times white wine worked for me. My palate maybe changing, or maybe I am finding the right kinds of white wines to drink lately, but normally they are not for me. I cant usually drink too many white wines as they give me a headache very quickly and easily, and they tend to have an off taste to me that I have yet to understand what the cause might be. But not this time. The Furmint worked exceptionally well with the potatoes and tarragon and the light taste of the fish under all the oils.
The Premetta, was excellent in it's ability to work with the fish and it's salty skin. Seth described this as being a sort of Hamburger wine. It had remarkable light qualities to it but also a big enough, fruity balance for the oily and salty fish. And the tarragon potatoes also worked well here as tarragon tends to be sweeter and worked with the brightness of the Premetta.
Cabernet Francs from the Loire
Domaine de la Pepiere "La Pepie" and Clos Rougeard "Les Poyeux" Saumer-Champigny
Paired with Pork Knuckles, parsnips, radish, and greens.
Let us bow our heads and give thanks to the 380 pound pig that gave it's humongous life so that we could be the happiest gluttons in town. The oldest pig on the farm sourced from about 40 miles away. This pig gave us this huge pork knuckle, the smoked, cured meat on the first tasting, and even bits of ham in the parsnips.
Neil the doctor, took the reigns and cut this bad boy up. So many different tastes of pork in this huge monstrosity. Light meat surrounded by thick and flavorful fat, and then gorgeous dark meat from the bones. But there were different tastes on that dark meat depending on where Neil hunted it down. He found the most delectable pieces of meat that most might have ignored. The sides came to the table, and thinking the the pork was in the parsnips, we didn't expect to see this giant bone in pork knuckle come to the table like being presented with a massive ham at Christmas dinner. But family-style servings of this beast was the perfect way to go.
The La Pepie was my favorite to drink and sip on. It was very light bodied. It worked with the parsnips and the light meat cut of pork. While the more oak-y Les Poyeux, it was almost like it was taylor-made for the darker cuts of meat. Big, rich oak flavors and sweet ham. The greens worked with both wines wonderfully based on the garlicky and earthy flavors, while the surprise was the radish dish. It was sweet and fresh but also savory at the same time giving us a little high and low on it's own.
Lesser-known Sparklers
Camillo Donati "Malvasia Dolce" and Patrick Bottex "Bugey-Cerdon"
Paired with Pistachio cake, black treacle ice cream, and raspberry.
This course was all over the place and yet it worked so well. I think we all decided the black treacle was the best part of the desert while the pistachio cake was unexpected and fabulous. Very much like my first experience with Journeyman, where you might expect a big chocolate dessert but when you get treated to a nut cake and it ends up completely changing your thinking on how desserts should finish your night. Our first time, we had the most delicious pear cider with a nutty semolina cake. It was fantastic.
I thought that the Bugey-Cerdon was the best paring for the dessert. It just balanced so perfectly. But I think the table was most fascinated with Malvasia Dolce. It smelled like a Gueze and had this interesting aroma of peppercorns with an underlying stone fruit aroma. These aromas weren't gradual they were literally stacked on top of one and other. But it tasted nothing like that. It was very, very soft and subtle. It worked wonderfully with the pistachio cake.
Treats of Madeleines and chocolate cookies with a taste of Cappellano Barolo Chinato.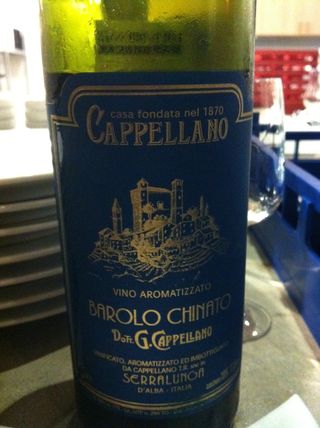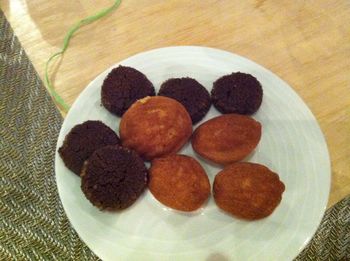 That Barolo Chinato was pure joy. Cinnamon and cloves aroma with a dry and earthy rich tobacco leaf taste. It was unreal.
Fantastic evening once again at Journeyman and most impressive was all of this for $85. This easily could have gone for way more. It was a comfortable evening with nice people that felt like old friends by the end of it. The pairings were spot on and really taught me a few things about wine.
If my two posts about Journeyman, haven't been able to convince you that they are indeed the best new restaurant in the Boston area, then you must be one of those people who simply can't be pleased. Get over there soon for dinner. You won't be left unsatisfied. Ask for one of their awesome cocktail creations too. Seth is always sending out messages on Facebook about testing, creating, trying new cocktails.