Todd's birthday dinner at a very special new place in Union Sq., Somerville called Journeyman. A new restaurant focusing on local and fresh daily offerings. This restaurant is tucked away in a small nook next to the Independent in Union Sq. A great spot for beers before or after dinner.
Journeyman's manifesto via their website:
Journeyman is the project of a handful of food-loving friends who believe that fine dining should be a comfortable, intimate, and delicious experience. We've created a small, refined restaurant that serves elegant but unpretentious food and drink with relaxed and respectful service.
Our food comes from local farmers and artisans, often people we know and respect in our personal lives. We grow edible herbs and flowers in our window garden, and are working to become an active member of the Union Square Community by supporting as many local producers as we can, including some neighborhood favorites like Taza Chocolate and Pretty Things beer.
Our beverage program focuses on the strange and wonderful back alleys of production, featuring wines made in traditional ways in unusual areas, beers brewed with special care all over the world, and a wide selection of superb aperitifs and digestifs. We bring in our teas from Upton, and our coffees from Counter Culture, and the selection rotates regularly.
When I first heard about Journeyman, I met a guy name Seth Hill, their beverage buyer, who told us about this new place opening and it was going to be very small with maybe 35 seats and a menu that changes every day to every couple of days based on what is available and what was sourced locally from the area markets and surrounding farms. Cocktails, wines, and he assured us good beers too. Sounded right up our alley.
The restaurant is a very large open space from floor to ceiling but still small enough and intimate enough for a small restaurant with only around 35 seats. Open kitchen that kind of feels like a kitchen in someones apartment. Simple decorations and boxes of herbs next to the window. Great location.
We were most impressed with the pricing. You can do a 3 course, 5 course, and 7 course tasting in both meat or vegetarian for $39, $65, and $85. This is very reasonable for fine dining. Especially with locally sourced foods. You won't that anywhere with this kind of quality. Also, we were most impressed that they advertised on their website that not only do they pair the courses with wine but beer as well. Most places will accommodate you with beer, but never make mention of it unless you ask. Our fine dining in this city really appreciates beer and we as BeerAdvocates, couldn't be more thrilled. Our constant questions for restaurants are why would you feature the finest ingredients on your menu, the finest wines, the finest spirits, but only have a minimal and lame selection of beers?
Here is there beer list from Monday night.
Started off with a Bushnell Spritz, a cosmo with a sugar cube and bitters topped with champagne (Dope yo!) and Todd had a Pretty Things American Darling.
We opted for the 7 course tasting. Why not jump right in? It's new, the waitstaff was super friendly and fun, why not indeed?
First Course: Butternut squash puree.
Simple, elegant and very fresh. Not spiced to hell with nutmeg and allspice either. Just tasted like gorgeous warm squash. Look at that gorgeous orange color. So many times you see butternut squash soup and it's pale yellow and loaded with cream.
Obviously it didn't suck. This is what every plate we were served looked like when we were done.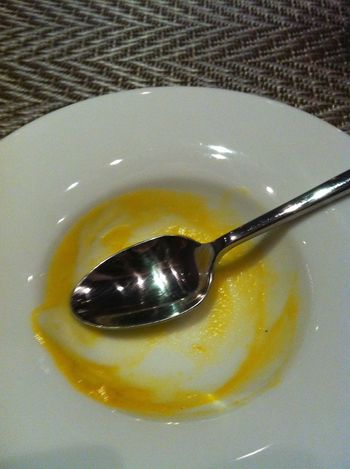 House-made breads with butter served on a slate rock. Nice touch.
Second Course: Wilted spinach salad.
A sort of deconstructed salad with lots of veg and purees. I don't recall what everything on the plate was, but it was so tasty and delicious that believe me when I say I decimated this course. The colors once again really stand out and make for a lovely presentation.
Third Course: Celeriac Broth with Oysters and Chorizo.
THIS!!!! This course was so unexpected and so awesome. It was very simple yet the flavors were so unique and fantastic. Loved this course. Spicy chorizo which I believe is house-made with fresh and amazingly soft and delicate yet fatty oysters.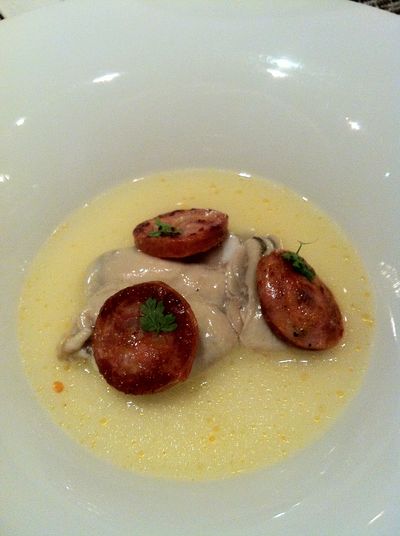 Fourth Course: Cod and onions.
Soft poached cod with leeks, spring onions, braised onions, pickled onions, and a ravioli with caramelized onions. This was another unexpected yet fantastic course. The cod was so deliciously soft and flavorful and the onions were perfect. Each adding their own unique tastes to the plate so that each bite was different.
Fifth Course: Charcuterie Plate and Pork Belly Raviolis.
A split in offerings for both Todd and I. Their menu was rotating in and out of things so we picked a few different choices here. Awesome rillette (center right) and lamb (bottom of pic) on the charcuterie plate. The real winner here though is the pork belly raviolis with (I think) a clementine reduction and onions. TO DIE FOR!!!!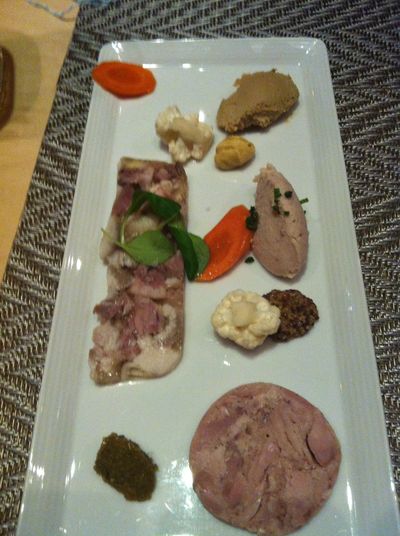 Sixth Course: Foie Gras with persimmon and grapefruit foam.
Who does that? Who serves two huge slabs of Foie like that? Not that I am complaining mind you. Delicious, chilled, biting fresh grapefruit foam to help add acidity to the fatty foie. Rich and delicious just as you would expect. Just a bit too much for us though. We did the tackiest thing and asked if we could take it to go. No way I wanted to waste it, but after a few bites I could feel my heart slowing down.
Seventh Course: Lamb two ways.
Braised and grilled with butternut squash ribbons, eggplant, chickpea puree, fresh green chick peas, and roasted chick peas.
Middle Eastern inspired and simply presented. Loved this course. The lamb was delicate, soft and perfectly cooked. The chick peas added various textures to the plate and the squash ribbons added a hint of sweetness to the plate. Delicious and again simple.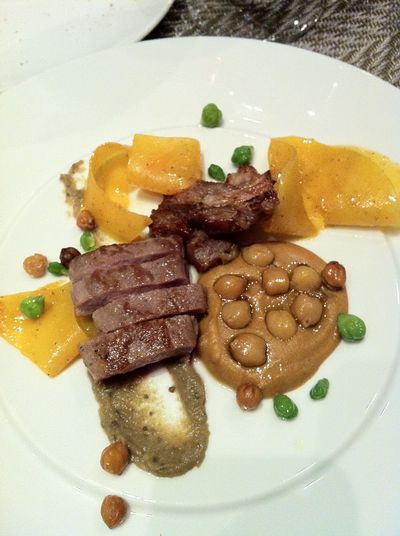 Vino with dinner and Todd had Oerbier from De Dolle. Todd was a happy man to have that this foie and lamb course.
Intermezzo: Lime sorbet with coconut.
This course is a bit fuzzy for me forgive me. I was reaching food coma status at this point. It had limes and coconut but I can't remember what the foam on top was. That doesn't make it less tasty or mean that it's a forgettable course, it just means I was enjoying the shit out of myself.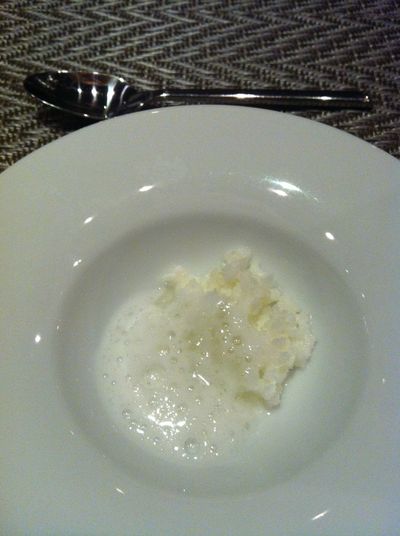 Dessert: Semolina Cake
Whole grains and semolina cake with coffee foam, rice pudding, lemon sauce, and sorbet. Off the top of my head I forget what the bruleed sauce was. Might have been vanilla. Once again things we're getting a bit food coma fuzzy for me.
This was a very nice and clean dessert. Lot's of flavor pops that all seemed to work in harmony despite how contrasting they were in comparison to one and other. As the Official Chocolate Advocate, I am saying that not every fancy restaurant has to serve you a big rich chocolate dessert to feel like you were treated like absolute royalty on this culinary adventure.
They paired this course with an awesome sparkling pear cider. I haven't had a more aromatic, and fresh tasting cider before. I really dug this and will have to find out where to buy it. It was the exact right pairing for this dessert.
Treats: Lapsang Souchong Tea Custard with butter cookies and brownies.
Word is bomb!!! That tea custard was phenomenal! Normally that tea is too smoky for my liking but this was subtle tea and smoke flavors on a custard. It was awesome. I couldn't stop eating it. And a natural fit with the small brownie and cookie bites. Awesome ending.
Amazing meal. So well excecuted, extremely friendly staff, just an awesome time. I can't wait to go back and visit them. The prices were good, the restaurant is cute and intimate like being in someone's loft. Very inviting. The chefs, Diana Kudajarova and Tse Wei Lim are also interested and maybe doing a beer event. More on that soon!!!