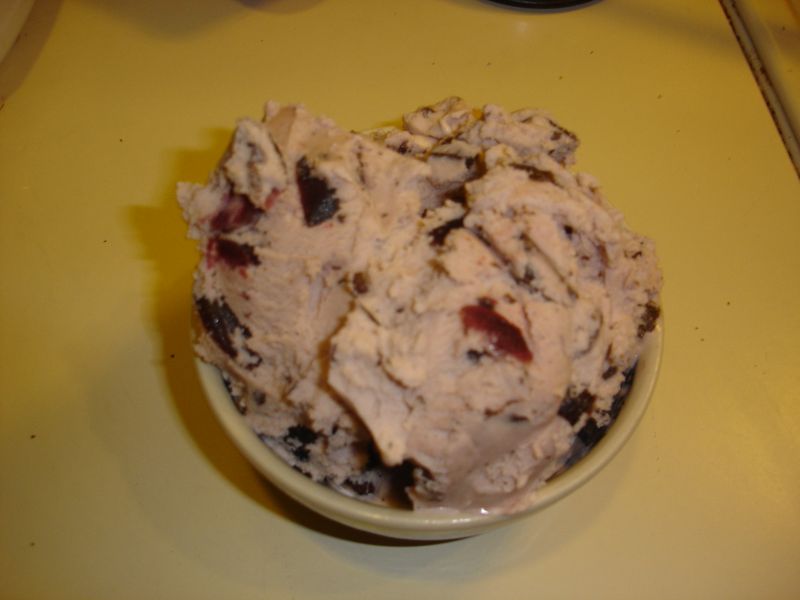 (For the record, I tried to take a picture of this ice cream on three separate occasions with two different batches. They all came out blurry. Picture Fail.)
I found this recipe while surfing FoodGawker. It's a wonderfully delicious ice cream recipe from the blog Our Best Bites. It turned out really well and was absolutely fantastic.

Cherry Chocolate Ice Cream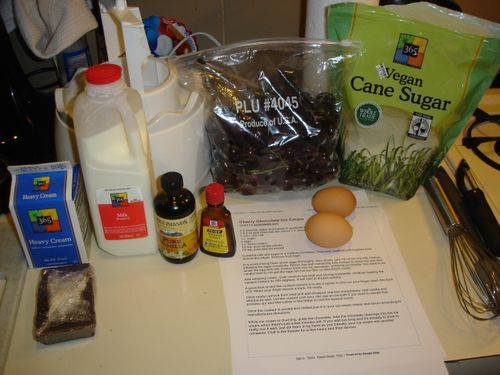 Ingredients


2 C cherries, pitted and halved or quartered (about 40-50 cherries)
1 4.5 oz dark chocolate bar (about 1 C shavings, but can't go wrong with more)
1 1/2 c. 2% milk
1 c. sugar
2 egg yolks
1 c. heavy cream
1/2 tsp. pure vanilla extract (I used 1 full tsp.)
1/2 tsp. pure almond extract (I used 1 full tsp.)

Combine milk and sugar in a medium saucepan. Heat over medium until bubbles form around the edges. Remove from heat.
In a small mixing bowl, whisk eggs thoroughly. Very slowly, add 1/2 of the hot milk mixture, whisking the eggs constantly. Return pan with remaining milk mixture to stove top and then whisk the egg and milk mixture back into the saucepan, whisking constantly. You need to be careful here to not get the eggs too hot too fast, or else they'll curdle.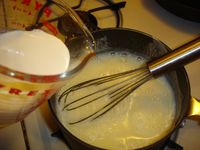 Add whipping cream. Over medium-low heat and stirring constantly, continue heating the custard mixture to 160 degrees. It will start to thicken quickly.

A good trick to test the custard mixture is to dip a spoon in and run your finger down the back of it. When your finger leaves a track, it's ready.
Once ready, remove from heat and add chopped cherries immediately. Add vanilla and almond as well. Let the custard cool (you can use an ice bath if you want to speed that process up) and then place in the fridge to chill for several hours.
Once the custard is cooled and chilled pop it in your ice cream maker and churn according to manufacturers directions.
While ice cream is churning, grate the chocolate. Add the chocolate shavings into the ice cream when there's just a few minutes left. If you wait too long and it's already to thick to really mix it well, just stir them in by hand as you transfer your ice cream into another container. Chill in the freezer for a few hours and then devour.
*Side Note: I started to shave the chocolate and it was tedious and too thin. So I grabbed a small knife with a serrated edge and chopped and shaved it at the same time. It made for shavings and actual chunks which was much better in the ice cream.
My three different attempts to take pictures of this ice cream all of which came out blurry.

Update: I have made this twice now and have been actually craving it nearly everyday since I first made it. Damn you Cherry Chocolate Ice Cream! DAMN YOU!!