I just spent a spectacular weekend in New York. Did some pretty awesome food touring. I did bring my good camera down with me, but unfortunately there were some technical issues with the camera and I wasn't able to get high resolution images. I did have my iphone with me though. Sadly it's first generation and it just doesn't do any of these places justice. But we will get through it as best as we can.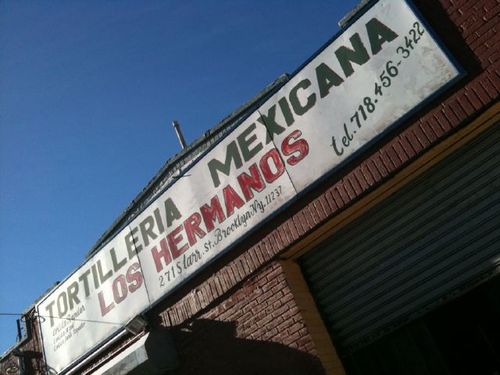 A quick flight from Boston to NY and we took a tour of Union Beer Distributors as our first stop. One of the largest warehouses for craft beer. Then we were whisked off to grab a quick lunch at this amazing taco joint near the warehouse. Los Hermanos. A tortilla factory in Bushwick where they have begun to include making some tacos, quesadillas, and tortas.
A little carnitas and pollo tacos. These were delicious.
Then we went to the Astor Center for a quick class on cocktail infusions with oils and hydrosols and some distillation demonstrations. Taught by Dave Arnold, Director of Technology, FCI and Audrey Saunders, Mixologist and owner of Pegu Club.
This was a fun class to taste how you can distill flavors into alcohols like peanut flavored bourbon, and assam tea flavors with chocolate, and blue cheese flavors infused. To the instructions of how oils are to be used in cocktails and what exactly are hydrosols. Johnny Iuzzini, the Executive Pastry Chef of Jean Georges and from Top Chef: Just Desserts came and sat in on the class as well.
I thought Audrey Saunders was extremely knowledgeable and gave a great presentation. Dave Arnold was a crack up. Trying to focus on talking to the class while maintaining his distilling device. Shows how much I learned I can't remember the devices proper name.
We skipped the mingler after the class and went straight to Momofuku Noodle bar. All I am going to say is that we were treated very well here. The food is amazing. It's a ramen noodle bar with some off centered offerings that don't exactly fit with a noodle bar theme but still rock non the less.
Jars of pickled veg and kimchi.


Hamachi and Arctic Char plates.



Amazing beat salad with bacon and a yuzu yougurt and chicken wings.


The greatest thing on planet Earth. Pork Buns Momofuku style. Two pieces of pork belly with pickles and sauce wrapped up like a taco with a steamed bun. Un-fucking-believable. Trust me.
Spicy sausage and cashew ramen and Momofuku house ramen with pork, nori, fishcake, and poached egg.
The aftermath. We decimated our food. Great hospitality at Momofuku and amazing food. For some reason I didn't take pictures of dessert, but yes we did have some. Apple pie cake truffles, and pecan pie ice cream with spiced pecans at the bottom. Salty pecan pie ice cream was amazing, and the apple pie truffles were pieced of pie, battered and deep fried. Once again, simply amazing food.
Katz's Deli.
Saturday afternoon at Katz's Deli in the Lower East Side is a fucking mad house. It must said. It's organized chaos of rude, fat, pushy assholes all cramming in for a sandwich and a knish. But it's a classic iconic place and once you get a bite of that hot pastrami on rye, you would soon rather kick a kid in the eye just to get back inside and grab a sandwich. The place is legendary.
And yes it's the place where Meg Ryan had her orgasm scene in When Harry Met Sally.
Psssht. You betta ax somebody. Hot pastrami on rye with mustard. Matzo ball soup and a sweet potato knish.
Sunday Morning we took an awesome tour of an underground train system found in Brooklyn to be the oldest in the world. Amazing tour and a great way to say you know Brooklyn inside and out. This was us going into the tunnel by the Trader Joes on Atlantic Ave.
After this we went to Prime Meats in Brooklyn for a late brunch.
Punch of the day and house made warm pretzels with butter.
Poached egg on mushrooms with bratwurst and toast, spaetzel and mushrooms.
Steak and frites and grilled German Leberkäse with eggs an frites. Note the orange yolk color of these beautiful farm fresh eggs.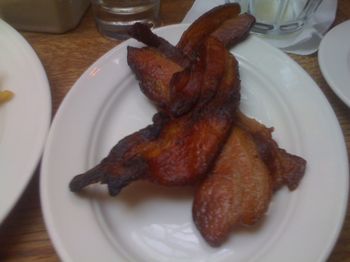 Thick cut bacon.
Red cabbage and celery salad.
Prime Meats Manhattan. Probably the best Manhattan I have had in a while. Even Sara Hougaboom would approve.
A little Underberg never hurt anyone.
And some chocolate cake and creme brulee. And despite all this food, we didn't feel gross or weighed down after the meal. That's how you roll in Brooklyn. Full bellies full of fine food and amazing drinks. And then you are ready to rock it for the night.
Monday comes along and it's time for a radio interview on Cathy Erway's show Let's Eat In. Shane and Todd took the reigns for this one.
And since the radio station is at Roberta's, we stayed for some banging pizza.
And that is a fine way to eat through New York. One thing that is missing from this post is a special trip to Manhattan to Sushi Yasuda for some of the best sushi in America. That deserves it's own post though as there are so many pictures of the most delectable sushi I have ever had in my life.