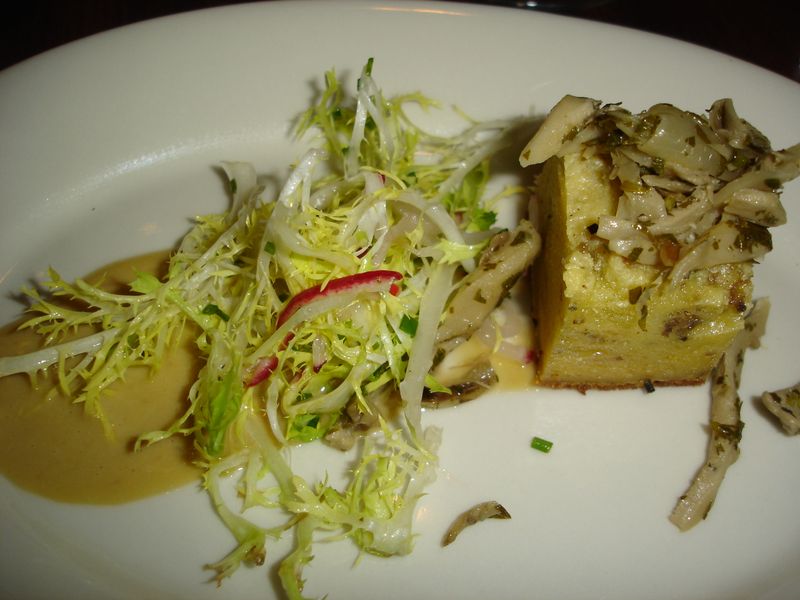 For a while now I have been hanging out at Green Street with the owner and good personal friend, Dylan Black. It's become our local go to place with amazing food and drinks.

Dylan opened Green Street around three and half years ago and has transformed it from the Caribbean themed menu and sometimes salsa dancing, to a slow food movement restaurant. They have a short and sweet seasonal menu, a tight bottled beer list and good rotating draft list with a possible addition of 3 more taps, an amazing wine list with the price range between $32 and $58 dollars (no wallet busting offerings), and last but not least cocktails galore. The cocktail list is on a multi-page menu listed from A-Z. With cocktails being all the rage these days, Green Street has a strong footing in the Boston market for mixed drinks.

But this isn't about the cocktails, this is about the beer. Dylan would ask us from time to time, "What's hot right now for beer, and what would be a good fit for my restaurant?" After taking a few of our suggestions and having them work out well with Green Flash and Sixpoint, we decided the next step was to host a beer dinner at Green Street. Dylan Black has an amazing excitement and enthusiasm for learning about craft beers and working them in his restaurant.

After the American Craft Beer Festival we threw in June, I got to catch up with Eric VanZile the rep. for Ithaca Beer Co., I was reflecting on a great beer dinner they had at Cambridge Common which I was present for a few years ago. Eric had mentioned to me that that was the last time they had a beer dinner in the Boston area.

Perfect timing to welcome Ithaca back to the area and get Green Street's legs wet a bit with beer dinners. After playing around with a few concepts, this is what we came up with.

Chef Greg Reeves created the menu, while Dylan and myself hand selected the beers. A few special offerings thrown in by Jeff O'Neil "The Chief" and Brewmaster of Ithaca Beer Co.
Welcome to BeerAdvocate on Green Street Featuring Ithaca Beer Co. Some beer descriptions are via BeerAdvocate.com.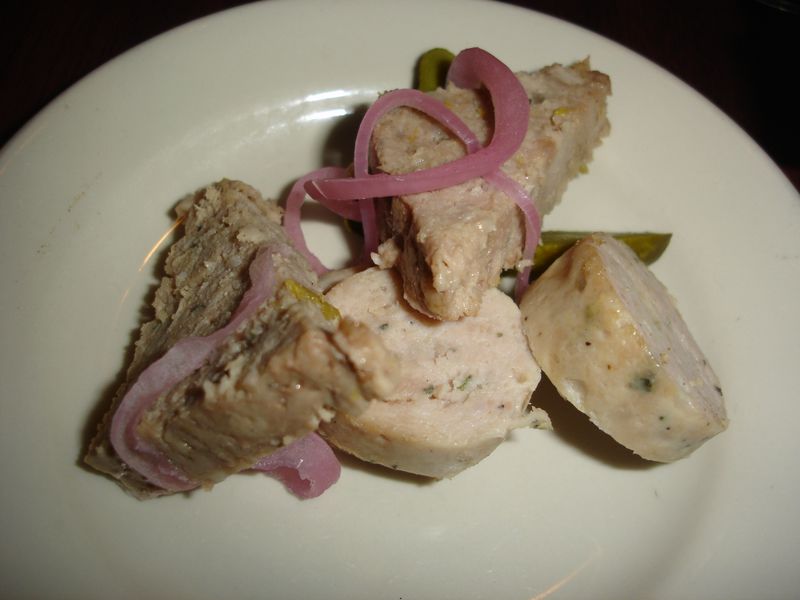 We welcomed everyone with a nice house made charcuterie set up with cornichons and pickled onions, fresh breads and butter and paired the welcoming course with Outdoor Harvest Ale. A pale ale that is about 5.9 to 6% abv.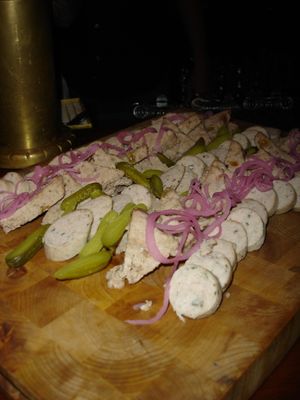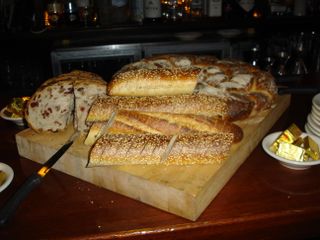 The Outdoor Harvest ale was a bit cloudy and hazy, but had a nice fruity nose. It was lightly sweet, with big honey notes. The beer was also made with locally grown hops around Ithaca, New York. It complimented the charcuterie plate with the steel-y tastes from the meats. Salty notes mingling with sweet, honey notes from the beer. The pickled veg added a nice little pop of tart vinegar that the sweet malts immediately reacted to it and gave a nice little contrast at the right amount.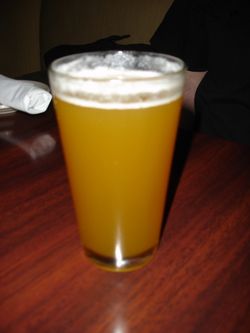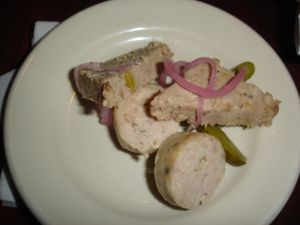 Definitely a great way to kick things off. Meat and beer.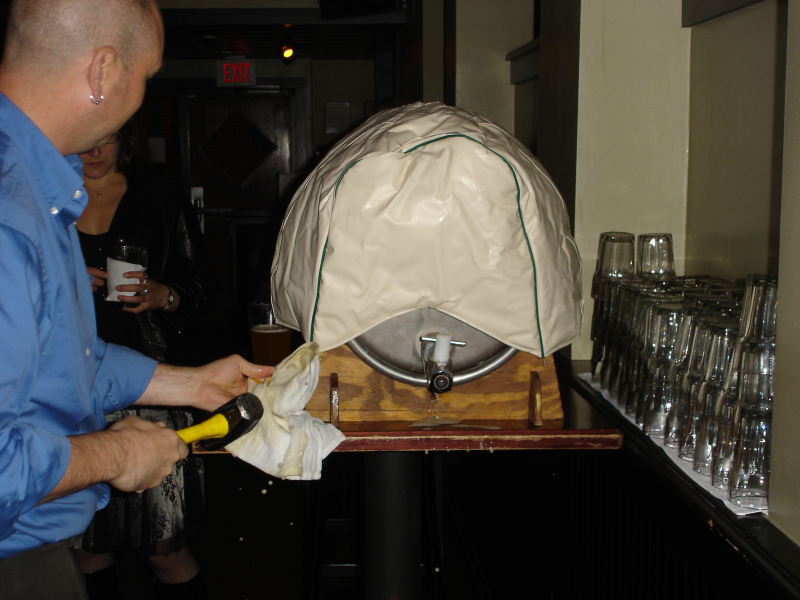 [Eric VanZile tapping the cask of Flower Power IPA.]

Our second course was a passed course Tartare of Beef with capers and cornichons paired with Ithaca's Flower Power IPA on cask. An American IPA with a fairly robust hop character and 8% abv. This was one of the special offerings brought up by Jeff O'Neil. More amazing was that this cask got to us about 15 minutes before the doors opened up all the way from Ithaca, and had zero cloudiness or sediments floating around.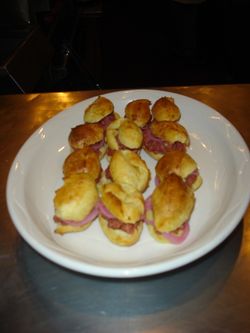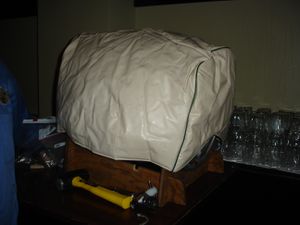 To me this was the most underrated pairing of the evening. Pairing food with hops can be a tricky business. Usually hoppy beers get paired with hot, spicy foods. It was definitely nice to see this paired with beef tartare. There were a little bit of pickled onions on these as well which added that same effect of a pop of tartness. The tartare was set in a gougère, a light and airy cheese puff. Together the beef and tangy capers allowed the malts of the beer to come through. The cheese gougère gave way for some of the spiciness from the hops to come out. As well as the steel-y, iron taste from the rare tartare played around with the hops like sweet malts do with hops. Good balance all around. This was what I called in my notes a "More and more" pairing because I wanted more and more. This was a near perfect pairing and again totally underrated as it was a small, amuse bouche and the cask was getting all the attention.

A slight snob moment for me is that I generally do not prefer hoppy beers on cask. I feel that the bitterness gets completely toned down and in some cases flattened or watered down. That didn't happen with this cask, but the hops were toned down a slight bit. The carbonation held up but was not as effervescent as it normally is on bottle or draft. Usually with casks they are meant to be served at around 50 degrees. At that temperature hops and malts are already opened up for you. This is an effect I do not like with hops on cask. I prefer my hoppy beers to be super cold to watch them open and blossom in my own hands. This cask was certainly cold enough, and hoppy enough, but in my perfect world no hoppy beers would ever be put on cask. Let me rephrase that, no Americanized version of hoppy or super hoppy beers would ever be put on cask. Ice cold draft and bottles only.
For the beer geeks who live and die for cask however, this was a real treat. And despite my thoughts on hoppy beers on cask, I actually did find the beer quite enjoyable. Flower Power has changed over the years. It wasn't always as hoppy or refreshing. Recently they upped the ante with this beer and kicked up the hops. It's a borderline IPA. Borderline by almost being a double IPA and having an 8% abv. My kind of IPA.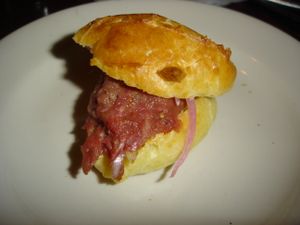 And we continue on with a second passed course.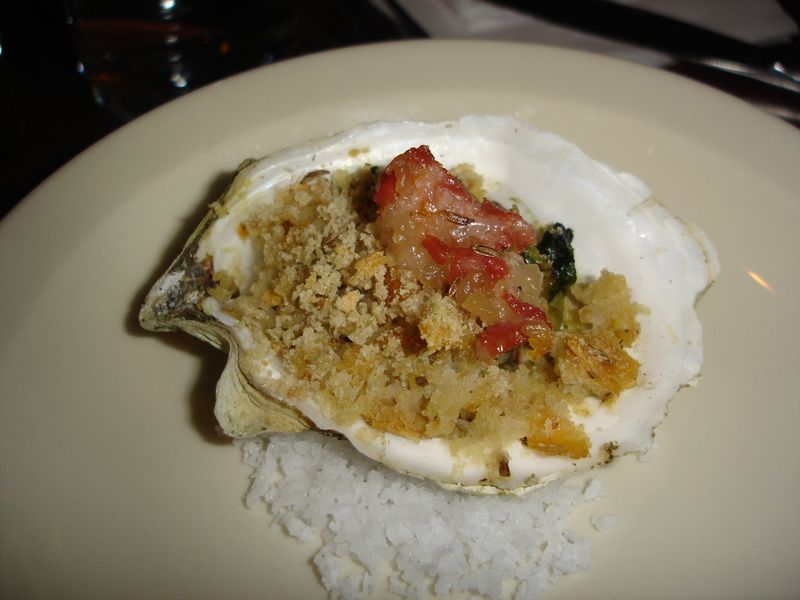 Island Creek Oysters Rockefeller with creamed spinach and caraway bread crumbs paired with Gorges Smoked Porter. An American porter, 6.30% abv.
Porters and oysters are a no-brainer pairing for a lot of people into beer and food pairings. It's the salty, sea taste oysters have coupled with the robust flavors of toasted or smoked malts. It's also typically light enough to be paired with sea food offerings. But the rich flavors of the oysters and beer tend to work marvelously together.
In this case, the wonderful smoked flavors worked well the the caraway rye seeds from the bread crumbs giving off a slight anise flavor. Gorges is also light enough to be a session beer despite its huge smoked flavors. It's a misconception beer by its aroma and color. Looks heavy and smells heavy, but drinks fairly easily. Which is why it works well with something like oysters. Oysers with their big sea flavor, but light and meaty texture. Both the beer and oysters are a bit of a paradox, but in a good way. These particular oysters were extremely fresh and meaty. Island Creek happens to be one of the best names in the Boston area for amazing oysters.

Also the folks of Island Creek were in attendance and were very happy with the pairing. Nothing better than making the producers happy.



This was arguably the best course of the night. A wild mushroom and bone marrow bread pudding with a sherry, foie gras emulsification paired with the Excelsior Brute. An American wild/ sour ale made with vintage (aged) local hops, barley, wheat, corn, aged in oak with Brett and finished with three types of champagne yeast. 6.5% abv.
The bread pudding was a little more cake-y than pudding like but that didn't matter based on it's taste. It was super rich and had a good texture. Kind of like a cake-y corn bread but rich, buttery, and good herb flavor to it. The bone marrow added a unique depth to it with big flavor but wasn't the overall flavor of the bread pudding. The wild mushrooms were set on top. The sherry, foie gras emulsification was the most rich and decadent sauce I have ever had. It was delicious, fatty, and rich. Just perfect. The Brute was a sour with champagne yeast that gave it a good carbonation that helped cut right through the rich fats. This was a perfect pairing. The wheat and corn flavors could actually be tasted without the sour dominating the palate as the sour and carbonation worked on the fats. This allowed the sweet sherry flavors to come out and allowed the rich grains in the beer to come out. The hops were a vintage or aged hop varietal locally grown in Ithaca but we're lightly present in the beer. The frisee added a nice tough of freshness and a touch of a crunchy texture. Added a little bitterness and earthiness to over all rich pairing. Helped add some balance to the dish.
For me this was a brett beer I could deal with. Brettanomyces beers usually do not sit well with me. Brett also has the propensity to be the dominate flavor in most beers it's in. With this beer, the brett was present, but was delicate enough to allow the other flavors to come out. Normally that is not the case. this is a sign of a good brewer. One who can balance the right amount.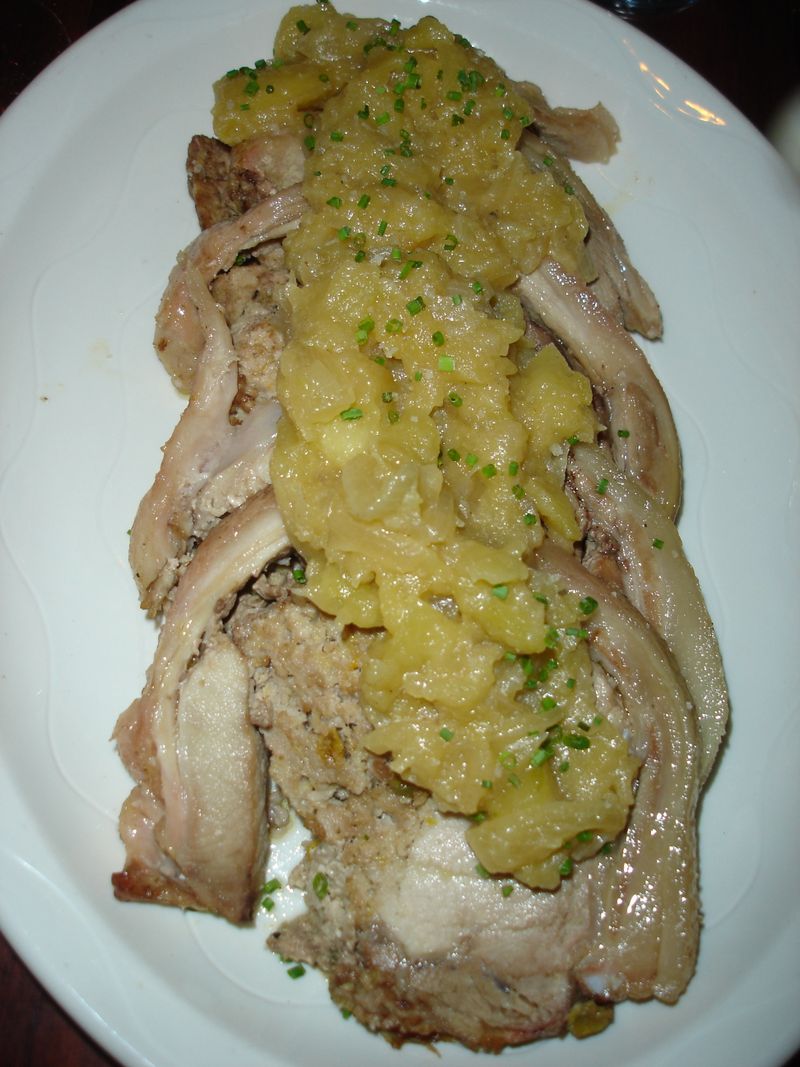 And our last course served family style. Suckling pig porchetta with honey crisp apples, horseradish, and alyssa craig onions paired with Excelsior Eleven. A sweet, milk/lacto stout brewed with British, German, and French malts, American hops, and milk sugar, then aged for weeks on locally roasted Sumatra coffee beans. 7.5% abv.

Pay attention to that last bit. This is a beer aged on coffee beans not brewed coffee in it. Interesting twist.
Porchetta is a traditional Italian style way of serving pork. Here is a quick description from Wikipedia that pretty much says it all.
Porchetta /por'ket:a/ is a savory, fatty, and moist boneless pork roast Italian culinary tradition. The body of the pig is gutted, deboned, arranged carefully with layers of stuffing, meat, fat, and skin, then rolled, spitted, and roasted, traditionally over wood. Porchetta is usually heavily salted in addition to being stuffed with garlic, rosemary, fennel, or other herbs, often wild. Porchetta has been selected by the Italian Ministero delle Politiche Agricole, Alimentari e Forestali as a "prodotto agroalimentare tradizinale" ("traditional agricultural-alimentary product", one of a list of traditional Italian foods held to have cultural relevance).
This was stuffed with a sausage made from the pig, stuffed, rolled with the tenderloin, covered in the pork fat, and roasted. Then smothered with the apple, onion, and horseradish sauce.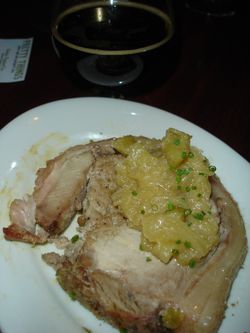 [The only shot of the beer I got for this course. I didn't realize that until I began to blog. The beer was served in a small snifter glass, and had a deep chocolate color.]
The meat was perfectly cooked. Nice and moist and the flavors of the onions, horseradish, and apples were perfect for the pork. The horseradish was a great addition as it gave a good pop to the already sweet apples and onions. This was a contrasting course with the coffee milk stout. The coffee flavors were bold and robust, and worked well with the apples and onions. The lactobacillus in the beer added a nice tangy touch to the beer which helped out with the fat on the pork. The beer itself was sweet and malty, with fruits and a dry finish. Dylan said it was like a burgundy wine with all the notes and flavors coming off of it. The dry finish seems to be a signature on a lot of Ithaca's beers. Nothing they make is cloying or lingers on the palate in an unpleasant way.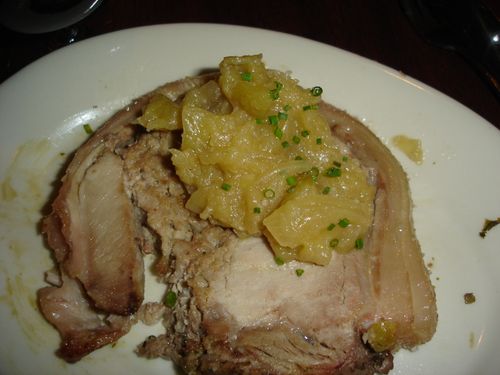 This was the course I thought the Brute would work best with. I had enough of the Brute left to try both the Eleven and the Brute together and the Brute was way off. The pork made the Brute soapy and gave it a weird creamy texture. I thought the Brute would work based on the apples, but it was the fat, that ruined them from being perfect. So despite the strange elements of coffee notes, Eleven ended up the much better pairing. Again a contrasting pairing with a lot of flavor coming at you. But with such large portions you had enough time to figure it out and let it sink in.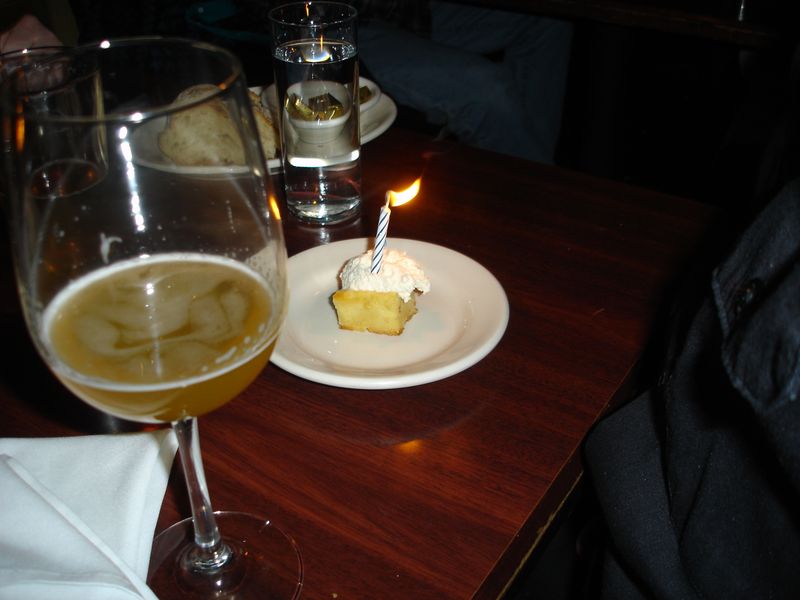 And last but not least a small bite of the tres leche cake for Jason Alström as he was in the house and celebrated his birthday a few days early with us.
And later that night The Chief brought one of my favorites that I was really torn about using, Excelsior White Gold and Old Habit. You don't need me to describe the beers, as you can see the description clearly on the bottles.
For Green Street's first beer dinner, they really nailed it. The flavors of the food really complimented the beers. There were no wrong pairings or "close we'll let this one slide" pairings. At least according to me. And despite being the one who set this event up, I tend to be more critical of my own events. And not being the chef for the event, I can be more objective about it. All of the courses worked, and the food was incredible.
I was extremely grateful to Eric VanZile and Jeff O'Neil for making the huge trek out and then back to NY again. Eric was off to Philly after this event. Jeff brought some nice treats for us including the Cask Flower Power, White Gold, and Old Habit.
I will look forward to working with Dylan Black and Greg Reeves again for another beer dinner.