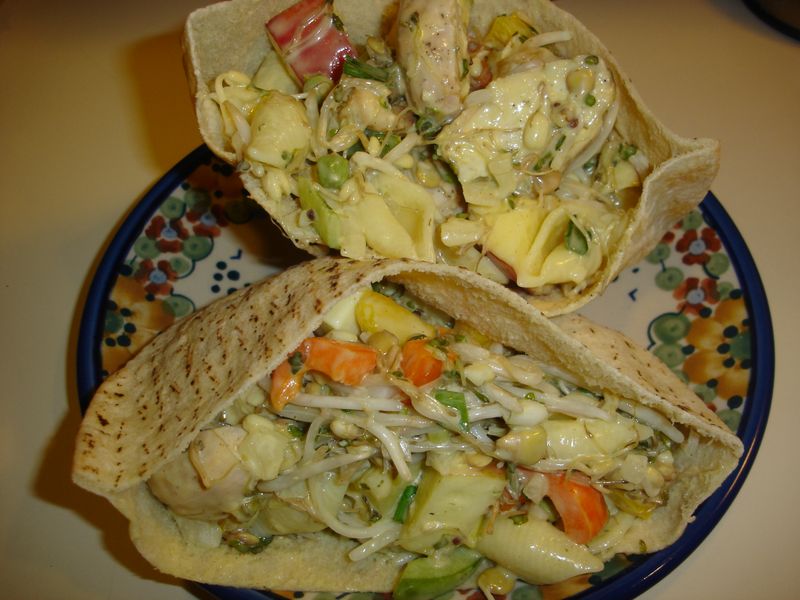 Doc Allen is my father, Ralph. I don't know to this day if my father really knows how to cook or not. He kind of wings it every time and has reasonably good results. He almost always cooks with beer, and the freshest vegetables are always used. He is a man who has worked in produce for over 30 years. And one of his hodgepodge creations is this summer salad in pita pockets.

I have asked him about 50 times for the recipe and never wrote it down. I even had him over and make it for me and my husband and never wrote it down. This time I did and am blogging about it with pictures.

*This is a large recipe. This is for picnics or for the intention of eating over the course of a few days. Unless you have a massive family with starving teenagers in the house with super metabolisms.

Doc Allen's Summer Salad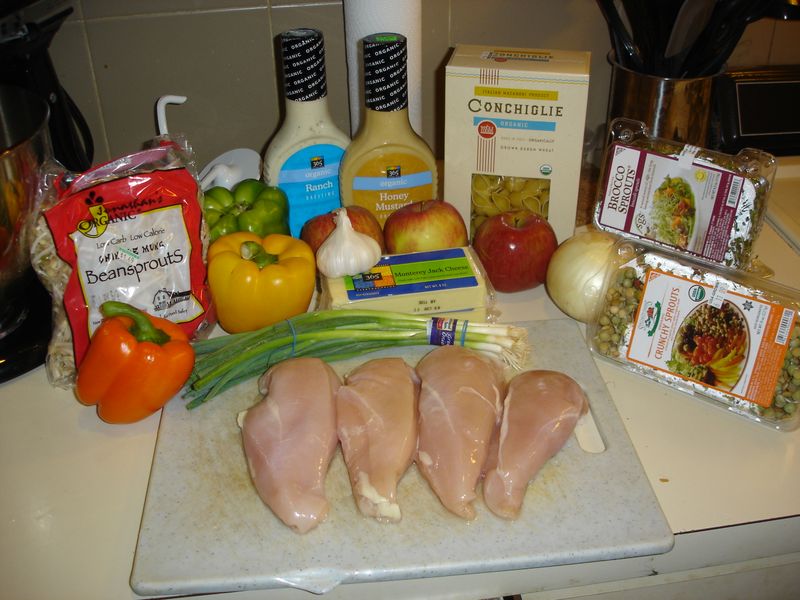 4 to 5 chicken breasts
16oz seashell pasta
Tri color peppers (green, yellow, red or orange)
3 sweet apples (Fiji or Pink Lady)
1 bundle of spring onions
1 Vidalia or sweet Spanish onion
2 4oz packages of broccoli sprouts
1 8oz package of crunchy sprouts
12oz package mung bean sprouts
5 cloves of garlic
2 8oz blocks of Monterey Jack cheese
1 16oz bottle of ranch dressing (Marzetti's if possible)
1 16oz bottle of honey mustard dressing (Marzetti's if possible)
2 to 4 packages of sturdy pita bread

You will need two large bowls to mix this salad up or one massive industrial size bowl if you have it.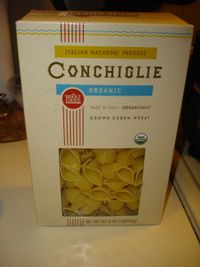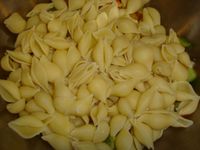 Boil pasta in a large pot. Once cooked, strain the water from the past and lightly coat with oil and set aside to cool. You can rinse it under cold water as well to cool faster.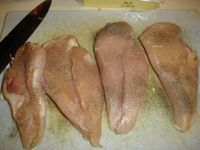 Preheat oven to 400 degrees. Salt and pepper chicken breasts.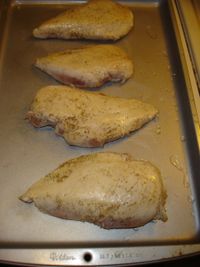 Place on a nonstick baking sheet. Bake for about 20 to 30 minutes or until chicken is cooked through.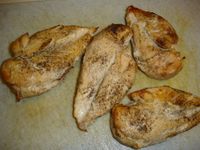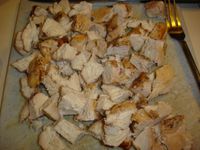 Remove from oven once cooked and allow to cool. Once cooled cut in to cubes and set aside.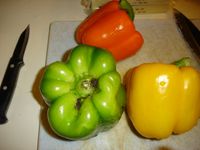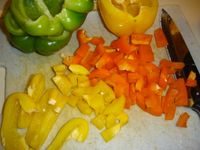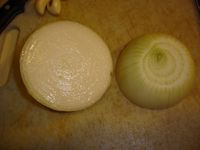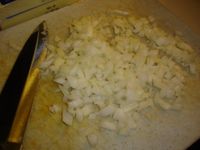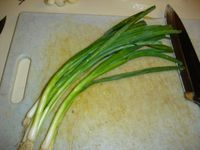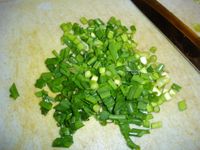 Chop peppers medium size, onion and spring onions fine chop.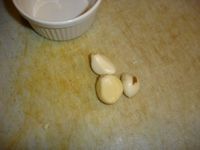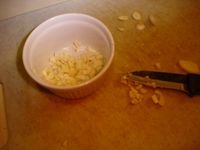 Chop garlic by hand leaving them in fairly good sized pieces. Not to big and not too small.

Side Note: In this picture I only show 3 cloves of garlic, but make sure you use 5 cloves.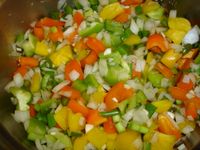 Mix peppers, onion, spring onion, garlic in a bowl and set aside. Cut the mixed veg in half for two bowls if need be.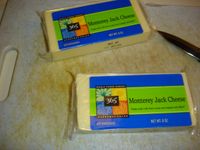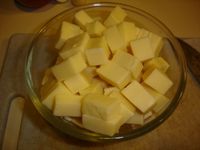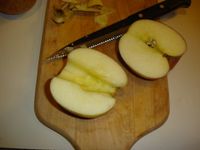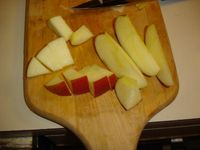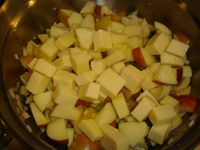 Cut cheese in to cubes and core and chop up the apples and add to the peppers and onions mix.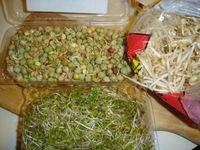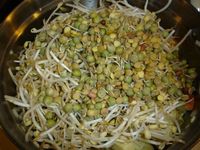 Add mung bean sprouts, crunchy sprouts, and broccoli sprouts.

Add chicken.

Sadly I did not take pics of the dressing. If you use one large bowl use the whole bottles of dressing. If you use two bowls one cup of each dressing to each bowl and stir well making sure everything is coated.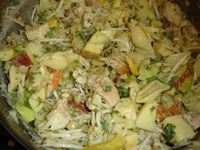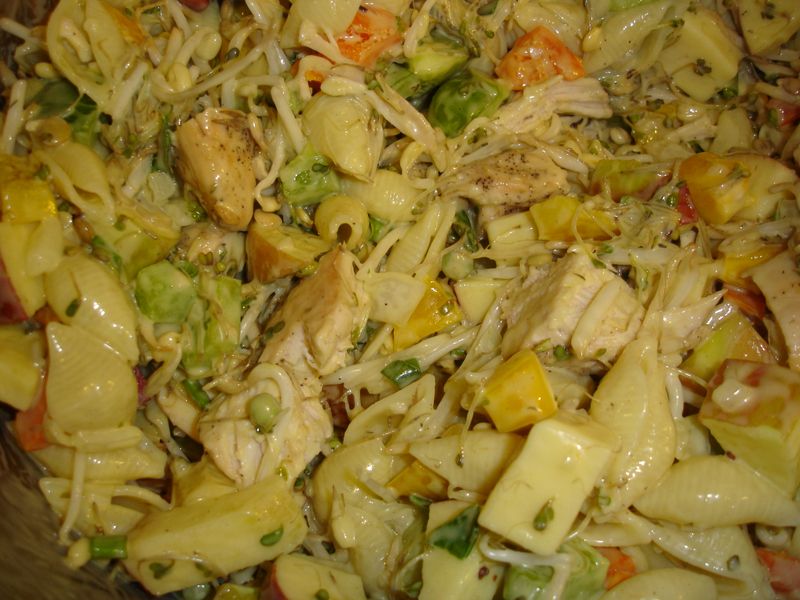 Refrigerate for 2 to 4 hours until thoroughly chilled.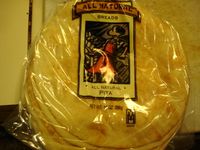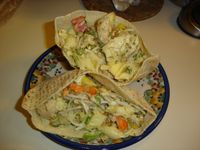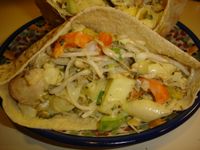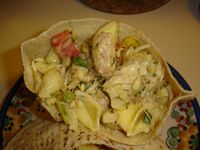 Slice pita in half and open to make a pocket. Fill with salad and enjoy.

TIPS:

You can sub the chicken for a couple of cans of tuna. You can also add the tuna and the chicken together.

You can also add the sprouts at the end to top your pita pocket with. I like mixing it all in, but if you want something more pretty with the greens on top, don't add them at until the end. Just the Broccoli sprouts though. Leave the crunch and mung bean sprouts in.