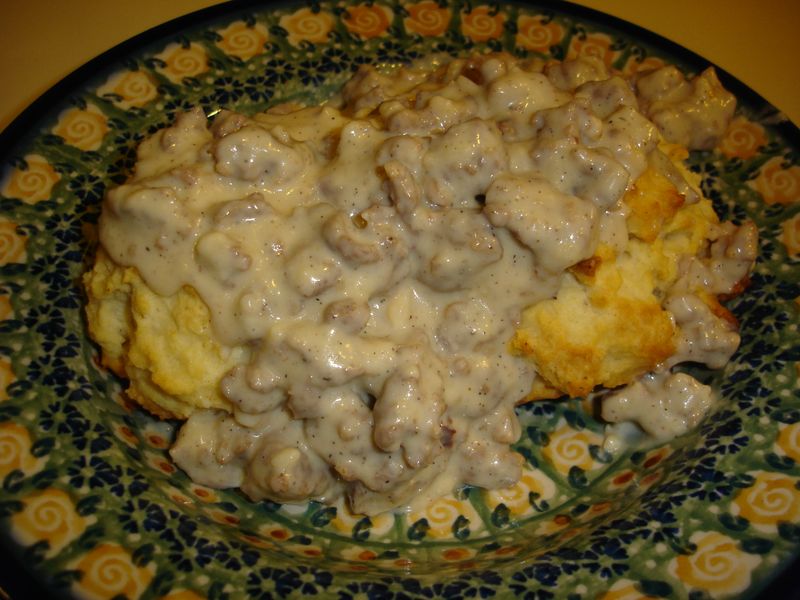 This whole post probably belongs on ThisIsWhyYoureFat.com.

It all started with some sausage I needed to cook up. One of the things I love more than life itself is soul food and southern food. I make a mean sausage gravy. It's so easy to make too. So, sausage gravy is what I decided to make with this extra sausage on hand.

The story of these buttermilk biscuits goes a follows. Josh Velazquez, one of the former Chefs of Bukowski's in Cambridge, Ma. and formerly of Deep Ellum in Allston, Ma., once challenged me to a biscuits and gravy competition. We talked shit to each other for about 3 years. We never actually had the competition, but when he moved to Deep Ellum, they had biscuits and gravy on the menu. They were good, but my gravy is way better. His biscuits however, beat the ass out of mine.

For some reason I couldn't make biscuits anymore. I used to make them all the time. I moved to Colorado for a couple of years and still made them good even in the high elevation. When I came back to the east coast something happened. They came out like pathetic dried up hockey pucks. It was a devastating blow to a Southerner like myself. If you can't make good biscuits, you might as well not even live.

It turned out that my baking powder was stale. I had no idea that it could "deactivate" if you will. I blame myself for not being a chef and knowing about these things.

So, he kindly gave me his recipe to try. I have had this recipe now for about a year and haven't made them before. They came out perfectly on the first try. Now I cannot be stopped. No one can beat me, not even your mama's recipe. Not even my mom who taught me how to make sausage gravy.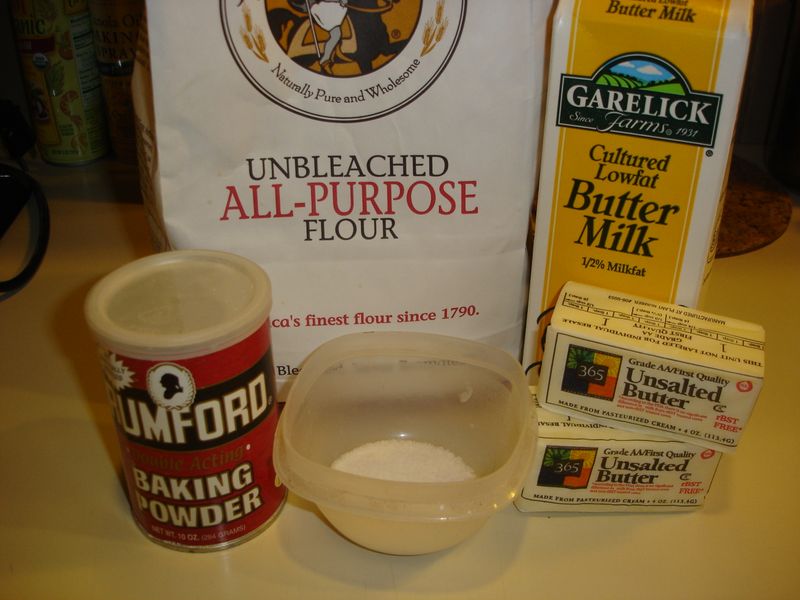 Josh Velazquez's Buttermilk (Drop) Biscuits

3 cups all purpose flour
3 teaspoons baking powder
1 teaspoon salt
1 cup butter
1 cup to 1 1/2 cup buttermilk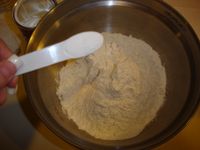 In a bowl combine flour, salt, and baking soda.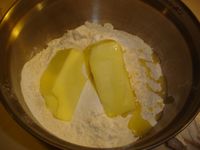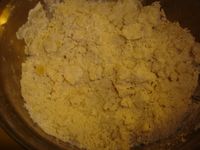 Blend in butter. The texture should be like cornmeal when done.

Side Note: I always nuke my butter for a few seconds so it's nice and soft for blending if I didn't have time to let the butter set out at room temp. for a while. I also used my hands for mashing the butter and flour. It's the best way to do it.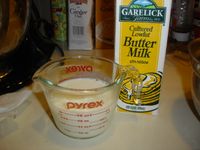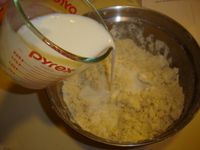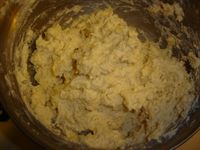 Add buttermilk and mix until combined.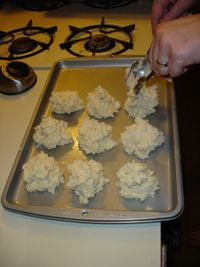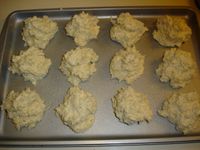 Drop 1/4 cup to 1/2 cup on to a greased baking sheet, so as the biscuits touch each other.

Side Note: I didn't put mine next to each other in the pictures because I thought they might expand. They ended up just fine that way.

Bake at 400 degrees until golden brown. (About 15 to 20 mins. in my case.)





And now for the good part, my sausage gravy.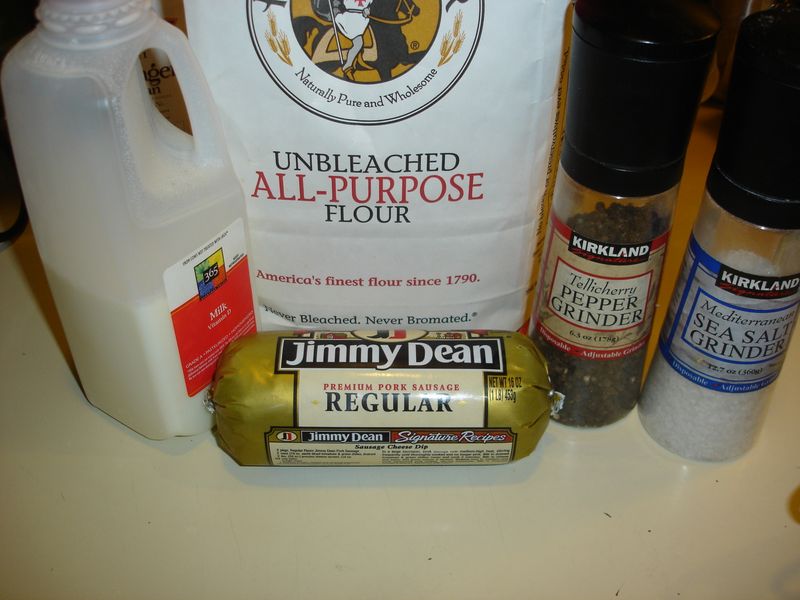 This whole recipe is a give or take method. I will give you about measurements but you really need to play with it. It's different every time I make it. Sometimes the sausage yields me more grease, sometimes not enough. I use more milk sometimes or more flour. So play with this as you make it. This is basically an eye ball recipe.

1 16oz tube of Jimmy Dean Sausage. Regular or Sage.
1 1/2 cup milk
1 cup all purpose flour
Heavy Cream

Salt and Pepper to taste
Brown your sausage on medium heat in a skillet.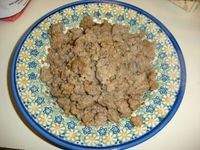 Remove sausage from skillet and place in a bowl. Leave on the side for now.
Leaving all of the left over grease from the sausage in the pan, reduce heat to a low medium. Sprinkle in 1/2 cup of flour and 1/2 cup of milk. Whisk constantly. Continue to add flour and milk until you have a nice creamy base.
Add salt and pepper to taste.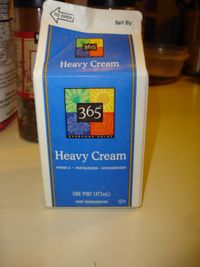 Side Note: The reason I have heavy cream listed on the recipe is because once you whisk your base you might find that you need more liquid for the gravy. Heavy cream is a nice way to add more liquid and make it extra creamy. You can reverse this recipe as well to use heavy cream as the milk and use the milk at the end to give it more liquid when needed.

It is awesome when you use heavy cream that way for sausage gravy. But since this recipe probably already has 2000 calories per serving, the heavy cream version will clog your arteries and you will feel you heart begin to slow as you eat it, but it will be worth it. It tastes amazing.
Once your base is nice and creamy and has begun to thicken, turn off the heat on the stove and add the sausage to the gravy.

That is it. That is all it takes. You are now ready to top your biscuits, serve and enjoy.