Visiting with Toro recently, it was my first time eating there. I can't believe it's taken me this long to get over there. We're working with Toro on an upcoming beer dinner. This was organized between me and Jen Fields, the general manager. We're old pals in the restaurant industry from back in the Charlie's Kitchen days. Awesome chick who loves beer and asked us to come in, try the food, and hopefully do a beer dinner with them. I contacted her later on with an idea I had about filling the summer with a series of beer dinners hosted all over the city.
BeerAdvocate presents Things We Love: Summer of Beer @ Toro
So, now that it is happening, time to put the food to the test. These are Ken Oringer restaurants, so we knew they would be phenomenal. But what we didn't know, was just how laid back and cool these places are. So relaxed and inviting, you could just hang out there all day drinking and eating small plates.
We stopped by Toro last week for a quick bite to eat first. Please forgive my iPhone pics in a dark restaurant.
Coppa (pigs neck charcuterie) and house made liverwurst. Locally sourced meats with head-to-tail philosophy.
That coppa tasted so amazing. And the liverwurst was super fresh and delicious. Simple foods, no fluff to to them, but insanely delicious.
Pork wrapped dates stuffed with Marcona almonds and salt cod fritters with fried lemon peel and squid ink aoili.
Braised short rib and Spanish-style grilled corn elote with garlic aoili and cheese and lime.
The dates seem simple, bacon wrapped dates is not entirely original but it's the quality of the pork and dates. Not to mention Marcona almonds. It's the perfect bite. The salt cod fritters were excellent. I love salt cod. The lemon peel looks like an onion ring. It ads the right amount of lemon and sweetness of all tings, from the rind once it's been fried. The squid ink aoili was nice, but a little bit much. I only say that because I am a hot mess and end up wearing it versus eating it. I escaped this time time, but my table wasn't so lucky.
Short ribs are one my favorite things on Earth. If you can nail that knife-not-required softness of the meat, then you are winning. This is was super rich and flavorful. It was also a nice sized portion of meat rather than a huge hulking piece. You don't need massive portions in a restaurant like this. Especially with the corn!
Aye aye aye! That corn was amazing. Super garlicky, zesty, and fattening with all that aoili and cheese on top. It was so amazing, and my stupid iPhone just didn't do it any justice by way of pictures. Pair this corn with their Spanish cider that drinks exactly like a sour lambic or gueze and you have an unbelievable combo.
Two days later, we headed back to Toro for lunch and power meeting about the upcoming beer dinner. More coppa, more dates, and now a chicken sandwich and white bean gazpacho.
Milanesa Bocadillo: Fried chicken sandwich with Oaxaca cheese, avocados, chipotle mayo, and refried black beans.
Chilled white bean puree with lots of garlic, cumin, and olive oil, sprinkled with some edible flowers.
Later that day, we stopped by Coppa for a quick drink. we had time to kill before meeting some fellow chocolate lovers for a drink at Max Brenner. But before that we must go back.
Two days before we had dinner at Toro. We were then told to go to Eastern Standard for Jamie Bissonnette's birthday drunk-a-thon. I call it that now because that's what happened to every single one of us who attended this. I brought Todd to come meet Jamie, thinking these two would get along famously since they are both homegrown Boston punks who are the top of their games professionally. Turns out they already knew each other from a long time ago. This is where the trouble began though. Catching up on old times and slamming back expensive shots of bourbon and Narragansett's, Todd and Jamie got tanked. Jamie was walked out by two friends and left speaking a whole other language and Todd left speaking his famed Toddinese. That's an unintelligible form of drunk speak, Blurb, glarg, nahhhhrrrrr, that I have to try and decipher while putting his ass in a cab.
The Toro people just laughed at us when we came in. But when we went into Coppa, Jamie looked like he was still hurting. So this is how he paid us back. "Oh you guys just had a bit of lunch at Toro? You're kind of full? Well, here's some whipped lardo, and some summer pasta. Load up kids, you don't want that going to waste." Damn you, Jamie! Damn you!
First thing's first. Walking down to Coppa, we ran into our buddy Phil, who works at the South End Formaggio Kitchen. SEFK is directly across from Coppa. He told us to swing down and get a Merman. A summer Italian-style shandy with Hell or High Watermelon wheat from 21st. Amendment. It's all about the glass and this quote from Zoolander:
Larry Zoolander: I just thank the Lord she didn't live to see her son as a mermaid. Derek Zoolander : Mer-man! [high-pitched cough] Mer-man!
Testa, pig's head terrine with tomato tapenade. Baccala, salt cod crostini.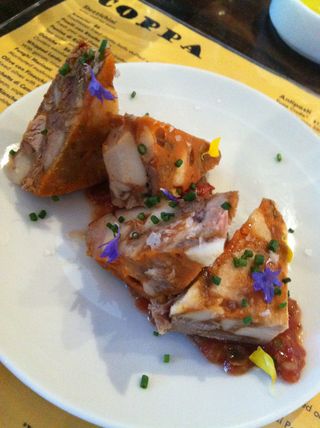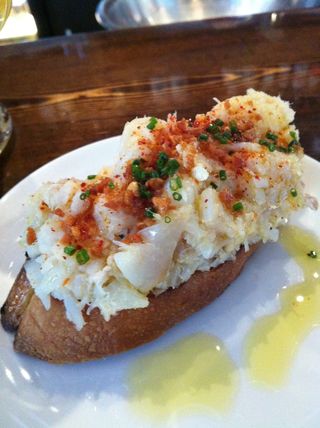 Effing fantastic. Look at all that fish on the salt cod crostini. And best of all it's pretty cheap. Both at Toro and Coppa, everything was reasonably priced. These two small plates could have easily gone for $15 or higher. And it's so good people would pay it.
"Hey guys, thanks for getting me so wasted at ES, have a little Whipped Lardo. I will be back in the kitchen while your heart begins to beat slower and gets clogged."
Whipped Lardo with pickled gooseberries and Coda di maiale, wood oven-roasted pigs tails with mostarda glaze.
Yummy, greasy, sweet, fatty, salty pigs tails. Pick them up and eat them with your hands. Deliciousness in all ways. That whipped lardo though, this is what the restaurant refers to as "meat butter." It's whipped up pork fat and balanced with a tart, vinegary, pickled gooseberries and served with rosemary crostinis. We may have thought Jamie wanted to kill us, but then we tasted it and we fully understand how delicious it really was even if we did begin to feel our hearts beating at a much slower pace.
And then as if our pant buttons weren't about to pop off at any second, this gets sent our way. Maybe he really did want to kill us. Death by expanded bellies... i.e. Big Trouble in Little China.
Oricchiette con Verdure, house made pasta with blistered cherry tomatoes, zucchini, escarole, and garum.
For me, this was all about the garum and the zucchini. Garum is a fish sauce or condiment used to flavor dishes like this. Such a simple, yet so rich and such a hugely flavorful dish. I am in love with it.
Todd and I both, can't believe it took us this long to venture over to these two awesome places, but now they won't be able to get rid of us. And the upcoming beer dinner at Toro is going to be EPIC!!! Spanish food and beer. It doesn't get any better than that.