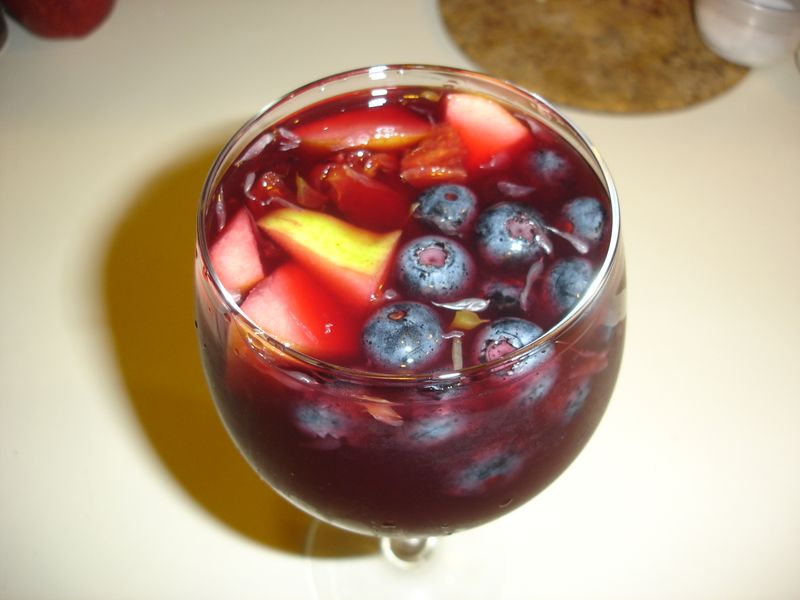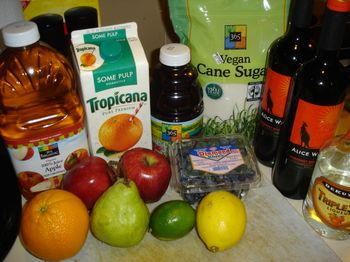 2 Bottles of Cabernet Savignon (the $5.99 el cheapo kind. I also try NOT to use blends like cab/merlot blends ect.)
1 orange sliced
1 lemon sliced
1 lime sliced
1 apple peeled, cored, and sliced or diced
2 cups of apple juice
1 1/3 cups of cranberry juice (2 cups if the wine is sweeter)
2 cups of orange juice
1 cup to 1 1/2 cups of triple sec (Edit: Cointreau and Grand Marnier work just as well. Grand Marnier is a little alcoholic hot though on the palate so play around with the measurements.)
1/2 cup to 1 cup or sugar (depending on how dry the wine is.)

*Fruits may vary from strawberries, blueberries, blood oranges, and pears. For this particular batch I used Pears, Oranges, Lemons, Limes, and Blueberries. I had Apples ready, but the Pear was enough and the pitcher was already too full for more fruit.


Slice citrus fruits and muddle with sugar and triple sec in pitcher.
Add wine and juices and apples and all other fruits and stir nicely. Let sit for 4 hours up to over night. Serve on ice with soaked fruit from the Sangria.