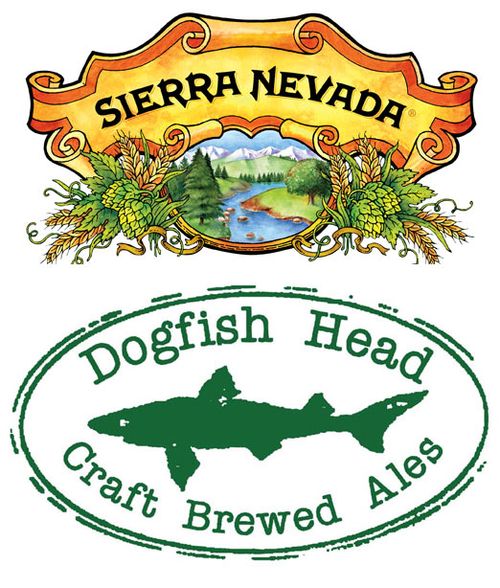 I was in San Francisco for the 1st Annual FoodBuzz Bloggers Festival. I have decided to begin my San Francisco recaps with the end of the trip at the Life & Limb beer dinner at Ana Mandara which I was lucky enough to have attended.

My good friend Sam Calagione, owner of Dogfish Head Craft Brewery in Delaware collaborated with Ken Grossman of Sierra Nevada in California to create two new craft beers. Life & Limb and Limb & Life.

A brief description of the beers from press release for the dinner at Ana Mandara.


Life & Limb

is a collaborative effort, the brainchild of Sierra Nevada Brewing Co. and Dogfish Head Craft Brewery. Life & Limb is a 10% ABV strong, dark beer that defies style characteristics— brewed with pure maple syrup from the Calagione family farm in Massachusetts and estate barley grown on the Grossman "farm" at the brewery in Chico, CA. The beer is alive with yeast—a blend of both breweries' house strains—bottle conditioned for added complexity and shelf life, and naturally carbonated with birch syrup fresh from Alaska.
Life & Limb is dedicated to the family of beer drinkers and enthusiasts worldwide who continue to support the little guys, iconoclasts, entrepreneurs, and pioneers who risk life and limb to shape the vibrant craft-brewing community.
Limb & Life

is a companion to the big beer It is a 5% ABV small beer--a low-gravity beer made using the residual sugar as "second runnings" from the first larger brew, fortified with American hops. This is a session beer. Its big brother is a sipper. Limb & Life will be a limited draft-only product, a prelude to the bigger beer, available draft only in select bars and restaurants.

After a long weekend of nonstop imbibing on good food and good beers from around the city, this was a great way to end my trip. I left from this dinner to the airport for a red eye back to Boston. It ended up working out perfectly though. After the food and beers I was so tired and exhausted but I caught my flight with an emergency row, isle seat and no one in the middle. Lots of room, full belly, and a slight buzz. Content and ready for a nap.

Let's get to the food!

I arrived at Ana Mandara just in time to drop my 60 pound luggage off with the hostess stand. I made my way up stairs and talked to Ken Grossman and Bill Manley of Sierra Nevada for a few minutes before it was time to ceremoniously tap the firkens.

Ken Grossman tapping Limb & Life.

Sam Calagione tapping Life & Limb.


For the record, it only took Ken one or two good whacks at it to tap it. Sam took 3 or 4 girly taps. I am just saying....
Sam and Ken gathered everyone to talk about the collaboration and welcome everyone to the event and dinner.

We were treated to passed appetizers and Limb & Life. Crispy Lobster Ravioli with Mango-Coconut Sauce. Apparently there was supposed to be or there was and I never saw it, Seared Rare Beef with Tamarind. Didn't matter anyway as the Lobster Raviolis were pretty excellent on their own. They paired really well with the Limb & Life.

*I didn't geek out and write down notes for the new beers. It was a social engagement with many people I have never met before. I would much rather sit back and relax and enjoy them with new company rather than be anti-social with my head in a note pad. So you will have to excuse my lack of character description on these beers.

Then it was time for the sit down dinner. I has happy to be seated next to Jay Brooks of Brookston Beer Bulletin and another cool guy named Jay (whose last name escapes me) who used to work for the Rogues Gallery which created the beer Squall IPA with Dogfish Head. The first collaboration of beer and fashion.

Jay now works for Levis which couldn't have been more perfect as my nick name for pretty boy Sam is Levis. He used to be a model for Levis and now I tell everyone to say what's up to Levis over at DFH! I thought Sam was kidding with me when put me next to Jay. Or maybe Sam just forgot I am evil. Either there was great joy and laughter at the dinner. And Jay is a fantastic guy.

As we were seated, we were greeted with Seared Rare Ahi Tuna with Hearts of Palm, Jicama Salsa, and Orange Vinaigrette.

This was paired in tandem with DFH Festina Pêche. A 4.5% sour, peach "Neo-Berliner Weissbier." And the Kellerweis by Sierra Nevada. A 4.8% abv Hefeweizen.

The beer in the wine glass in this picture was the Life & Limb. Sam got me a pour of it before the dinner started.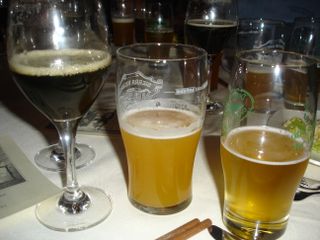 This was a tough call as to which beer worked better. At first I thought the festina Pêche was the clear winner with flavor profiles and complexities but as the course went on the Kellerweis really stood out too. The Kellerweis needed to open up a bit and warm up to reveal all of her secrets. The Festina Pêche was crisp, tart, and refreshing whereas the Kellerweis was soft and subdued. Both good pairings. Both stood up to the tuna while allowing the hearts of palm and jicama salsa to be present as well and not be trumped by the sour notes of the Festina Pêche or the cloudy wheat characters of the Kellerweis.

Up next was the Five-Spiced Crispy Skin Poussin, Sugar Snap Peas, White Corn Pilaf, and Sweet and Sour Sauce.
This was paired with Sierra Nevada Pale Ale and Midas Touch from DFH.

The SNPA being the countries most recognizable and most classic Americanized hoppy pale ales. Cascade hops with a 5.6% abv.
The Midas Touch is a big 9.0%. From the DFh website:

This recipe is the actual oldest-known fermented beverage in the world! It is an ancient Turkish recipe using the original ingredients from the 2700 year old drinking vessels discovered in the tomb of King Midas. Somewhere between wine & mead; this smooth, sweet, yet dry ale will please the Chardonnay of beer drinker alike.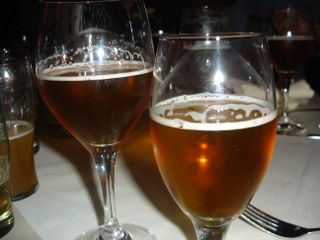 I have to say that the Midas Touch was too big for the pairing. Too strong. When you taste nothing but alcohol with your pairing, it's obviously the wrong match. Sadly this happened with the Midas Touch. Although Midas Touch is recommended for Asian and Pan-Asian dishes, I think the big, giant, sweet alcoholic characters and malts in this beer needed to be paired with something spicy and hot.

The Sierra Nevada Pale Ale on the other hand was excellent for this course. The hops and sugar snap peas gave for an interesting lingering taste on the palate. Bitter and sweet yet fresh all rolled into one.
The second main course was Wokked Tournedos of Beef Tenderloin, Sweet Onions, and Peppery Cress served with steamed white rice.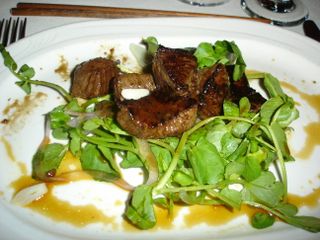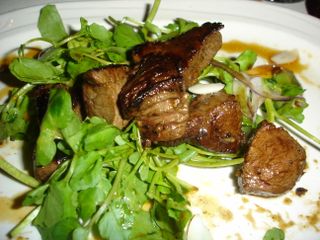 This course was paired with SN Celebration Ale and Palo Santo Marron from DFH.
Palo Santo is a big old 12% abv brown ale aged in wooden brewing vessels. Big caramel and vanilla notes.

SN Celebration is an American IPA about 6.8% abv but has the notes of Christmas on this beer. Citrus, piney resins, and spices.
This is a reverse case of the first main course. Where the SN worked better than the DFH. The Palo Santo from DFH worked much better in this case than the SN. Celebration Ale is a big holiday ham kind of beer. Think of all the rich foods at Christmas time and then you will understand where to go with pairing Celebration.
The Palo Santo almost didn't work either. It's giant 12% abv was borderline. But the rich brown ale notes pulled this together with the meat. Despite being 12%, it is the kind of 12% that you don't really notice. You end surprised when you find out just how big it really it. But with the white rice served with meal cleaning the palate constantly, you are reminded a bit more than you probably would be. The earthy greens also helped keep this pairing in line.
Lastly, dessert. A choice of desserts was presented. Valhrona Dark Chocolate Semifredo, or Flourless Coconut Rum Cake.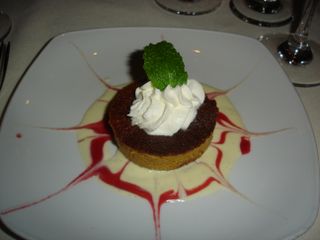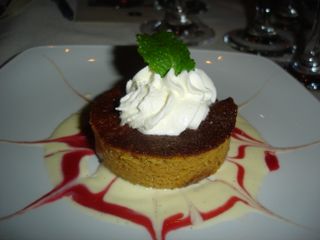 This was paired with the Life & Limb. I do not have a fantastic shot of the beer that ended the night. But you can see it with the beers in the first pairing, the Seared Ahi Tuna course.
I clearly chose wrong for this course. I went with the Flourless coconut cake. It was delicious and delicate on the coconut, but the beer was a tad too big. I only chose it because everyone went for the chocolate dessert. It was very rich and cocoa-y. It held up a lot better with the Life & Limb.
And lastly Sam and Ken wrapped up our evening with some final thoughts and a toast.
Thank you to Bill Manley for setting this dinner up and working really hard on these pairings. And working to get me in on this dinner. Thanks to Ana Mandara for a really great meal. The restaurant is gorgeous and the hospitality was fantastic.
This was exactly the right way to end my long weekend in San Francisco. A long weekend of food pairings and beer. More on the weekend to come. I was able to get home nice and comfortable and not have to buy shitty airline food.
Over all I liked the Limb & Life better. I am not sure if that was because I needed a session beer after the hard weekend of 21st Amendment's Back In Black IPA and Pliny The Elder from Russian River. Both Life & Limb and Limb & Life were pretty amazing. The Life & Limb will no doubt be the hit of the party when they make their rounds. Especially when it gets to the Extreme Beer Festival in Boston Barrel Aged!!