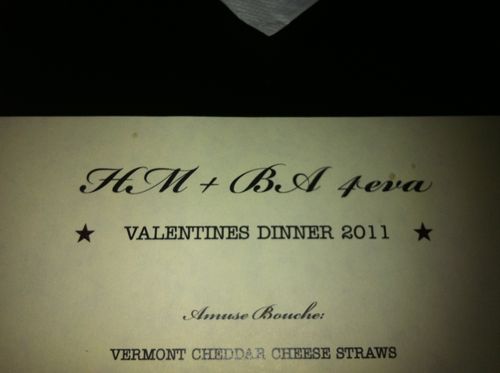 Hungry Mother + BeerAdvocate 4eva!
Word is Bomb!
This was our second go with a "Things We Love" concept at Hungry Mother. The idea of "Things We Love" is to not have such rigid guidelines for beer dinners anymore. No more themes, no more working with only one brewer, and no cheesy holiday schtick either.
It's about doing what we want do and featuring what we love at that moment. It allows us to encompass the best of a restaurant. In this case Hungry Mother. From the beers we love, to the food we love, and even a few cocktails.
This wasn't a dinner for lovers only. This was dinner for beer lovers, foodies, friends, and lovers alike. We wanted to host a dinner on Valentine's Day that wasn't your typical wine and fine dinning meal followed by ordinary sex, mediocre chocolates, and the obligatory red roses. No, our dinner was down and dirty, and about friends, beer, soul food, and awesomeness. If you were a couple at this dinner, I have no doubt you went back and had mind blowing, wake-the-neighbors kind of sex! Nothing ordinary about what we set out to accomplish with this dinner. That's how we roll.
I ran out of the house on my way to this dinner without my Nikon. These are iphone pics so please don't front about image quality.
Amuse Bouche: Vermont Cheddar Cheese Straws
Beer: Beer Cocktail: Vida Mezcal, grapefruit 'concentrate,' beer syrup, Miller High Life, salt.
These were small but tasty little snacks we were treated to as we sat down at out table. Awesomely rich cheddar cheese flavor and a High Life Beer cocktail. Ya betta ax somebody! You could imagine my great joy in seeing High Life 40's being poured from behind the bar to fill these glorious little beer cocktail treats. I loved it. It tasted great and worked really well the cheesy straws. A little snack but the exact right taste to the set the mood for the rest of the pairings to come.
First Course: Hoppin' John "Burger" with bacon, lemony mayo, b&b pickle, fingerling chips.
Beer: Cottrell Brewing Co., Old Yankee Ale, 5%
This was fun. A veggie burger with the consistency of a perfectly cooked medium rare burger. And it had bacon! I love sweet bread and butter pickles. This gave it the perfect hint of sweetness coupled with the malts from the beer. Some earthy flavors from the burger with the earthy micro greens and awesome little fingerling potato chips for a hit of salt. This was cool and fun. This beer was really good too and the perfect choice. When it comes to burgers you don't need to over think your beer. A good lager or a pale ale will suffice and this was perfectly malty and exactly what the earthy burger needed.
Second Course: Cornmeal fried Chesapeake Oyster with Virginia 'surryano' ham, pea tendrils, citrus-buttermilk vinaigrette.
Beer: Dogfish Head, My Antonia, 7.5%
Or
Braised duck and hominy stew with exotic mushrooms, Vidalia onions, pickled peppers, and cracklins'.
Beer: Hill Farmstead, Arthur, 5%
Both of these were wonderful. Todd got the Oysters, but we ended up switching our courses midway through. I really liked the oysters course the best with My Antonia. That is a phenomenal beer from Dogfish Head. It's a beautiful Imperial Pilsner.
The oysters were big and plump and perfectly coated in cornmeal. The dry and crisp flavor of the beer helped balance the fatty creaminess of the oysters and buttermilk dressing. The citrus in the salad and the citrus flavors on the beer helped round out this course.
The duck course was rich and flavorful. Awesome cracklins' on the side for a play of textures. I did think maybe the hominy could have been a bit softer, but this course was rich and fatty and delicious. The beer was not my personal favorite, but how it paired with the course was dead on. It was funky, extremely bread-y, citrus, and peppery. A nice choice to help off set or cut though some of the rich fattiness of the duck. Nice big chunks of duck meat as well.
Third Course: Pineland Farms Boneless Beef Shortrib Steak with Maine shrimp, Tasso ham, and creamy grits.
Or
Barnegat Light Sea Scallops with crispy pork belly confit, escarole, red onion jam, lemon brown butter.
Beer: Ballast Point, Sculpin, 7%
These scallops were unbelievable!!! So succulent and sweet with a gorgeous sweet and tangy sauce. My friend Paul and I, ordered the same thing and both of our faces lit up with the first bite. These scallops and that brown butter and onion jam were so good. The pork belly was perfectly cooked. That crispy top was fantastic and the pork belly was soft, rich, meaty, and fabulous. I thought I had died and gone to heaven with this course.
The Sculpin was great for this pairing. So many times with seafood, especially scallops, people think to pair lighter beers, less hops. Saisons and other boring repeated choices. The rich sweet scallops held their own and the pork belly was an added bonus.
The steak course was just as awesome. Perfectly cooked as you can see in the picture above. Creamy grits is a specialty of Hungry Mother. They do southern food so well. The richly spiced shrimp with IPA's are a no brainer, and of course steak and IPA's are great together too. The hops and the spiced shrimp really pulled it all together though. I only had a few bites so I didn't have enough time with this dish to fully evaluate it, but the few bites Todd slipped me were outstanding.
Dessert: Flourless Taza Chocolate Cake with sorghum marshmallow and peanut butter creme anglaise and spiced tuille.
Beer: Hill Farmstead, Everett Robust Porter, 7.5%
Or
Meadowcreek "Appalachian" cheese with Tennessee truffles, malt vinegar pickled 'Tomcat' grapes, black walnuts, and sourdough.
Beer: Cicsco Brewing Co., Lady of the Woods, 5%
Lawd have mercy! That chocolate cake with peanut butter sauce and oozing sorghum marshmallow cream was effing amazing! It was the exact right thing with that very robust porter. I am not a Taza chocolate fan at all, but twice now, Hungry Mother has not only made me enjoy their chocolate desserts, but they have slapped me in the face with their Taza desserts and made me love them. This porter is full-bodied, chocolatel-y roasted, and delicious. To make that chocolate stand out more, peanut butter creme anglaise completely made that porter show its full roasted quality and allow the chocolate notes to come full forward. Normally if you pair chocolate on chocolate one will over take the other and allow other characteristics to appear. In this case the chocolate cake did not interfere with the beers chocolate character thanks to the peanut butter. Amazingly rich, and fabulous dessert.
Sex on a plate! Fo real!
The cheese course was right up Todd's alley. I found the cheese to be a bit too funky, and the beer too funky and lemony for me. But once again, for someone like Todd, whom loves the funk, this was a spot on pairing. The beer was heavily lemony, sour, mildly carbonated, and a bit earthy underneath all that lemon. Citrus cutting though that creamy and funky cheese. This is one of those times where similar flavors paired together work well. Funk on funk is a good thing. Grassy, lemony, creamy, earthy, beer and cheese.
And a little parting treat with our check, handmade truffles.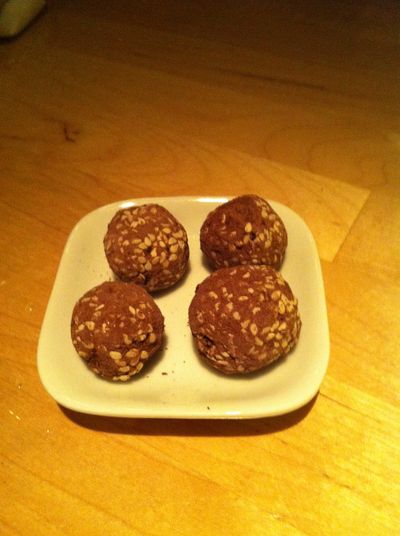 The black truffles were a feature on the cheese plate, but it was also offered shaved on the main courses. They are Tennessee grown black truffles from friend of Hungry Mother's, Tom Michaels. First commercial scale black truffles grown in the US.
Something to take note of. I always, always offer a vegetarian menu for my beer dinners. The menus may not always be posted because to me the meat courses just really bring it home for people, but you can always attend my beers and find amazingly paired vegetarian courses.
Vegetarians were treated to:
First Course:
HOPPIN' JOHN 'BURGER' lemony mayo, b&b pickle, brioche bun, fingerling chips
Cottrell Brewing Company 'Old Yankee Ale': american pale ale (5%), Pawcatuck, CT
Second Course:
WILD MUSHROOM & HOMINY STEW delicata squash, vidalias, poached 'flying dutchman' egg
Hill Farmstead Brewery 'Arthur': barrell aged saison (5%), Greensboro Bend, VT
Third Course:
SMOKED MAINE TOFU 'SCALLOPS' A LA PLANCHA white sweet potatoes, escarole, lemon brown butter
Ballast Point 'Sculpin': india pale ale (7%), San Diego, CA
The same desserts were offered.
This dinner was amazing. It really is Hungry Mother + BeerAdvocate = 4 eva!
They really now how to make comfort food elegant and flavorful and truly wonderful. They respect beer and really get it. Their waitstaff is friendly and patient. They consistently blow me away and prove time and time again that they are whats up in this town.