This post has been a long time coming. In a way I am kind of glad I waited to post about this dinner. It was over the summer time and with this colder fall season already in full swing, why not revisit a warm period of time with fun summery foods? Let's try to imagine full green trees, open windows, warm temperatures, and this fun summer event.
Aquitaine is very fun and very well respected bistro in the South End of Boston. Alexis Kimler-Gelburd, the general manager decided it would be a fun idea to expect our offer to partner up for our summer beer dinner series that took place at fine restaurants all over the city, all summer long.
Although Aquitaine is a wine bar, they love beer too. Their experience bartenders were excited for this dinner as well Chef matt who helped sculpt this delicious menu for us.
Aquitaine serves one of Todd's favorite burgers in the city. A few BA power meetings have taken place over a beer and a burger at Aquitaine. Not to mention regular dinner service at Aquitaine is insanely good. You can see the proof here.
Meeting Alexis and realizing how cool she is and how interested she was in hosting a beer event with us, we decided it was a perfect place to host a Summer of Beer Dinner. As some of you know, we stopped hosting themed beer dinners. No more working with rigid guidelines or themes, no one brewer to be featured, just a glimpse of what is seasonal, fresh, and what we love at that moment by way of beer and food.
**Please forgive the image quality. I left the house without my Nikon and captured the dinner withiPhone images.
Welcoming: Penn Weizen Cocktail
Aquitaine's version of a summer French Shandy. Made with Pennsylvania Brewing Co. Penn Weizen and St. Germain. (Yes, it's in a BBC glass. I will explain later in the post.)
First Course: Island Creek Oysters Two Ways
Malt Beer Batter + Raw With High Life Mignonette
Beer: Narragansett Summer Ale
Wonderful fresh Island Creek Oysters nicely fried with a good malt batter. Sweet and perfectly paired with the Summer Ale. The fresh oyster and it's sweet and tangy High Life mignonette was another way the beer balanced. Its vinegary tangy with the creamy texture of the oyster gave the beer a creamy yet fresh and effervescent quality. Oysters and this Summer Ale were made for each other.
Second Course: Pretzel Crusted Hake
Endive Marmalade and Coriander with a mustard broth.
Beer: Great Divide Colette Farmhouse Ale
Huge portion of fish with this course. Amazing flavors with the mustard broth and pretzel crust. Gorgeous, juicy fresh Hake. And of course a beautiful farmhouse ale from Great Divide. Cloudy, sweet, yeasty and spicy ale that worked well with the fish and coriander that tied it all together. We were all taken back a bit with the size of this course. Aquitaine was not stingy with the food or beer pours. This did mean we were in trouble for the next few courses though. Wide eyes for the rest of the dinner.
Third Course: Boudin Blanc Corn Dog
Corn and pepper relish.
Beer: Maine Beer Co. Peeper Ale
Although this picture may not reflect the size of this Boudin Blanc sausage, it was huge! House-madesausage and battered and deep fried like classic summer carnival fair. Fresh corn and pepper cool relish and Peeper Ale. The Peeper is an unfiltered hoppy pale ale with a little more gusto than a typical pale ale. Full bodied and very hoppy, just what the fatty corn dog needed and a little tanginess and fresh sweet corn to help with some added depth and flavors. This course may not seem like was all that or perhaps lackluster due to the images, but let me assure this was a massive course and perfectly fitting for a summer meal.
Chef Matt really liked stepping outside of the fancy box for a minute to create something fun. Poor Alexis had no idea where to get the red baskets they were served in. It is a French bistro after all, but it sure was fun stepping outside of the box. The diners seemed to really enjoy this course as well. Beer dinners do not need to be stuffy.
Fourth Course: Cherry BBQ Brisket
Kohlrabi Slaw and Fingerling Salad.
Beer: Cisco Brewing Co. Cherry Woods
Obviously this was one I had a hand in choosing based on the beer. I have used Cherry Woods before andPechish Woods at the Journeyman Summer Of Beer dinner. I love this beer and we were fortunate enough to get some of the last bottles of it. Cherry Woods is a lightly sour ale with a huge Cherry Pie filling aroma and beautiful cherry taste. That color is gorgeous too. Chef Matt made some glorious brisket with a cherry bbq sauce and light summer picnic sides to go with it. The acids in the sour Cherry Woods and the fatty brisket were made for each other.
This was another course that the pictures are not doing it justice. It's brisket, man! It was delicious and a nice curveball to the diners with a lightly sour ale for the main course.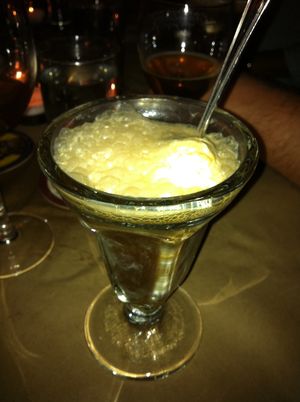 Dessert: Frozen Boilermaker
Irish Whiskey Ice Cream with a malt caramel swirl.
Beer: Berkshire Brewing Co. Drayman's Porter
This was an Alexis course. She is from the Berkshires and loves BBC beers. She keeps them on the menu at Aquitaine. Her favorite beer and a perfect way to end the night. Their take on a beer float but going the extra mile with a delicious house-made ice cream. A lot of the people in attendance at this dinner were not BeerAdvocate's. We like it when this happens because things like a beer float really blow some minds. It's very simple and very easy to make and yet it seems to make a good statement every time. We love that Aquitaine really hooked this up too with the Irish Whiskey ice cream. The boozy sweet cream and the dry roasted porter added enough contrast to actually bring out the ice creams rich flavors and the deep rich and dry flavors of the porter.
One thing to note about this dinner was the speed in which everything was presented. The dinner began at 7pm and we were done by 9 or 9:30. We were not rushed by any means, but this was a beer dinner that just flowed nicely. Often times you end up with weird lag time between courses. Sometimes it can't be helped with the size of certain kitchens. But this dinner flowed with ease.
The portions of this dinner were big and the size of the beer pours were full. One thing people hate about beer dinners is high price tags and stingy portions. Aquitaine did not hold back and they made sure we all need wheelbarrows to take ourselves home with.
A fantastic dinner. Aquitaine really rose to the occasion with this beer dinner. I hope you were all able to get the gist of this dinner with my iPhone pics. It was such a good time.