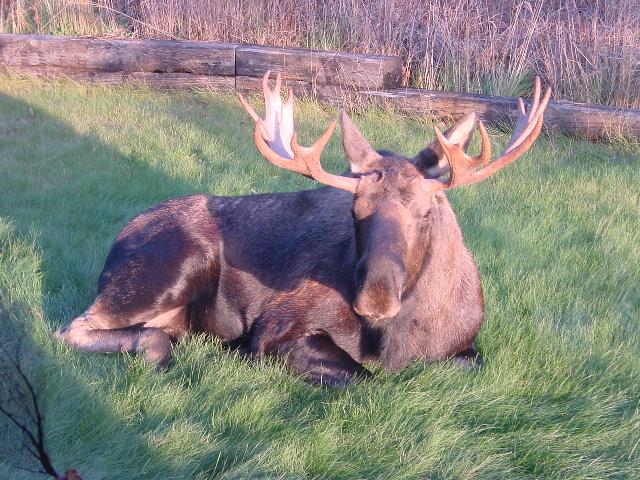 [Gratuitous Moose shot for the Alaskans. ;>]


This was our first event after landing in Anchorage, Alaska. We literally flew into town, got showered up, and were back out for beer and food.

Billy Opinsky, the owner of Humpy's Great Alaskan Ale House, owns and shares a kitchen with another bar called SubZero Micro Lounge. Anyone who know beer in Alaska, knows Billy O. He is a kind and generous proprietor of two Anchorage's mainstay's and is extremely knowledgeable about craft beer. After our week in Alaska, I can safely call Billy O, my pal!

SubZero was the scene for the "Break Into The Cage" beer dinner. Billy Opinsky broke into his stash of rare offerings of Belgian beers kicking off a week of beer events for the Great Alaskan Beer And Barely Wine Festival. There were some excellent surprises in store and some other offerings that were not so much.

Welcome Beer: Castelain 2001 Blonde Biere de Garde, 6.4%, France
This one came out a little chunky, but tasted amazing for nine year old beer. I felt like it held up well.

The French are known for their farmhouse style ales. Very classic, wild farmhouse ales. As pretty as Biere de Garde's are though, I am looking forward to France finally competing with the Italians and making more varieties of craft beer. But having said that, I have never been to France. There could be a beer revolution going on there right now.
First Course: Artisan greens with pomegranate, tossed with meyer lemon, olive oil, and geuze, topped with gorgonzola and crispy pancetta.
Beer: Boon Oude Geuze 2001 Gueze, 7% abv, Belgium
This was an excellent pairing. The sour gueze went right to work on the earthy greens and the blue cheese. The pomegranate seeds added a touch of sweet tart to the plate. And of course the pancetta, that's always a welcome guest to any dish.

I liked this course a lot because reinforces the power of a good pairing. I am not a fan of sour beers. If the ph is off, they become undrinkable to me. It's not the flavors of them despite how funky they can be, it's the physical effects they cause to my body. Like instant heart burn. If they are too funky, they wild bacterias cause instant bloating. An uncomfortable issue to talk about with beers, and in the middle of a beer dinner discussion, but it still happens. These aged beers were certainly funky but I was able to handle them okay with food.
It proves to me that food and beer really change one and other. Beers you may not like, end up being wonderful with the right food. And once you accept that factor that food changes the experience all together, it reinforces a mantra that I have been repeating over recent months: You don't not need to give a person "training wheel" beers in order to make them a convert. People think non beer drinkers should be weened into beer versus giving them the best beers no matter what style they are. All it takes is an expertly matched pairing. The same can be said about me who has professed a dislike towards sour beers. Food changes everything for the better.

Second Course: Seared Foie Gras resting on red cabbage braised in Hanssens Kriek with a blackberry compote and fresh berries.
Beer: Hanssens Oude Kriek 1999 Lambic, 6% abv, Belgium
This was an amazing dish. Huge pieces of wicked soft foie gras. Absolutely sinful and artery clogging. Just the way I like it! The red cabbage and the blackberry compute was fantastic.
The beer was not so much for me. Despite it's gorgeous red color and crisp carbonation still hanging on, there was a funk going on that I just couldn't get passed. It was little rough on my esophagus as well. All the other geeks at the table were going bonkers over it. This was one I just couldn't agree with. I wound up drinking the Boon Oude Geuze with it and it worked just as well. Same basic principles of the high acid content cutting through the rich fats as well as the carbonation.

Despite a super funky beer, this course was amazing.
Mystery Beer: Cantillon Fou' Foune Lambic, unknown year, 5% abv, Belgium

Amuse Bouche: Crostini with a gouda spread, spring onions and chutney.

Now this was a Cantillon I could handle. Cantillon is world renowned for their lambics and gueze's. But they are also know for being some of the most sour beers you can get. These are some of the worlds prettiest beers, but the some of the roughest on me. Luckily not this one thanks to aging rounding out all the dramatic sharp sour edges. Big lovely peaches and apricots in this muted sour beer.

It went perfectly with the little nosh of gouda crostinis.
Intermission Beer: Unibroue Edition 2005, 10% Abv, Dark Belgian Strong Ale, Quebec, Canada.
Sadly from this point on I can only post the picture from this beer dinner. I had to head back to the hotel and sleep. I had a headache so bad. We landed that afternoon and went right to the dinner. This was the kind of headache that wouldn't go away without a few hours darkness and sleep. Luckily I woke up feeling great the next and had a glorious breakfast of King Crab Leg Cakes Eggs Benedict. But bad luck for me, I missed the bread pudding dessert. Todd finished taking pictures for me.

Third Course: Deconstructed venison stew with root vegetables.
Beer: Thomas Hardy's Ale 1996 Old Ale 11.7% abv, England (Retired)

Fourth Course: Pistachio crusted lamb resting in Duchess de Bourgogne demi glace with potatoes au gratin.
Beer: Trappistes Rochefort 8 2004, 9.2% abv, Dark Belgian Strong Ale, Belgium
Dessert: Bread pudding with Thomas Hardy glaze.
Beer: Goulden Carolus Noel, year unknown, Dark Belgian Strong Ale, Belgium.
I love bread pudding. What a shame I couldn't make it all the way to the end. But from everything I did have, it was an incredible meal. Todd said the rest of the meal was fantastic. I got to meet and hang out with some really great people. And I got to bad mouth Sarah Palin with some like minded Alaskans.
Thank you Billy O for kicking off our week in Alaska with an amazing beer dinner.