This is the day I realized my camera was dying. The day I realized it's time to upgrade to a more professional type camera. Yellow pictures, blurry images with the setting set on still images. What a disaster, but I couldn't resist sharing this recipe.

I attended the 1st Annual FoodBuzz Blogger festival in the beginning of November last year. As part of the tons of swag we were given, I got a jar of this Mezzetta Napa Valley Homemade style pesto. Unfortunately it leaked all over my bag on the way home so I had a day or two use it.
I am not a huge pesto fan and I haven't really cooked with it before. So I searched the internet for a creamy chicken dish that I could add the pesto to. I found a very simple recipe from the FoodNetwork for Chicken in Parmesan chive cream sauce. This was the recipe I used for my base and then improvised the rest to make an awesome chicken pesto dish.

Forgive these pictures and pay attention to the recipe. You will want to make this. I cut out the chives and added a few different things to this recipe. Look for the asterisk to indicate what has been changed from the original recipe.



Chicken in Parmesan Cream Sauce by Robin Miller

1 tbls olive oil
1/2 cup diced shallots
3 cloves of minced garlic
2 pounds of boneless skinless chicken breasts, cut into 1-inch pieces
1 tsp dried thyme
2 bay leaves
1 1/2 cups heavy cream
* 1/4 cup parmesan
salt
pepper
* 1 6.25 oz jar of basil pesto
* 10 large white mushrooms sliced
* 1 cup of sundried tomatoes chopped
* 1 pound of cooked bowtie pasta
Heat oil in a large skillet over medium-high heat. Add shallots and garlic and cook for 2 minutes stiring with a spoon.
Add chicken and cook for 3 to 5 minutes until golden brown on all sides.
Add thyme and bay leaves and cook for one minute, or until fragrant.
Add heavy cream and bring to a simmer for 1 minute or until sauce has thickened. Reduce heat to medium and simmer for 5 minutes, until chicken is cooked through. Add parmesan cheese and simmer for 1 minute or until sauce has thickened. Remove bay leaves.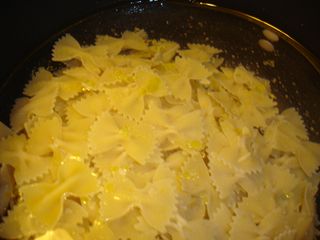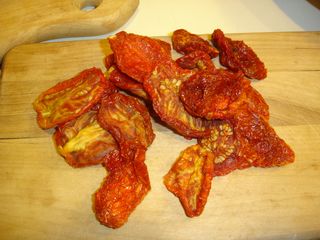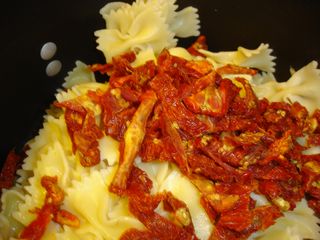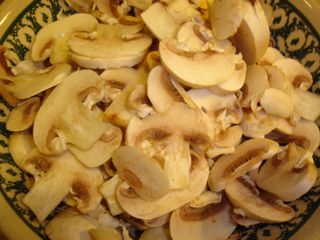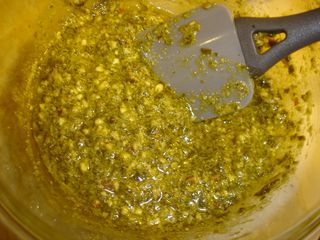 Boil bowtie pasta and cook until pasta is tender. Drain the pasta and leave in pot. Add the entire jar of pesto, sliced mushrooms, and sundried tomatoes to the pasta. Pour on the creamy chicken from the skillet into the pot and stir well. Make sure all the pesto and cream sauce has coated everything.

Serve immediately in bowls with garlic bread.
The asterisk next to the parmesan is there because the recipe called for 1/4 cup, but I found that I needed a lot more than that. Start with the 1/4 cup and gradually add more as you need it. But allow it time to thicken before adding more so as you don't over do it. Just watch that you don't over cook the chicken while you wait for the cream sauce to thicken.