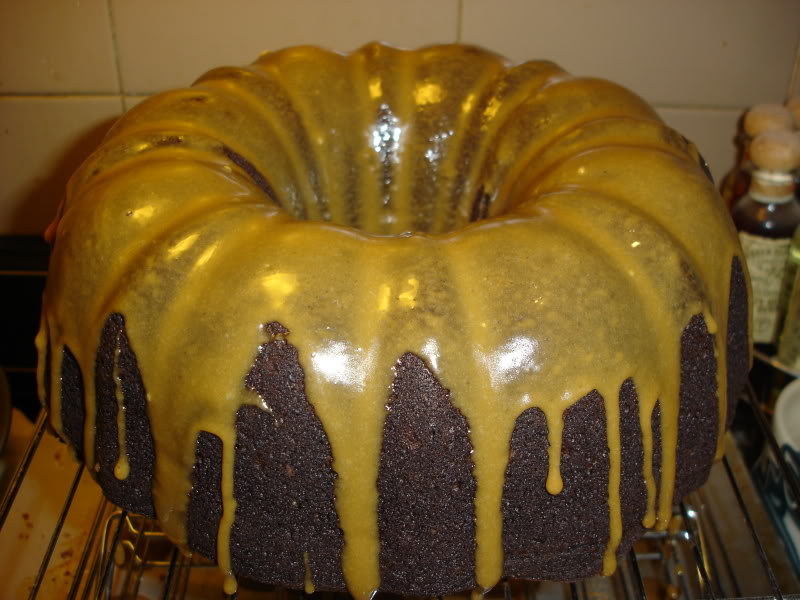 (This is an older picture of the cake. Smoother bundt pan.)

I live for this cake and crave it on a regular basis. I make the best regular chocolate cake. Simple, no guffs about it super moist chocolate cake and chocolate frosting. But every once in a while I need a kick to the cake. I found this recipe ages ago. I don't even remember what I was looking for at the time I think it had to do with bourbon. It doesn't even matter now.

This recipe calls for bourbon two times. In the cake and in the glaze. I am all about it.

Mississippi Mud Cake With Bourbon Espresso Glaze
Via Bon Appétit, July 1999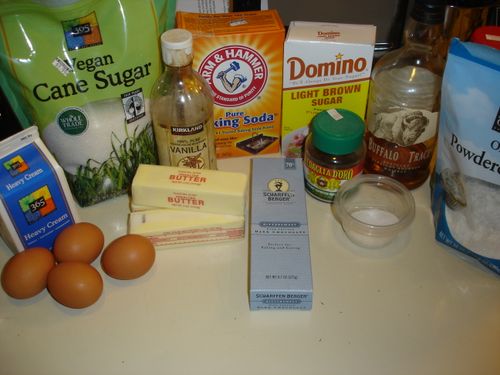 Ingredients:

Cake

2 cups all purpose flour
2 tsp. baking soda
1 tsp salt
1 cup unsalted butter, cut in to pieces
6 oz unsweetened chocolate or bittersweet chocolate, finely chopped
1/2 cup brewed espresso, or very strong coffee
1 1/2 cups sugar
1/2 cup bourbon (Buffalo Trace)
4 large eggs
2 tsp. vanilla extract

Glaze

6 tbls. unsalted butter, cut into pieces
6 tbls. packed brown sugar
2 tsp. instant espresso powder
6 tbls. whipping cream
1 1/2 cups powdered sugar, sifted
2 tbls. Bourbon (Buffalo Trace)


Make cake: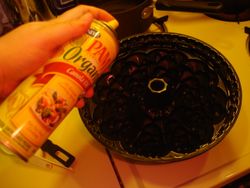 Preheat oven to 350°F. Butter 12-cup Bundt pan.
*Use a rounded bundt pan over the novelty pans. I used a novelty in this example of making the cake because it's all I had on hand, but I find that the smoother pan is better.
Mix flour, baking soda and salt in medium bowl.
Combine butter, chocolate and brewed espresso in heavy medium saucepan. Stir over low heat until chocolate and butter melt (mixture may look curdled). Remove from heat. Add sugar and bourbon. Whisk until sugar dissolves and mixture is smooth.
Using electric mixer, beat eggs and vanilla in large bowl until blended. Gradually beat in chocolate mixture. Add flour mixture and stir just until blended.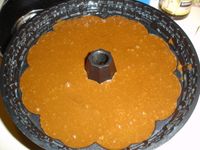 Transfer batter to pan; smooth top.
Bake cake until tester inserted near center comes out clean and cake begins to pull away from sides of pan, about 45 minutes. Cool in pan on rack 15 minutes. Invert cake onto rack; cool completely.
From the older images.
For glaze:
Stir butter, golden brown sugar and instant espresso powder in small saucepan over medium heat until butter melts. Stir in cream. Simmer 1 minute. Remove from heat.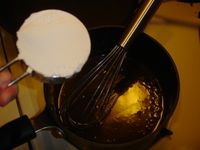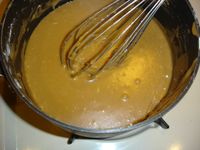 * I forgot to snap an image of the bourbon going in the glaze, but it is in there.

Gradually add powdered sugar, whisking until smooth. Mix in bourbon. Cool slightly.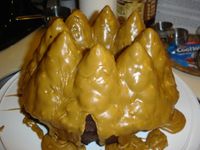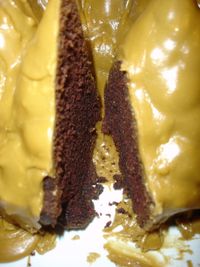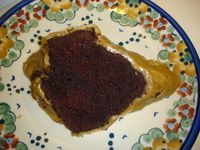 Place cake atop rack on baking sheet. Slowly drizzle glaze over cake, allowing glaze to run down sides of cake and cover as much of cake as possible. Spoon any glaze drippings from baking sheet over cake. Let stand 30 minutes. (Can be prepared 2 days ahead. Cover with cake dome. Let stand at room temperature.)


* I do not drizzle the glaze on the cake over a rack. I did that one time and wound up wasting a ton of glaze. I do it right on my cake container and let the glaze drizzle where it may. Once you do that, you get nice little pile ups that you can spread on your cake slice when you cut into the cake. Not the prettiest thing you can do, but tastier.