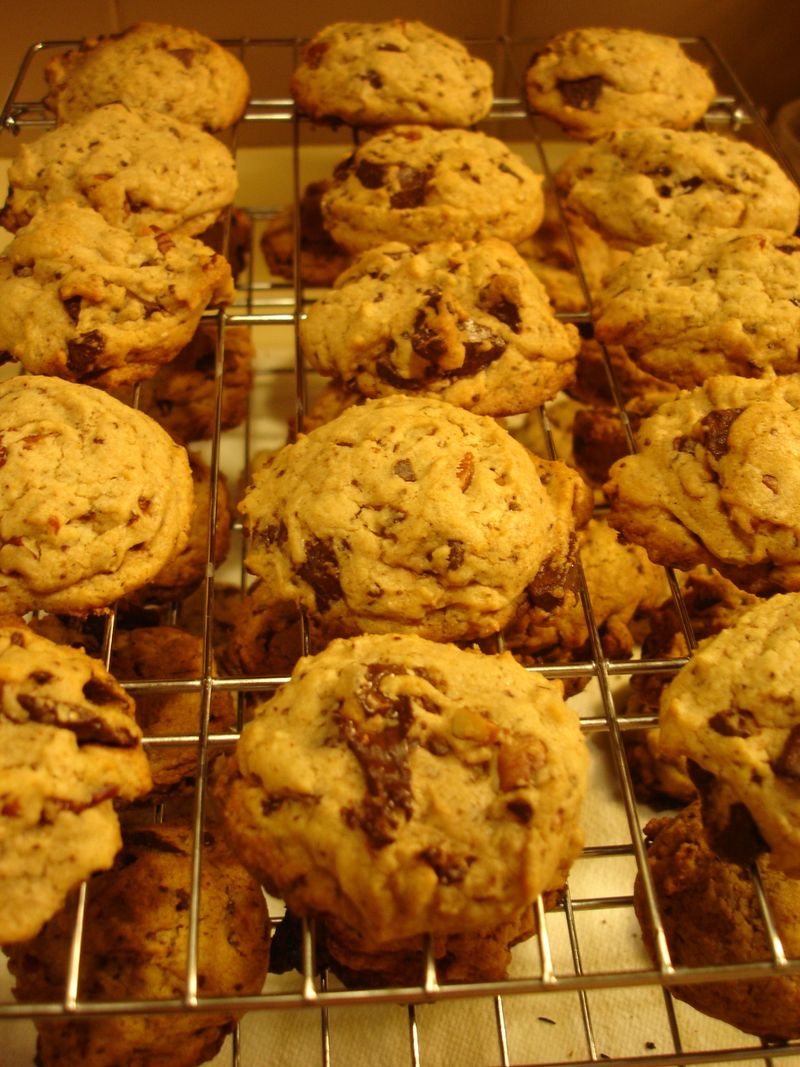 I am supposed to be on a diet, but every time I go visit family, I have to bring something sweet. My sister-in-law is pregnant with baby number 2 and she expressed love for Toblerone. I was going to make the Toblerone block into cookies a few weeks ago but opted to use dark chocolate Kit Kat bars instead. Good thing I waited.

Again I used the simple Ghirardelli Chocolate chip cookie recipe. It really is the best recipe out there. And as proven twice now you can substitute the chocolate and play around with some of the ingredients. In this case I replaced the chocolate chips with large chunks of chopped up Toblerone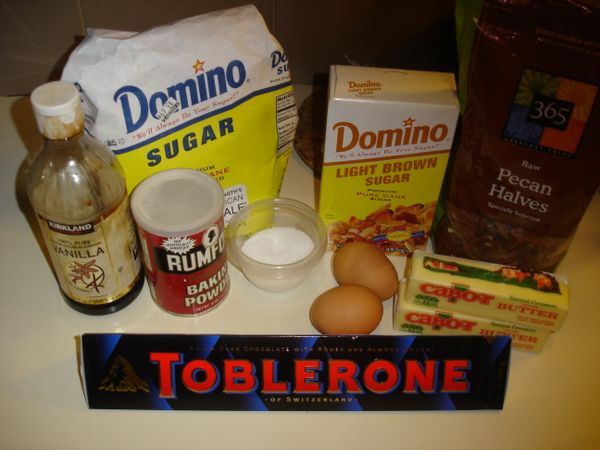 (Noticeably absent from the picture is flour. I bought a giant 25 pound bag from Costco and it sits on the floor not on the counter tops.)

The Ultimate Chocolate Chip Cookie


1 400g block/bar Dark Chocolate Toblerone coarsely chopped


2 1/4 cup(s) unsifted flour

1 teaspoon(s) baking soda

1/2 teaspoon(s) teaspoon salt

1 cup(s) (2 sticks) butter

3/4 cup(s) sugar

3/4 cup(s) packed brown sugar

2 eggs

2 teaspoon(s) vanilla

1 cup(s) chopped walnuts or pecans (optional)
Directions

Preheat oven to 375ºF.

Stir flour with baking soda and salt; set aside. In large mixer bowl, cream butter with sugar, brown sugar, eggs, and vanilla.

Gradually blend dry mixture into creamed mixture.
Stir in nuts and chocolate bits.

Drop 1 tablespoon of dough per cookie onto ungreased cookie sheets.
Bake at 375ºF for 9 to 11 minutes or until golden brown.