I was recently in Washington DC for a food and beer event called Savor. (Blog entry on Savor soon to follow.) Our first night in DC was spent quietly on a Thursday night at Gordon Biersch.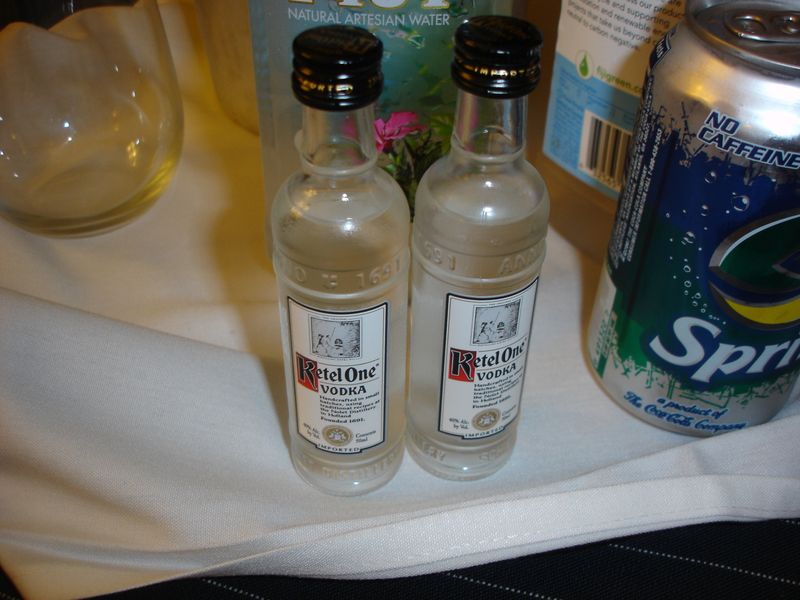 But first we raided the minibar. We got to the hotel and crashed for an hour or two and woke up a little thirsty and desperate. You never drink the minibar contents unless you absolutely have to. Why you ask? Because it will cost your first mortgage or first born child for such a cheap thrill.

Gordon Biersch is right in NW and across the street from the Spy Museum and Spy bar.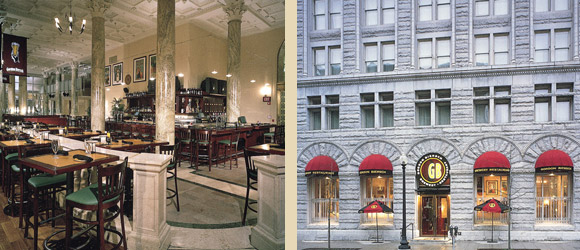 This building is pretty awesome as it is used to be a Riggs bank. Awesome marble columns and floors. It is also attached to the Marriott hotel.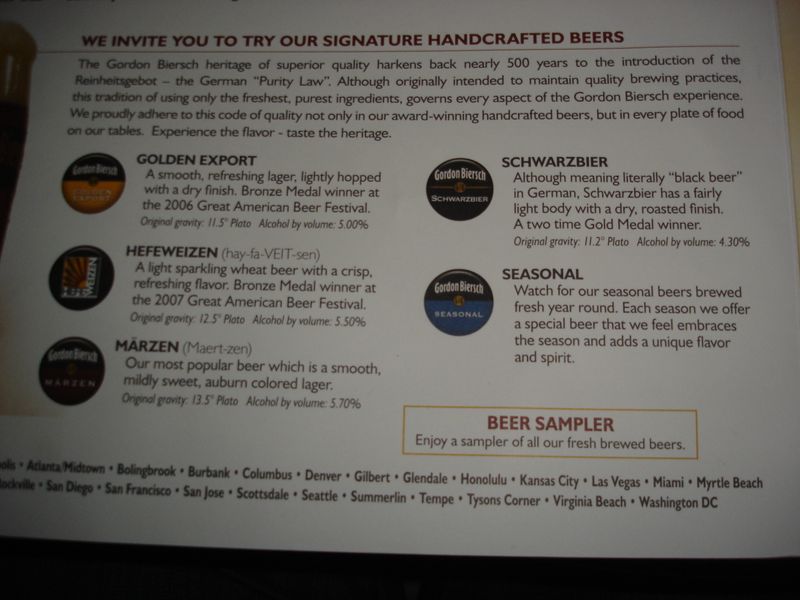 The beer menu is fairly light. A handful of beers but all solid varieties. Nothing too crazy, all German style, but nothing really spectacular either. Just simple and solid choices.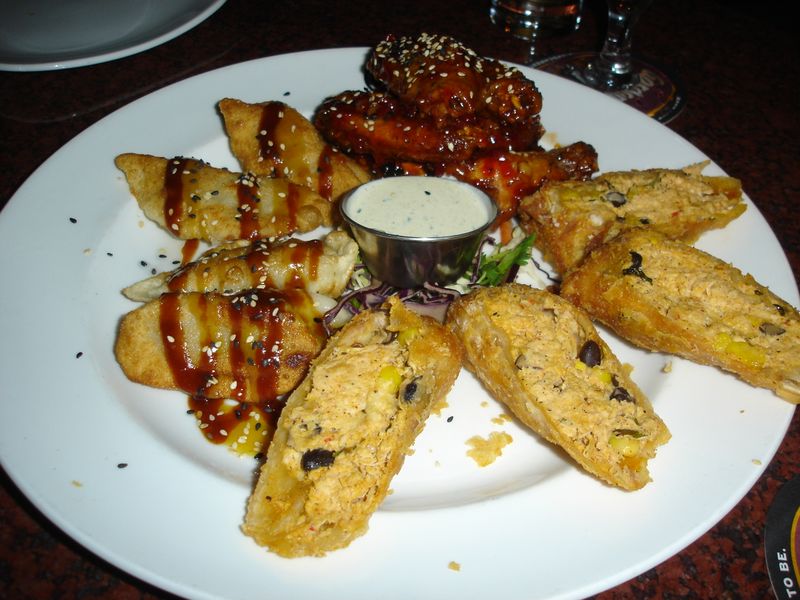 We started with a sampler plate of appetizers. I hate it when menus are too big or offer too much food. I can never decide what to get. But samplers certainly make it easy. This sampler was a trio of chicken and had Southwestern Egg Rolls, Chicken Potstickers, and Glazed Chicken wings. Standard pub fare, but kicked up a notch. A lot tastier and a lot nicer than typical bars or pubs.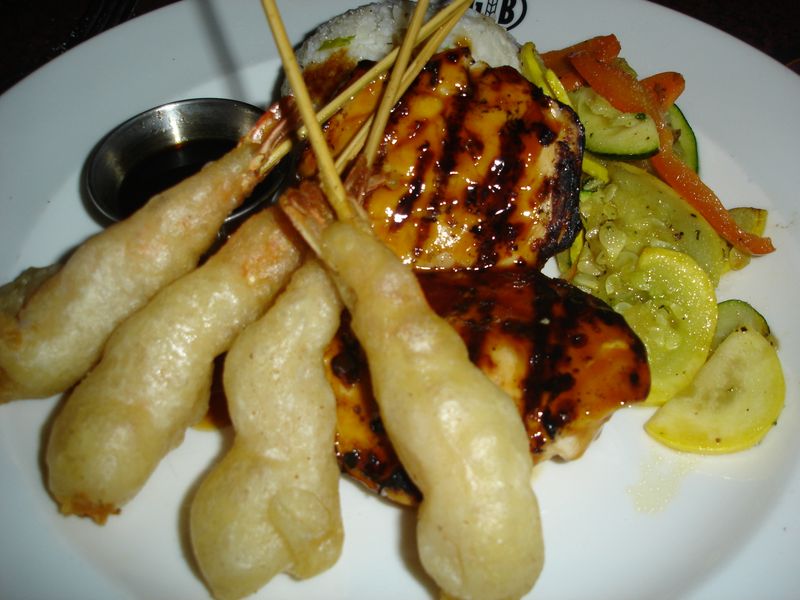 Then I ordered for my entree Teriyaki Chicken and Tempura Shrimp combo with ginger rice and seasonal veg. This was delicious. The shrimps were not over cooked and nice and soft. The chicken breast was perfectly juicy. Even though the food sounds like nothing truly spectacular, it was way above average for standard pub fare as I mentioned with the apps. as well.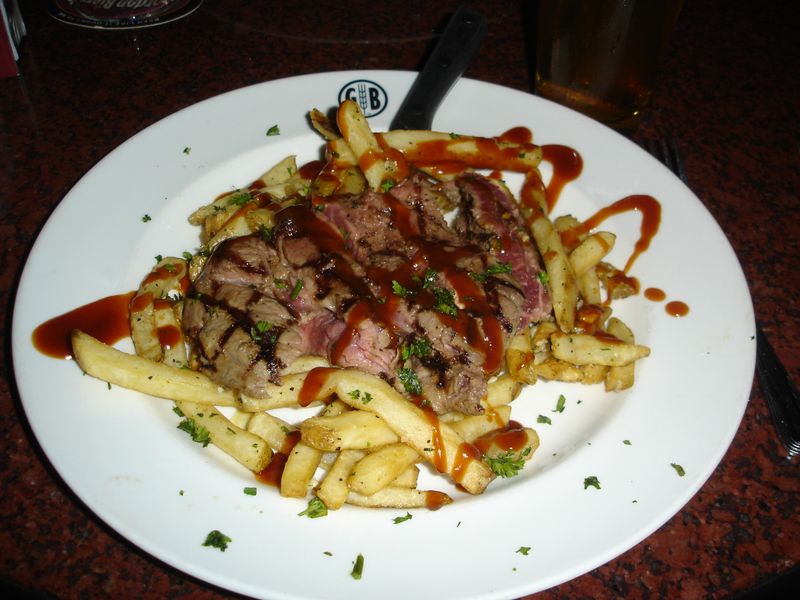 My husband ordered the house specialty, Steak Frites. Rare, Mäzen marinated flat iron steak on a bed of hot garlic fries, drizzled with Gordon Biersch steak sauce. This tasted a lot more impressive than it looked. The meat was perfectly rare and soft. Underneath the steak was mounds of fresh garlic topped on the fries. Pretty delicious and simple.

Overall this place is definitely worth a visit. I hung out here several times over the weekend of Savor. I drank the hell out of their Ultimate Arnold Palmer drink.

Ultimate Arnold Palmer · Grey Goose Vodka, Cointreau
Orange Liqueur, fresh squeezed lemonade and fresh brewed tea.

It tasted just like iced tea and the booze was barely noticeable, but it was certainly in there. It hit the spot in the hot and humid Virginia weather.