I had some serious chocolate to get off of my hands.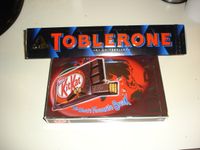 I went to London ages ago and bought like a dummy those giant Toblerone Dark chocolate bars. I also bought a freaking 8 pack of dark chocolate Kit Kat bars.

For the record, I am extremely jealous of ANYWHERE that isn't the U.S. when it comes to Kit Kat bars. They can have all the variety they want. They have freaking 70% Dark Chocolate Kit Kat bars. WTF!! Kit Kat Senses with Hazelnut filling. I mean come on. Why can't we have that?

Now granted these are all made by Nestle. We do have Nestle in the states, but our Kit Kat bars are made from Hershey's. They released flavors for a limited edition. But in Australia when I was visiting, they had Cookie Dough Kit Kat. For Real! All we have is crappy Caramel and White Chocolate plus the classic milk. Big Whoop. Can I get an Amen for them to bring the Cookies'N'Cream, and Cookie Dough versions here? Mint Chocolate Kit Kat anyone?

Anyhoo...

These chocolate bars have got to go. So I made cookies. Sans the Toblerone this time, but next batch will be made with it unless I come up with something more creative.

I used the Ghirardelli chocolate chip cookie recipe for the base. It's simple and it makes well perfect cookies. Don't go by the picture in the recipe. I don't know why they used those, because when I use this recipe I get the perfect cookies every time. Those pictured in the link look busted.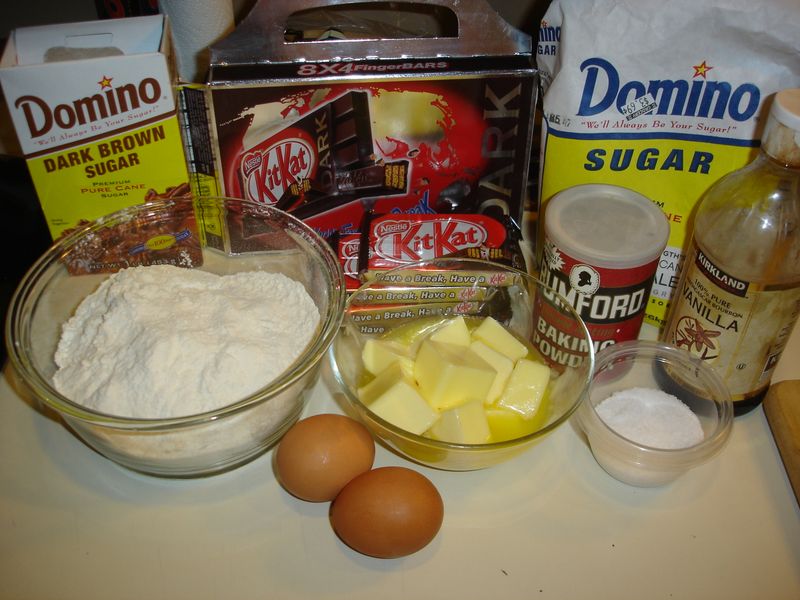 2 cups Dark Chocolate Kit Kat bars chopped (4 packages)
2 1/4 cup Flour
1 tsp Baking Soda
1/2 tsp Salt
1 cup Butter
3/4 cup Sugar
3/4 cup Brown Sugar
2 Eggs
2 tsp Vanilla
Heath Toffee bits optional

Preheat oven to 375ºF.

Stir flour with baking soda and salt; set aside.

Side Note: I don't usually do this step. It would be easier, but for me I put in each ingredient one by one.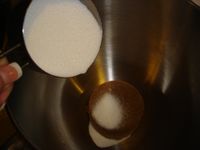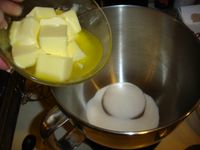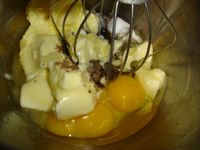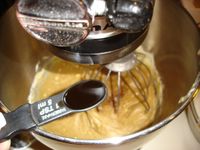 In large mixer bowl, cream butter with sugar, brown sugar, eggs, and vanilla.

Side Note: When my butter is too cold to blend, I nuke it for a few seconds to soften it up.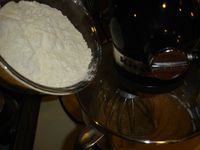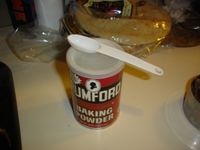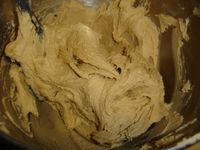 Gradually blend dry mixture into creamed mixture.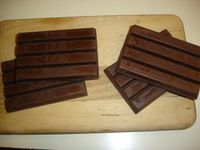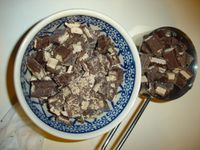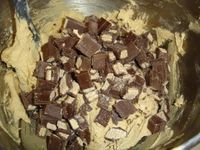 Stir in and Kit Kat and Heath bits.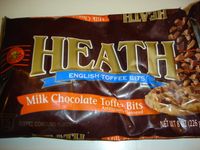 Side Note: I added Heath bits at the last minute so I didn't get a picture of it going into the mix but I added about half a cup to 1 cup.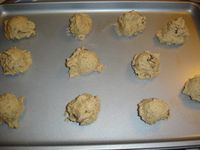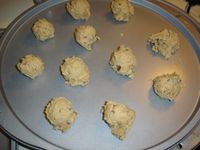 Drop 1 tablespoon of dough per cookie onto ungreased cookie sheets.

Side Note: Notice the round pan in the second pic. LOL! I had to use my nonstick pizza pans because I realized at the last second all of my cookie sheets were dirty. Same thing just round.

Bake at 375ºF for 9 to 11 minutes or until golden brown.
Serve with ice cold, tall glass of milk.