Who could forget this classic scene in Wedding Crashers? Living the dream and eating meatloaf.

Well this is my famous meatloaf and fresh green beans with scallion cream cheese mashed potatoes.

This is way better than yo mama's meatloaf. It's better than my mama's meatloaf!

I have made this recipe a few times now. I am going to try a different blog approach to it. I am going to post the pictures in tandem from different times I made this so you can see how easy this recipe is and how awesome it tastes. The only problem is the first time I took pictures, I took the unbaked meatloaf to a friends house and forgot to take pictures of the finished product. So one side will go all the way up until that point. I hope you enjoy this as much as I do.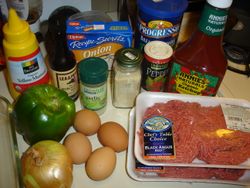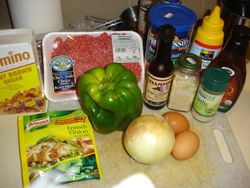 My Meatloaf

4# of Ground Beef or Ground Turkey
1 Large Green Pepper finely chopped
1 Large Onion finely chopped
1 packet Dried Onion Soup Mix
1 cup to 1 1/2 cup Italian Bread crumbs
4 Large Eggs
1 1/2 tbls Garlic powder
1 1/2 tbls Onion powder
3 tbls Worcestershire Sauce
Salt and Pepper to taste

Side Note: This recipe can easily be halved. Use an 8x4x2 in. loaf pan for half recipe.

Topping:

1 cup BBQ sauce or Ketchup
1/4 cup Yellow Mustard
3 dashes Worcestershire Sauce
2 dashes Garlic Salt
1/2 cup or less or Brown Sugar
2 dashes Onion Salt

Preheat oven to 350°F. In a large bowl, combine all ingredients for meatloaf and mash together until all is thoroughly mixed with hands.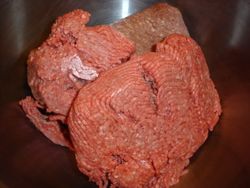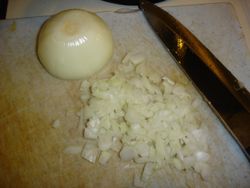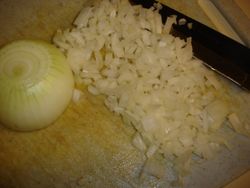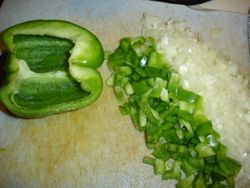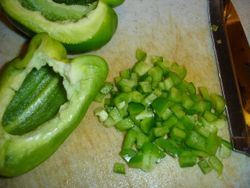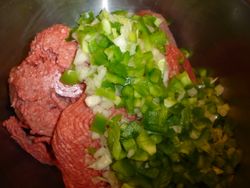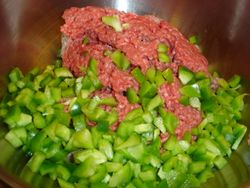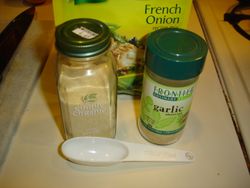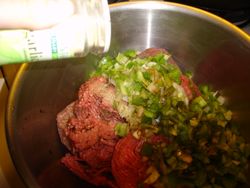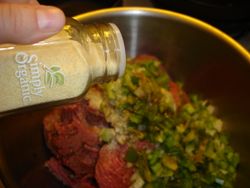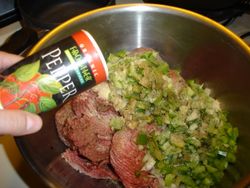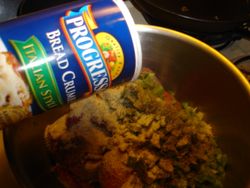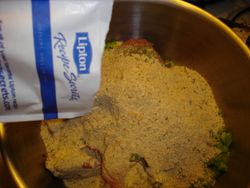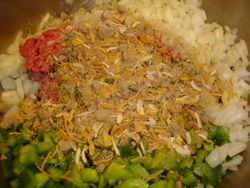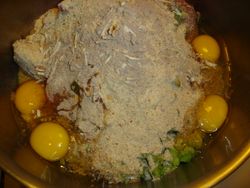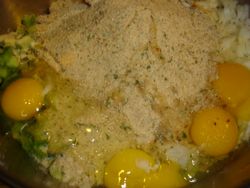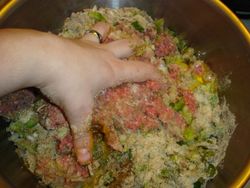 Form meat mixture into 9x13 in. pan. For halved recipes use an 8x4x2 loaf pan.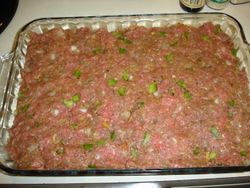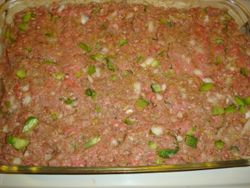 In a small bowl whisk together all ingredients for topping. Then coat the top of the meatloaf leaving 1/3 of the sauce for later.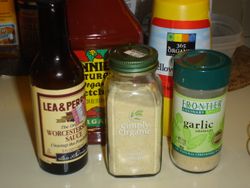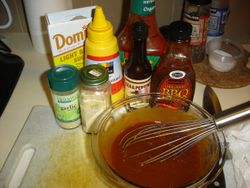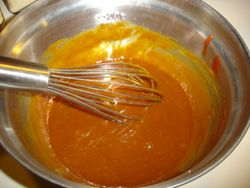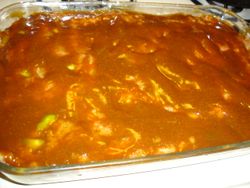 Bake Meatloaf for 45 minutes. 35 in smaller loaf pan. Remove from over and coat the top of the meatloaf with remaining sauce. Put back into over for another 15 minutes. 10 more minutes for the smaller loaf pan.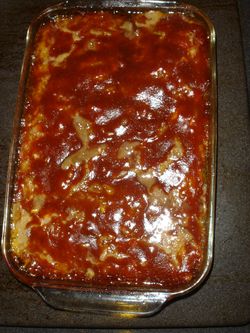 Green Beans:

Fresh Green Beans washed, halved with the ends cut
3 tbls Butter
3 dashes of Seasoned Salt

Boil green beans in water with butter and seasoned salt about 10 minutes before serving. Boil longer for less al dente beans.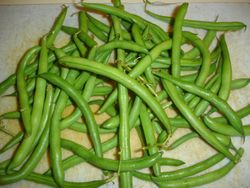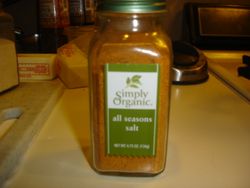 Cream Cheese Mashed Potatoes

2# of Peeled Potatoes
1 8oz package Cream Cheese
1 Stick of Butter
2 dashes Garlic Salt
2 dashes Onion Salt
Splash of Milk
One Bushel of Chives finely chopped or 4 to 5 Scallions finely chopped

Peel and chop potatoes into small cubes. Boil in water with a sprinkle of kosher salt until potatoes are very soft.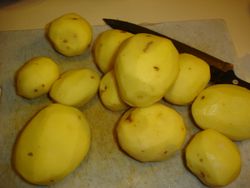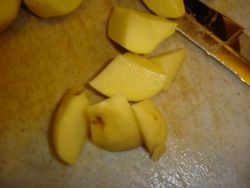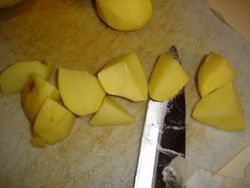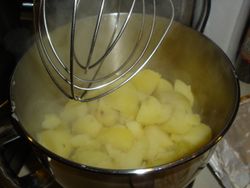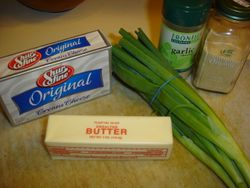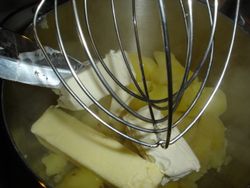 Drain potatoes and transfer to mixer. Or mash by hand. Add one stick of butter and cream cheese to potatoes gradually. Add Splash of milk, garlic salt, and onion salt. Whip the potatoes until smooth. Add chives or scallions while whipping. Let sit for a few minutes and then serve.

Plate it all up and serve it hot!