Okay I am finally ready to blog about Savor in D.C. I have been avoiding this blog post. Not for any reason in particular though. I just haven't felt like blogging until after the American Craft Beer Festival was over. For those of you who don't know, I manage the BeerAdvocate.com beer festivals and help organize them as well as staff the volunteers for the festivals. The ACBF needed over 300 volunteers. So there was a lot to do and I just didn't feel like blogging. But now that it is all over, I am back!

The deal with Savor. Savor was created to highlight food and beer pairings at a finer level by the Brewers Association. They began this event last year over a 2 day period showcasing fine foods paired with exceptional craft beers. This year they only had the event on one day.

As someone who hosts beer dinners for a living through BeerAdvocate.com, I am always interested in the various interpretations and presentations of beer and food combination's. Also, BeerAdvocate.com happens to be one of the sponsors for this event. And for what this event costs ($95 a head) it's good to be a sponsor.

Here is a list of the participating breweries this year.

Breweries for Savor

And the list of food and the food and beer pairings.

Menu

Pairings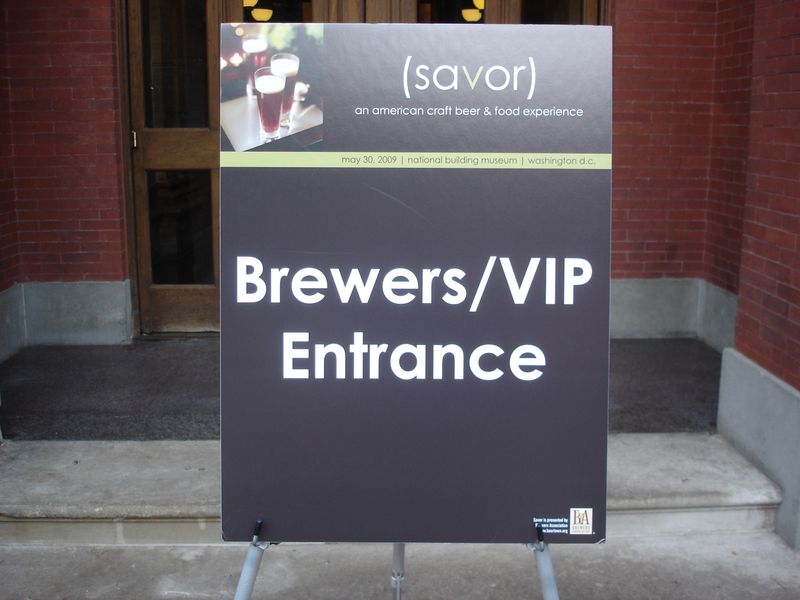 When we first arrived, we were hustled around the side of the National Building Museum to the VIP entrance and didn't have to wait in the massive line.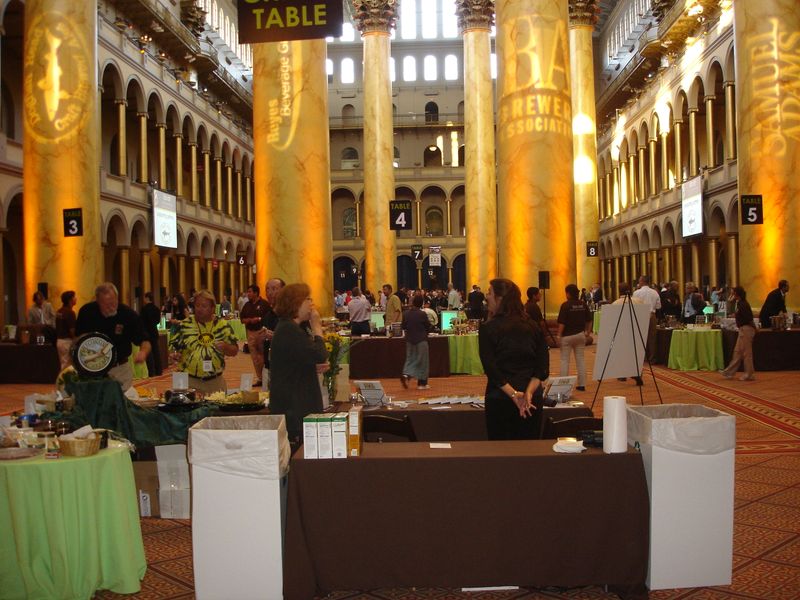 I was able to get inside with only a few moments to snap some pictures before the guests entered.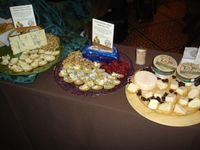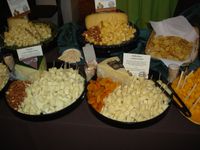 Cheese and accouterments.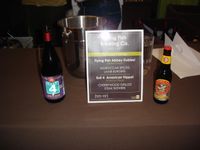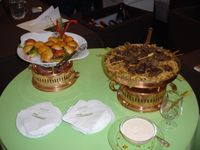 Flying Fish Brewing Co. Abbey Dubbel with Moroccan Spiced Lamb Burgers and Exit 4 American Trippel with Cherrywood Grilled Steak Skewers.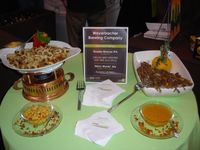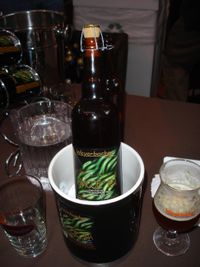 Weyerbacher Double Simcoe IPA with Grilled Beef Skewers with Fire and Spice. Merry Monk's Ale Belgian Style Tripel with Flautas De Pato.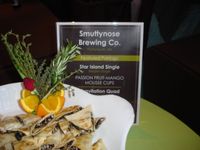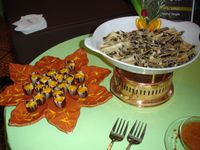 Smuttynose Brewing Co. with Passion Fruit-Mango Mousse cups and Gravitation Quad with Black Bean and Shitake Mushroom Quesadillas.

Captain Lawrence Brewing Co. Xtra Gold American Tripel with Maryland Crab Cake Sliders (I am giggling at the "Contains Shellfish" warning on the sign. Their effing crab cakes! Come on people.) Captains Reserve Imperial IPA with Maytag Blue Cheese.
Boscos Brewing Co. Ghost River Hefeweizen with Chicken Breast A La Blanche De Chambly (Sauce is made with Unibroue's Blanche De Chambly, a white ale made in Canada.) Ghost River Golden with Grilled Beef Skewers with Fire and Spice.
A few extras I spied lingering around. Kingsbury Chocolates Espresso cups. I am not sure which cheese this is. It's either gouda or gruyere with roasted red peppers. The chocolate was by the Great Divide Table though not the right pairing it went with the Espresso Oak Aged Yeti (Imperial Stout) that Great Divide had.
More beef skewers. Boring. But the beers were not boring at all. Sexual Chocolate is awesome.
Nice fatties. Chesapeake Bay oysters.
Espresso Sambuca Parfaits
Crystal shot glasses layered with Sambuca flavored cream
Spiked with chocolate bits
Topping an espresso pudding
Garnished with striped chocolate sticks and a delicate chocolate wafer.
That is Alec Lopez's hand from The Dive Bar and The Armsby Abbey holding this cup for display. I wanted to explain what this was according to the description. This was more like some espresso jello with cream on top. While it tasted fantastic, the texture was a little creepy.
This was to be paired with Schafly's Bourbon Barrel Aged Imperial Stout.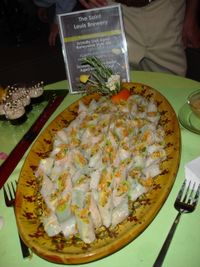 Jicama and Green Papaya summer rolls with Schafly's Oak aged Barleywine.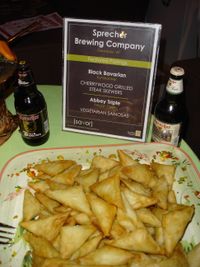 Sprecher Abbey Triple with Vegetarian Samosas.
Breckenridge Brewing Co. 471 IPA with Andouille Sausage en croute.
Sierra Nevada Brown Saison with Shrimp Satay and ginger.
Deschutes Mirror Pond Pale Ale with Southwestern Black Bean Soup.
Heiner Brau Maerzen with Pulled Pork BBQ sliders.
Avery Brewing Co. Brabant Barrel Aged Wild Ale with Open Faced Tenderloin Paninis. Since the ones at Avery were decimated, I found them again at the Capitol City Brewing Co. (Arlington) paired their Amber Waves Ale. They even had the Scallop Burgers with Cilantro Lime Mayo too.
And who could pass up Russian River? I just wanted the Pliny the Elder. I didn't care about the pairings, plus they looked like shit by the time I got over there. I just wanted to say hi to Natalie and Vinnie. Vinnie Cilurzo is arguably the man who created the Double IPA craze in the states and makes one of the best in the country.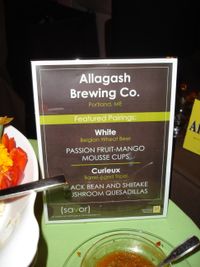 And last but not least Allagash. I started with the Passion Fruit-Mango cups and I ended with them. They were delicious and pretty.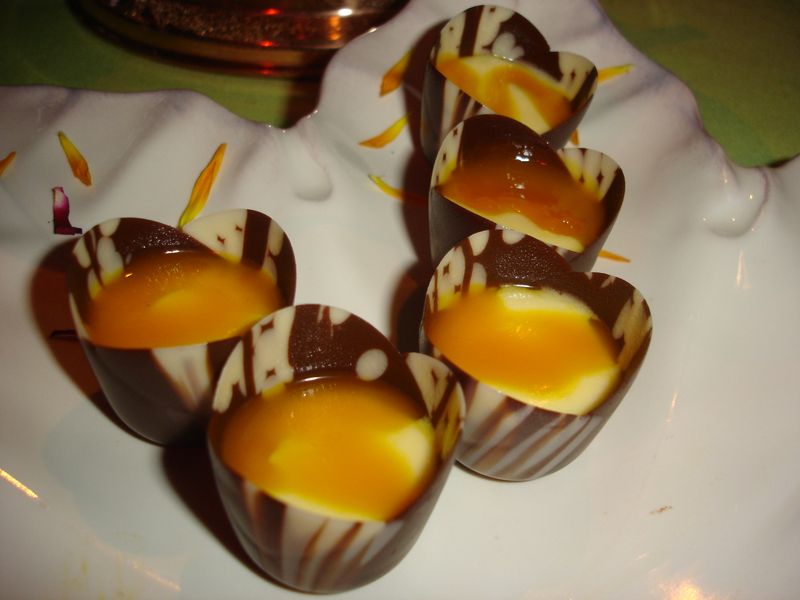 Over all the experience was good, but I have to say the food was rather disappointing. The event cost $95 per person. And the food was repeated over and over at various tables. I only took pictures when I saw something new. But the amount of beer and brewers and repeated food was staggering.
The food quality was okay, but I still think that even if they had no choice but to repeat the food, it should have been awesome. It was okay but basically it was wedding appetizer food and nothing was really extraordinary.
The beer and the selections were great. But this event is supposed to be a food and beer event. If I were a foodie, or a novice to beer trying to understand this event or the hype around food and beer, I wouldn't get it. I would think this is one expensive ass happy hour.
I am not trying to impugn the efforts that the Brewers Association went through to make this event happen, but it could have been 100 times better and I will tell you why.
Last year they had much more variety or maybe it was just a higher caliber of food. But the problem with last years event, it was held on two days and at times where everyone was starving. 5pm on Friday, 12 and 5 pm on Saturday. As soon as everyone entered the venue the food was wiped out. All the pairings were wrong on each table because they had to scramble to replace what was wiped out with pairing food from other places.
Again as a novice to beer or foodie, I wouldn't have understood it. Since nothing matched, and everything was replaced with Elbow chocolates and duck purses. It would have just seemed like an expensive way to spend the afternoon with snacks and beers.
This year they had one shot to get it right. One session, 7:30 until 11pm. They handled the amount of food okay but it wasn't all that for the price. I suppose if you look at it as an all you can eat and drink for $95 bucks, I guess that's a good deal, but the purpose of this event wasn't supposed to be a free for all. It was supposed to be an awesome food and beer event. It was only okay and only the beer was stellar.
The side events around Savor were much better. The Lupulin Reunulin event at RFD the day before Savor was awesome. BeerAdvocate.com had held a pub crawl all day leading up to this event. This event was a speaker panel of the "Big Dicks" moderated by the ever so lovely Julie Johnson of All About Beer. Ken Grossman and his son Brian of Sierra Nevada joined in on the action too.
The "Big Dicks" are a bunch of brewers we like to call the cool kids, the popular guys in the industry. Sam (Levi's) Calagione of Dogfish Head, (Pretty Boy) Adam Avery of Avery Brewing Co., Rob (Dirty) Tod of Allagash, Tomme (You ruined my beer, now I hate you!) Arthur of Lost Abbey, and Vinnie (Where the fuck is RR in Mass.?) Cilurzo of Russian River (not pictured because his ass was late to the party). Everyone talks about their beers, everyone wants to meet them and hang out with them.
It's all good fellas and all in love. Really, I am good friends with all of them, but I have to bust their balls. Each one of their nick names is an inside joke. Except for Sam who really was a Levi's Jeans model back in the day. It's okay to ask him about that too.
With this event we tasted 16 beers and listened to this panel discuss the beers and drink them together. It was an awesome event. We noticed everyone around us was smashed by the end of this event, and I couldn't help but think what pussies when I had been on a pub crawl all day and was barely buzzed. I had to laugh at that.
One guy nearly got his ass kicked by me during this event though. He was rudely shooshing us and I mean being a straight up bitch about it, those who were standing in the back of the room. It was a social event, drinks were flowing, how can you expect people to be dead silent? And on top of that it wasn't even that bad or loud. I told this douche bag, whom was so rude and pretty much deserved a beat down, that he was rude after the event. He got holier than thou saying he spent $40 bucks to get into the event. Big Hairy Deal! I spent $40 bones too. So did everyone else. I made Alec Lopez and Sherri Sadowski owners of The Dive Bar and The Armsby Abbey, laugh out loud when the crybaby was still crying about the price, I told him "I will fuck you up" right to his face. I meant it too. He was such a bitch for that. Alas he didn't spoil the night, the mood, or all of my fun.
I am not really that hardcore to fight a guy, but I did want to dump beer all over this guys head. Sadly though, it is true that I do have a foul mouth.
But that night was not about crybabies. It was a fun gathering of friends and industry folk. Lots of laughing and information about these beers being discussed. And the "Big Dicks" cutting it up on stage.
After Savor on Saturday, it was also Adam Avery's 50th 43rd birthday. I left Savor early with the Ladies Of Cambridge Commons from Boston. We went and got a drink or six. Then Todd Alström (my husband) called me to tell me everyone was at Matchbox. So I headed over there.
On the way over I got into a dance battle with some Queens on the streets of D.C. They were clearly humoring me, but then we broke out into Voguing and the shit got serious fast. But I won! Ya Betta Ax Somebody! Totally true story. I battled and won for my peeps!
Then I met up with Sherri (I thought her name was hot ass bitch the entire weekend. She is gorgeous!) and Alec again. Greg Koch of Stone was there along with Adam Avery, and a bunch of other people at Matchbox. Poor Adam though. A crazy girl grabbed a hold of him and really became aggressive with her um "affections" towards him. Yeah her husband was standing right behind her while she told everyone at the bar that she would totally Bone Adam and that her husband wouldn't care because Adam was a celebrity and they loved his beers. Yeah her husband looked rightfully upset and "unthrilled" with his wife. As were we all. Poor Adam indeed. What a way to spend his birthday! Surviving a near rape. It's what you get though when you're Pretty Boy Adam I suppose.
We had a great laugh at his expense for that though. I will owe him some drinks for that.
All in all the weekend was good. I preferred the events before and after Savor the most and the company we kept. Not to mention the great new people we met. Savor was okay, but they better make next years flawless. The beers were the only thing holding it together this year for an other wise very expensive, yet mediocre food and beer event.