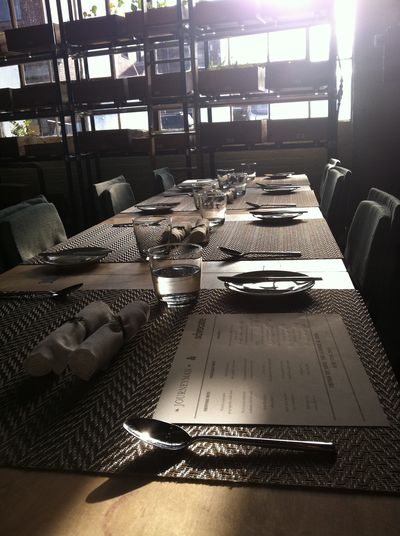 Journeyman in Union Sq. Somerville, helped kick off BeerAdvocate's "Things We Love: Summer Of Beer beer dinner series being hosted through out Boston, Cambridge, and Somerville all summer long.
What an epic dinner to kick things off. Working with Meg Grady-Troia was an absolute joy. Her excitement and love of beer was clearly evident. They were just as excited to work with us as we were to work with them.
Chef's Diana Kudjarova and Tsi Wei Lim really came through for this dinner too with some excellent pairings. The food worked so well with the beers. This dinner was all about comfort foods. Rich, delicious, and remarkably simple dishes.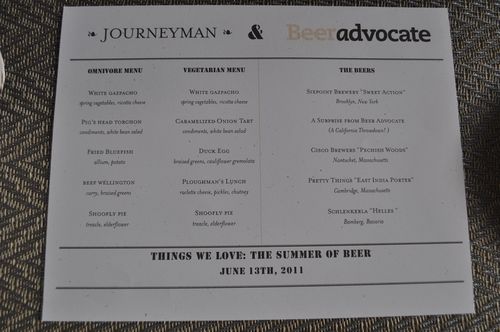 Pork Skin Cracklings for the table.
First Course: White gazpacho, spring greens, and ricotta cheese.
Beer: Sixpoint Brewery "Sweet Action" 5.2% abv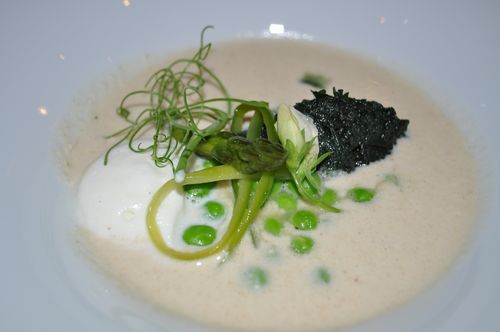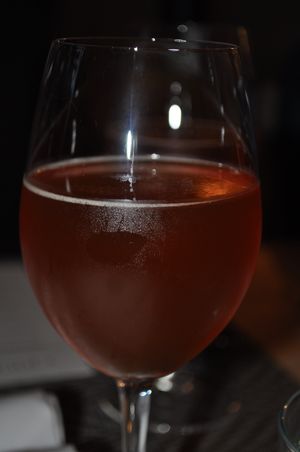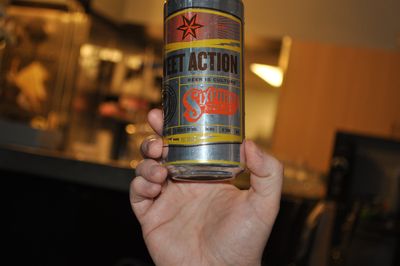 The cream ale and the creamy cool soup. Delicious peas and pea tendrils with a ricotta cheese foam. Just the right balance.There was quite a lot going on with this course, not only was the ale creamy and delicious but the soup also had a lovely lemony flavor to it. Fresh earthy greens and sweet pes with the malty beer were wonderful together.
Second Course: Pig's Head Torchon with condiments and white beans.
Beer: Russian River "Pliny the Elder" 8% abv, and Stone Brewing Co. "Ruination" 7.7% abv.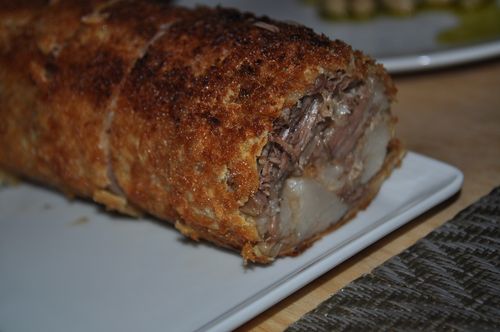 Oh delicious course, how I loved thee. A special treat sent courtesy of Vinnie Cilurzo of Russian River Brewing co. A special favor asked for and received just to make this beer dinner that much more epic. We pitted against some very fresh Ruination from Stone Brewing co. Quite a battle indeed since the Pliny was sent to us the day it was bottled. 10 days old and amazing!
We called this our fatty course. Fats verses hops. Alpha acids in super hopped Double IPA's and grapefruit flavors of the Pliny with slightly stickier malts on the Ruination verses fatty pigs head torchon and white beans. The condiments were a spicy celery salad, kimchi mayonnaise, and a divine miso-butterscotch paste.
To be honest, as epic as the torchon was, the best flavors for the pairing were the Pliny and the white beans. The cleaner, more crisp flavors of the plny and the delicate flavors of the beans were a match made in heaven, while the sweeter and maltier Ruination was better with the spicier kimchi and spicy celery. They both worked well with the miso-butterscotch paste.
Third Course: Fried blue fish with allium and potato.
Beer: Cisco "Pechish Woods" 4.9%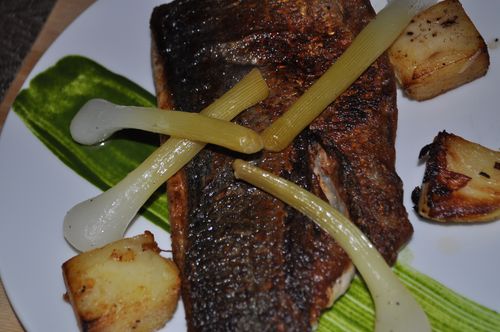 Fats versus acids again. Lovely fatty blue fish with a lightly tart, wild peach ale. Allium is the proper name for the onion genus. It's fancy for spring onions in this case. The sweet onion flavors added the right balance for the lightly tart peach ale, and the salty, fatty blue fish.
The real winner on this plate though, was not the fish, not the beer, not the onions. It was the potatoes. Thin mandolin sliced potatoes, layered and cooked in lard. Yes, lard! Crispy cooked, soaked in delicious lard. It tasted like scalloped potatoes.They look like potato chunks on the plate, but they are sliced out of a pan like a lasagne and layered.
The Pechish Woods is exactly how I like sour beers. Lightly funky, lightly sour. I know most beer nerds want the harsh sour and super funky beers, but that is not enjoyable to me. I don't enjoy having my throat burned out by super tart acid in sour beers. I don't enjoy beers so infected with funk, that one sip makes you bloated to the point you look like the guy who blew up in Big Trouble in Little China.
No, this beer is perfect for me. Like the Cherry Woods, it's lightly effervescent, and flavored just beautifully. The tart was just strong enough to work through the fats, and just smooth enough to feel like you have had your throat ripped out by Patrick Swazye on Road House.
Fourth Course: Beef Wellington with curry and braised greens.
Beer: Pretty Things "December 6, 1855 East India Porter" 6% abv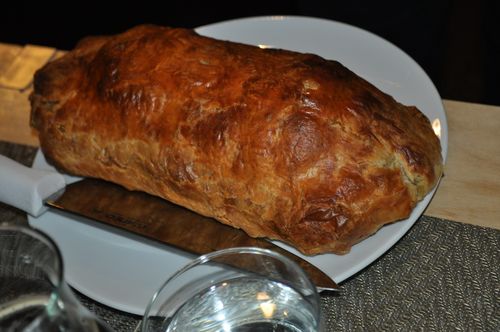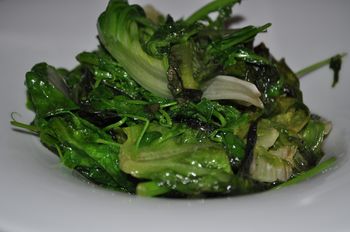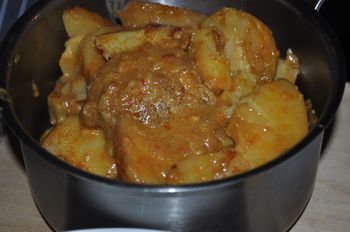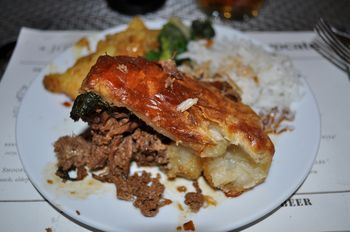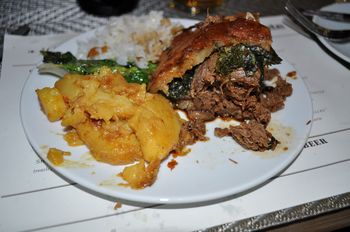 Fantastic family-style Beef Wellington with Chinese 5 spice, curried potatoes, braised greens, and rice. A nice fusion of English and Indian that compliments the style of the thick beer, East India Porter from Pretty Things. A recipe for an English porter recreated by Dann Paquette, emulating the style of English beers being drunk in India in the 1800's.
This beer was a lot more full than I had remembered from the first time I tried it. It went perfectly with the curried potatoes and the rich meat inside the Wellington. The braised greens added a good layer of earthiness and the rice tied everything together. The beer had rich coffee notes, and roasted malts and just the right amount of bitterness.Rich, hearty, filling, and completely satisfying.
And if this wasn't enough to send us all over the edge, dessert comes out.
Dessert: Treacle Tart and Shoofly Pie with Elderflower Whipped Cream
Beer: Schlenkerla "Helles", 4.3 abv
These may not look like the fanciest of desserts, but they didn't need to look fancy with the way they tasted. Treacle tart is a basic short crust with a lemon juice, golden syrup (treacle), lots of butter and bread crumbs. It's like a pecan pie in a way, but with all butter. It was so rich and divine. A very classic English dessert.
Shoofly pie is classic Dutch-Amish, American classic pie made of molasses and brown sugar. Again, super rich, filling, and so delicious. Paired with the Helles, a smoked lager beer from Germany, the house favorite of Journeyman, the smokey flavors that taste like bacon with the warm molasses and warm buttery treacle were just a miracle of a food combination. The crisp lager cut through the richness while the smokiness played with the butters and sweet flavors of the pie and tart. Unbelievable finish to an amazing dinner.
And just to make sure we were fully pushed over the edge, macaroons filled with black treacle ice cream.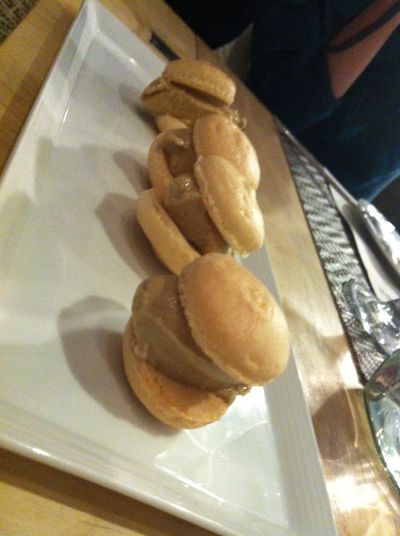 And that's how Journeyman rolls. Things We Love was quite a success. Full bellies and big smiles on everyone's face as the left.
It's taken me a while to put this post together getting sidetracked with other projects. I think it was a good thing that I waited. Journeyman recently suffered an unfortunate accident with a vehicle that crashed into the front of their building causing the restaurant to close while they fixed the structural damage. Now they that they are open again, this post is exactly what you need to see to whet the appetite and drag your butts over there to support an amazing local gem. They will not disappoint you.