This is a massive post about all the things I have taken pictures of recently but didn't do a step by step preparation pictorial for. Basically it's just pictures of awesome things I have made and felt like sharing. Let's jump in shall we?

Click the images to enlarge.

Homemade Cinnamon Rolls with Cream Cheese Frosting.







Brownies. Regular and Puffy Applesauce Brownies.







Pizza. Peppers and Pepperoni, Cheese and Mushrooms.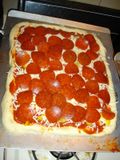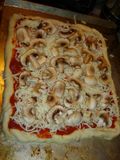 Deep Dish.





My Famous Honey, Buttermilk White Loaf.








Truffles. Dark Souls: Espresso and Bittersweet chocolate truffles rolled in unsweetened cocoa powder. Ghetto Fabulous: Courvoisier, Semisweet chocolate, rolled in powdered sugar.







German Chocolate Cake.











Turkish Coffee Pudding With Khalua Whipped Cream.








Cookies. Pecan Sandies.





Chocolate Chip with dried cranberries and almond extract.







Sugar and Snickerdoodles.








Chocolate Chip and Pecan.







Spaghetti and Meat Sauce. And yes I make it so big I have to cook it in a wok.










Pies. Bourbon Apple







Sweet Potato Pie with Streusel topping and Caramel Drizzle.







Mississippi Mud Cake with Bourbon Espresso Glaze.









Pumpkin Pie with Toffee and Walnut topping.







Fig Jam and Mascarpone Cookies.








Double Layer 7 Layer Bars.







Okay this post is big enough now. I hope you enjoyed scrolling through some of my past baking and cooking experiences.