While Stumbling on the net for food blogs and food related posts, I came across an awesome recipe for Mexican Chocolate Truffles.

In the past I have made some pretty excellent truffles. I have some that I called "Dark Souls" which were made with a dark, bitter chocolate (70%) and espresso rolled in unsweetened cocoa powder. They were so rich and had a lovely roasted coffee flavor. They longer they sat the more intense the flavors got for those particular truffles. I also made some fun ones which I lovingly called "Ghetto Fabulous." They were made with semisweet chocolate and Courvoisier cognac rolled in powdered sugar. They were fun and delicious.

This was my attempt at these hot and spicy Mexican chocolate truffles.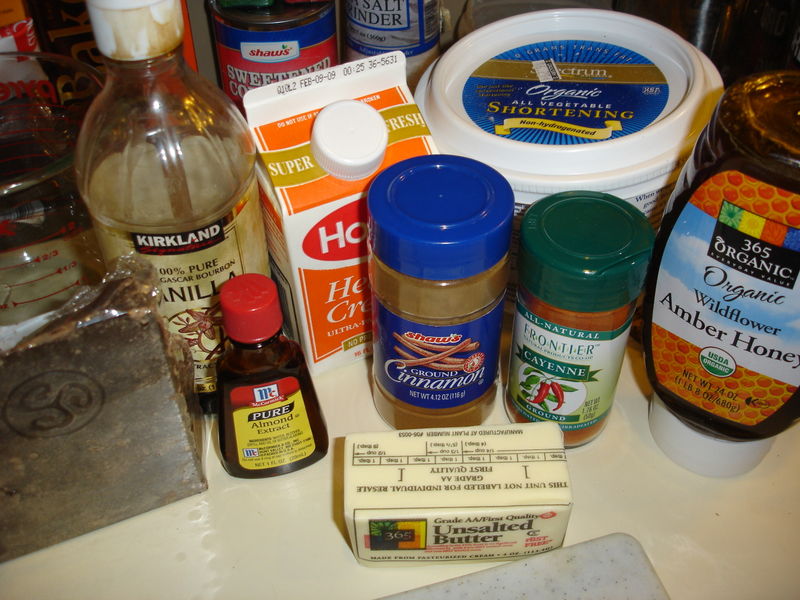 Mexican Hot Chocolate Truffles by Art Of Dessert.

(Note this is the entire recipe from the Art Of Dessert, with my own pictures mixed in.)

Allergy Note: contains dairy ingredients

truffle filling:
16 oz. semi-sweet or bittersweet chocolate chips (I used 1# of Callebaut bitter sweet chocolate chopped up)
1 cup heavy cream
4 Tbs. butter
1 oz. honey
2 tsp. ground cinnamon
1 tsp. ground cayenne pepper *
1/4 tsp. almond extract
1/2 tsp. vanilla extract
coating chocolate:
1 cup semi-sweet or bittersweet chocolate chips (I used a .63 oz bar of bitter sweet chocolate from Scharffenberger.)
2 tsp. vegetable shortening (Because I used more chocolate than called for, I used two heaping tablespoons of shortening.)

ground cayenne pepper
ground cinnamon
*For a little kick , start with 1/4 teaspoon of cayenne pepper and see if that's enough. If you really want to knock your socks off, add 2 teaspoons or more.
For the truffle filling, place the chocolate chips in a medium bowl and set aside.





Combine heavy cream, butter, honey, cinnamon and cayenne pepper in a saucepan and cook over low heat until it starts to simmer.






Remove from heat and pour over the bowl of chocolate chips. Wait for a few minutes for the chocolate to soften. Add almond extract and vanilla extract. Using a wooden spoon or rubber spatula, slowly stir the mixture until it becomes smooth and shiny. Cover with plastic wrap and refrigerate for 1 hour or until the mixture is slightly firm.
Line a cookie sheet with parchment paper or waxed paper. (I used a super slick non-stick jellyroll sheet pan.) Measure out teaspoonfuls of the truffle filling and drop them onto the cookie sheet. ( I used to a small cookie dough or truffle scoop.) Freeze them for 15 to 20 and then roll them into balls. Freeze them again for 10 to 15 minutes more or until firm.


For the coating chocolate, combine the chocolate chips and vegetable shortening in a bowl and melt over hot water. Stir until smooth. Drop the truffles into the chocolate coating one at a time, quickly coat them and remove with a fork. Gently shake off any extra chocolate and place the truffle onto the cookie sheet. Sprinkle cayenne pepper and cinnamon on top before the chocolate sets up.
You can store the truffles in an airtight container in the refrigerator.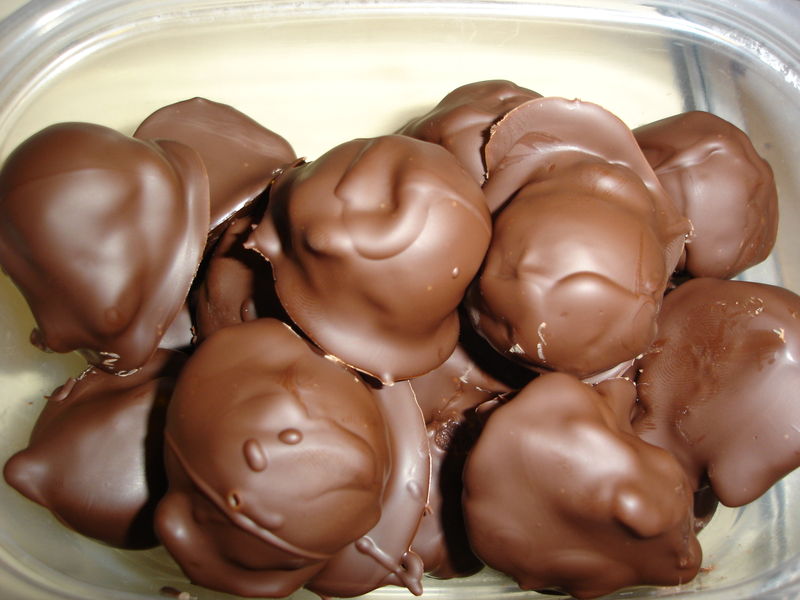 My personal notes for this truffle are that these are very hot. It's a slow heat that will take a second to register with you that it is going to be very hot. I happen to be a bit of a wuss for these truffles, but if you like heat, you will love these truffles. I like the almond extract and honey added to this recipe. It really brings out unique flavors for this truffle. Basically you don't just taste rich, bitter chocolate and cayenne pepper.

I also took these truffles to one of my favorite bars in Boston called Deep Ellum, to do a little bit of a test run with these truffles on some unsuspecting friends. And to find a beer pairing suitable for this "kick you in the face" kind of truffle.

We tried a couple of beers, but honestly we didn't put too much focus into an exact match for this. I didn't think what we were tasting were the best possible matches anyway. They were good pairings, but not the best, therefore not worth mentioning.

A while ago when I used to work at Formaggio Kitchen in Cambridge, I accidentally found a pairing that would be one of the oddest pairings I have found, but also one of the best. We took small bite size pieces of Venchi pure 75% Cuor di cocao, with chili peppers in it, and were sampling at the same time Avery Brewing Company's Samaels. An oaked, strong, English ale that is 14.5% ABV%. Really strong.

Why did that pairing work? It worked because the huge sweet malts and sugars that give this beer a high ABV and oaked wood flavors really took on the strength of the chocolate. The bitterness of the dark chocolate was complimented with the sweet and malts of the high alcohol content of this beer. The oak also helped tame the heat of the chili. Oak can give a buttery, wood flavor that happens to be a good match for hot chilies. This chocolate has the same effect of a slow heat and the beer gets to invade the palate first allowing notes of the chocolate to stand out that might have otherwise be taken out by the heat of the chocolate. It's usually only after the heat subsides or right before it takes hold of the palate that you can fully taste the richness of the chocolate. This beer allowed the flavors to all sort of dance around.

So after tasting a few beers and not really giving it full attention at Deep Ellum, which was fully equipped with a very big beer list and more than capable of finding a good match, I am still going to stick with Samael's as tasted in the other chili pepper chocolate pairing. I think it's ideal for this kind of chocolate. I think the honey and almond extract as mentioned above would play wonderfully with the oaked flavors.

The only other suggestion that might be fun to play with would be Aecht Schlenkerla Rauchbier Urbock. A deep rich brown ale with heavy smoked flavors. The smoke is so intense on this beer, but the brown ale is actually quite sweet. I think the smoke would go perfectly with the chilies to make a forced chipotle-like flavor. And the sweet urbock beer would round out the chocolate. It could be fun, but I have to go back to Deep Ellum to find out for sure. They currently have it on their line up.

EDIT: I should note that strong, flowery, IPA's were suggested both by the bartender Joel, and my husband Todd. I happen to agree, but the malt profile should be big enough to handle the strength of the chocolate. So think DIPA's for this recipe as a possibility for a beer pairing. They have the malt backbones to tackle this recipe. Otherwise you will get bitter hops and bitter chocolate with hardly any residual sweetness. It could be over kill, but the hops and spices are a good match for one other.