This is my recipe for delicious tiramisu. I have worked really hard on tweaking this recipe to make it my own special tiramisu. It's boozy, rich, and sassy. Just like moi!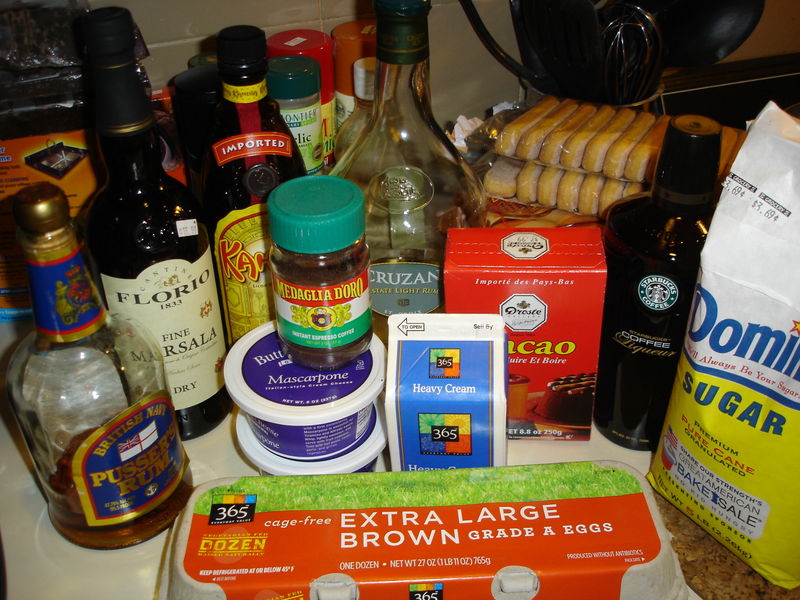 Tiramisu Scandaloso
40 ladyfingers (Give or take a few. Roughly 250 grams. I buy 500 gram packages or 1 pound) Depending upon the kind you buy you may need more or less.)
2 cups strong espresso (cooled)
1/2 cup Kahlua
1/2 cup Starbucks Coffee Liquor
1 cup Dark Rum or high quality British rum from the Caribbean islands.
16 egg yolks
1 cup of sugar
1 cup sweet marsala wine
2 tubs 227 grams mascarpone
1 pint heavy cream
3 to 5 tbls. Kahlua
Unsweetened cacao powder
Chocolate shavings

Zabaglione:
In a double boiler whisk yolks. If you don't have a double boiler simmer a pot of water and use a metal bowl to sit on top of the pot. Do not let the water touch the bottom of the metal bowl. Gradually stir in sugar and marsala wine. Continuously whisk until mixture gets very thick. Don't over cook. Make sure mixture is creamy. Remove from heat. You may either let the mixture cool by placing in the refrigerator or place bowl in ice bath for faster results. I do the ice bath for faster results. As mixture cools it will get a little thicker.

Whisk mascarpone in a separate bowl until smooth.

In mixer or with hand blender whip heavy cream with the 3 to 5 Tbls. of Kahlua. Whip until stiff peaks form.
Add the mascarpone to cooled zabaglione mixture. Whisk until blended. Then gently fold in the whipped cream mixture.








In a separate flat pan or bowl, mix liquors and espresso. Start with one cup of espresso and gradually add more as you blend liquors.

I use instant espresso because I don't have an espresso machine at my house. This brand Medaglia D'oro, is really good and I use it quite a bit for baking uses. You can find it any where. Use a big tablespoon and a half of instant espresso to every cup of water. That should make it nice and robust.





Play around with the liquor measurements. I put a base measurement to start off with but I never use that exact measurement. It's different every time I make it. I also use light rum with dark rum. I use more dark than light. Don't be afraid to be liberal with the booze. This can be as light or as strong as you want it to be.

Note: If you think it's too strong on the coffee flavors balance it with more rum. If you use too much rum, balance with the Kahlua, Starbucks liquor, and more espresso.

Lightly dip ladyfingers in to the mixture for 3 to 4 seconds and then place in rows in a 9x13 pan. You can take a tablespoon and cover the lady fingers with more of the liquor mixture in the pan if you think its needs more of a coating.

Take half of the zabaglione mixture and spread an even layer on top of the soaked lady fingers. Then make a second layer of soaked ladyfingers on top of the first layer. Spread the remaining mixture of zabaglione on top.







Sift unsweetened cacao on top of tiramisu just before serving. Take a bittersweet chocolate bar and rub it over a grater to leave shavings all over the top of the tiramisu. Cover liberally. Refrigerate for 6 hours to over night.

Slice and serve. Serves 8- 12 people.