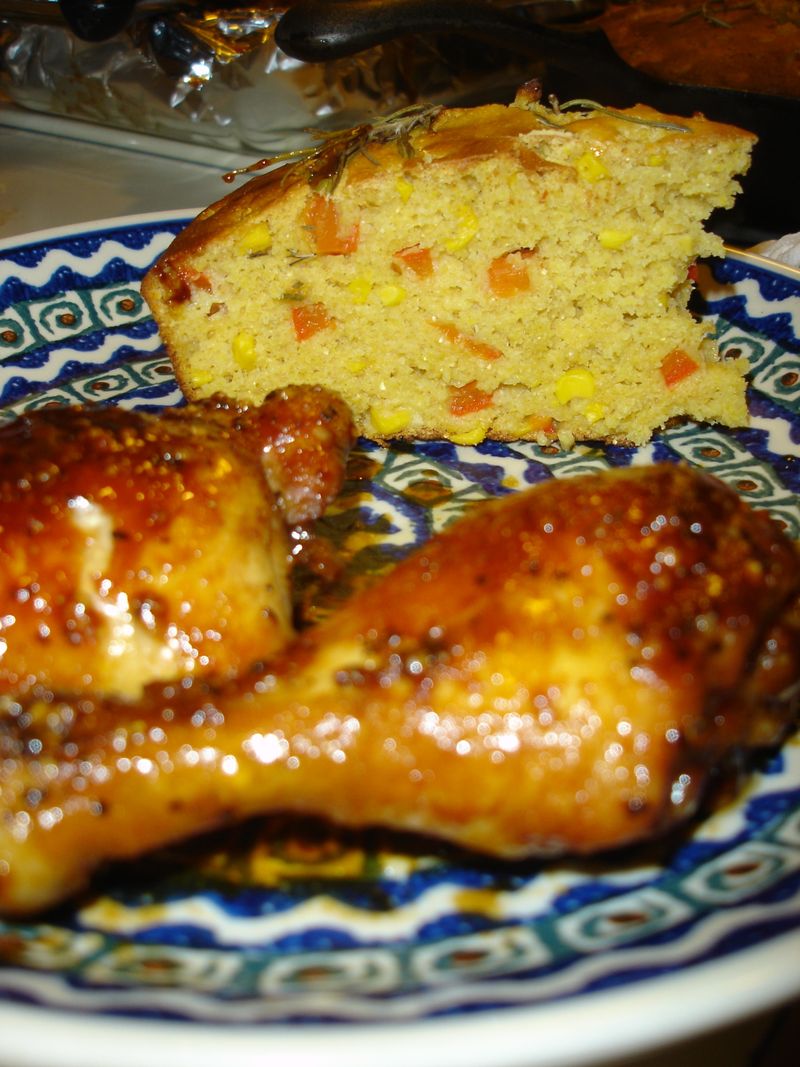 I have been craving the House Of Blues skillet corn bread for ages. I finally said enough is enough and I will try to make it myself. Their corn bread is a skillet bread with whole corn kernels, red peppers and rosemary. It's served with a maple-cinnamon butter. Word to the wise, make the corn bread ahead of the chicken. It takes a long time to bake and at a higher temp.

I wanted some Barbecued chicken too. It's oven baked because again all summer long my grill has been out of commission. But oven baked or not, this sticky chicken is delicious.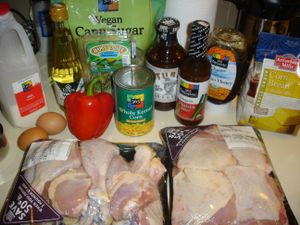 Sticky Chicken

Ingredients:

4 Chicken Thighs (rinsed, patted dry)
4 Chicken Legs (rinsed, patted dry)

Marinade:

1/3 cup Rice wine
2 tbls. Soy Sauce
Montreal Steak Seasoning
Garlic Powder
Onion Powder

Sticky Sauce:

2 tbls. Brown Sugar
2/3 cup BBQ Sauce (I blended 3 different kinds for a unique taste)
2 tbls. Hoisin Sauce
2 tbls sweet and sour sauce
2 tbls. Honey
Garlic Salt to taste
Onion Powder to taste
2 tsp. worcestershire sauce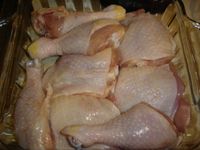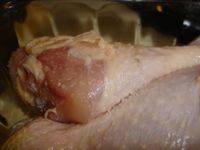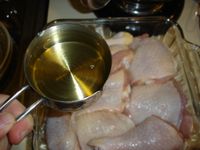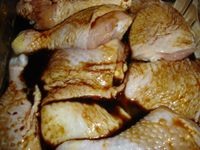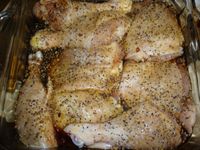 In a separate dish, take chicken and rub with salt and place in the pan. Cover chicken with rice wine and soy sauce. Liberally sprinkle chicken with Montreal steak seasoning. Lightly sprinkle chicken with garlic powder and onion powder. Place in the fridge for at least an hour. Make sure you flip the chicken mid way through marinating.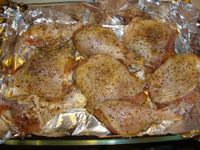 Preheat over to 375°. In a baking dish, line with foil and place the marinated chicken in the baking dish.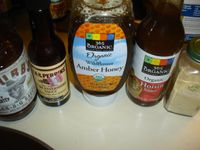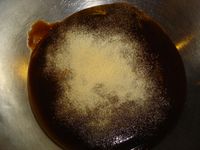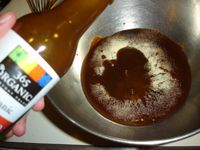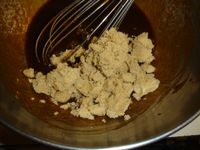 Whisk together all ingredients for sticky sauce in a separate bowl.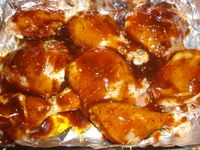 Liberally coat the chicken with BBQ sauce and place in the oven and bake for 35 minutes.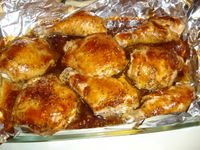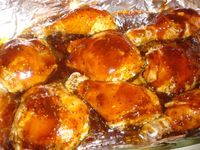 Pull out of the oven and coat the chicken again with sauce and bake again for another 15 minutes. Or until chicken is at least 160°at the bone.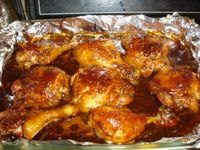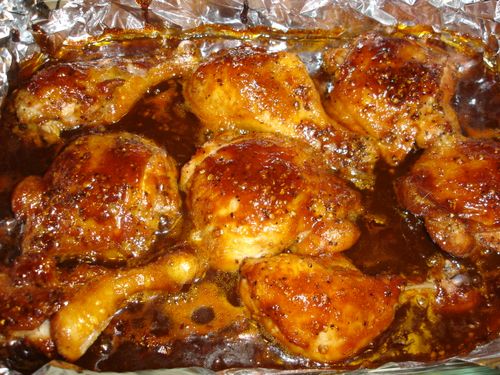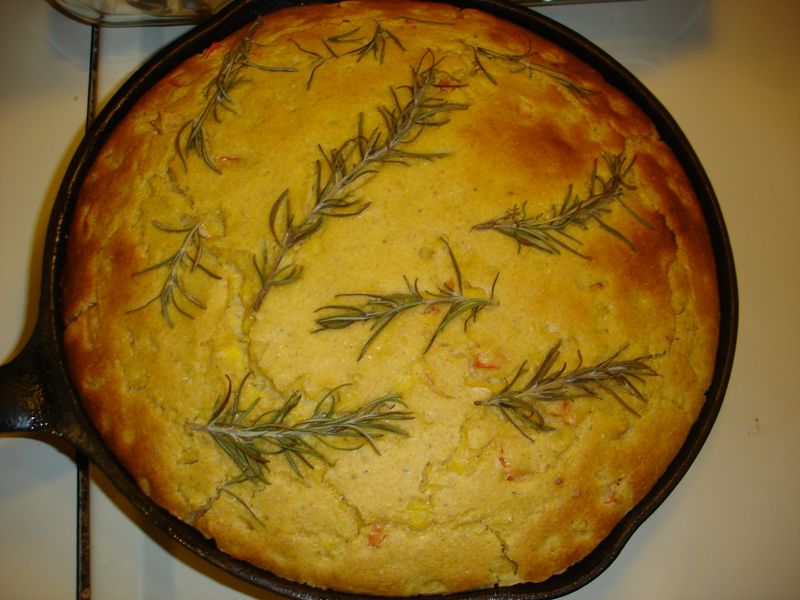 (This image of the corn bread is not fully cooked all the way. It was taken out of the oven for the knife test to see how much longer it needed cooking.)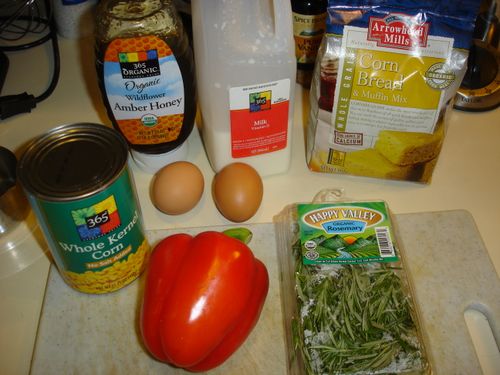 Knock Off House Of Blues Skillet Corn Bread with Cinnamon Maple Butter


*2 cups Arrowhead Mills Corn Bread Mix
*1 1/4 cups milk
2 tbls canola oil
2 tbls honey
1 medium sized red bell pepper finely chopped
1 15 ounce can corn drained or 2 cups fresh corn
Fresh sprigs of rosemary
2 tbls canola oil


*This is the basic recipe for corn bread according to Arrowhead Mills. The corn and peppers add more moisture and will take longer to cook than what the recipe calls for. Also this recipe calls for two cups of the corn bread mix. I found I needed nearly 3 cups to thicken it up otherwise it was way too runny.
My skillet was also 10 inches and most skillet corn bread recipes call for 8 inch skillets. I had to play with my corn bread mixture to compensate.

The recipe also called for water in the mix, but milk is better so I substituted the water for milk.



Preheat oven to 400°. Mix all ingredients up to red pepper in a bowl. Make sure the batter is a thick consistency a tad thicker than pancake batter. Once batter is mixed, add corn and red peppers.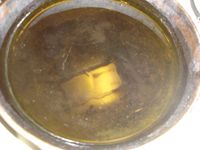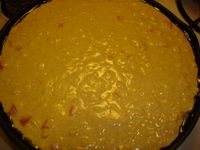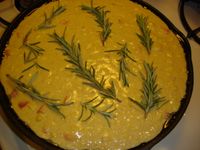 You can either add 2 tbls of canola oil to the skillet and leave in the oven while it is preheating or you can heat the oil in the skillet on the the stove top just until the oil begins to smoke from the skillet.

Once the skillet is heated add the corn bread batter immediately to the skillet. Top with sprigs of rosemary. Do not press into the batter. Stick in the oven and bake for 35 to 45 minutes. The moisture content may make cooking time longer so don't be surprised if it takes longer than the cooking time called for. Do the knife test and make sure it comes out clean when inserting into the corn bread. The edges will be darker than golden but not burnt.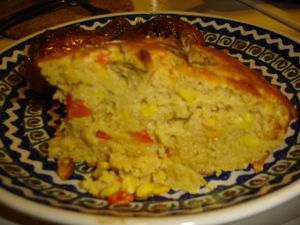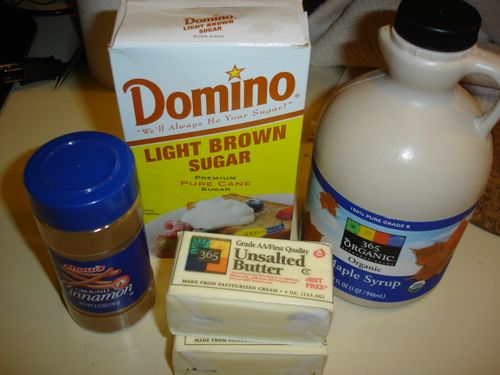 Cinnamon Maple Butter

1 cup of butter softened
1 1/2 tsp cinnamon
2 tbls Maple syrup
1 1/2 tbls brown sugar

Whisk all ingredients until nicely blended. Put in a large ramekin and chill for a few minutes then serve with warm corn bread.