It might be snowing 2 feet of snow in Colorado currently, but it is technically spring time. Therefore we should start thinking about spring and summer foods. It's still pretty cold in the Boston area, but if we start sending out vibes and thoughts, maybe we can will it to be warm.

Well how about an easy salad? A classic chef salad. It's really easy to make, and if you make it Candice style, it's really big and hearty as well.

Ingredients:

Mixed baby greens
Carrots
Cucumbers
Green Peppers
Tomatoes
Sliced Deli Ham
Sliced Deli Turkey
American Cheese or Provolone or Monterey Jack Sliced
Croutons
Ranch Dressing

This is an open recipe. Feel free to add whatever vegetables you desire to this salad. And feel free to switch up your dressing.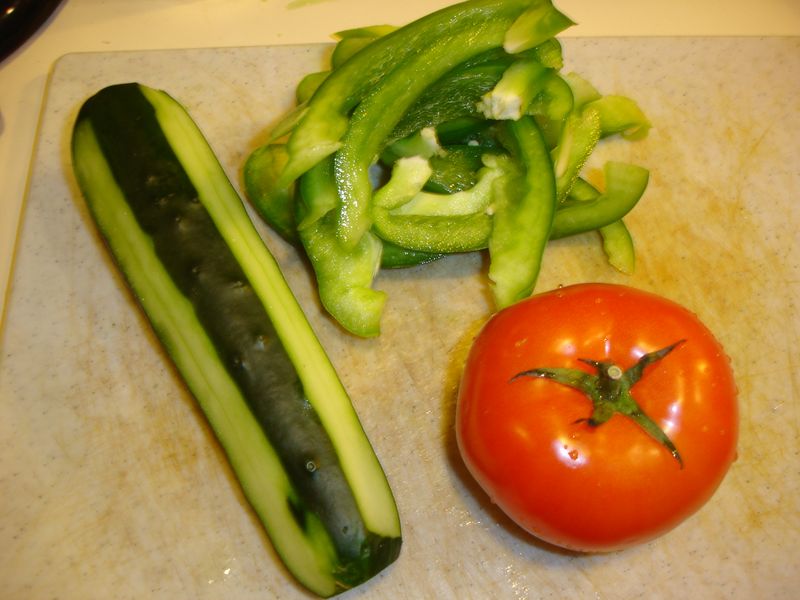 Prep you vegetables by peeling your cucumber and slicing it. Halving your tomato and slicing wedges. Slicing your green peppers into strips. And in my case I had shaved baby carrots (not pictured). I simply halved them and then cut the halves in half.

I had to take a second picture of my tomato. It was probably the most perfect tomato I have ever handled. It almost looked fake or ones they use in fast food commercials when they want to convince you their ingredients aren't shit.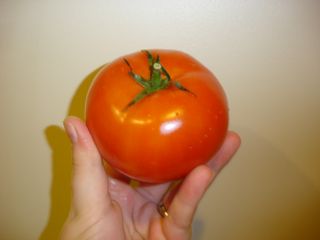 Building your salad. Again this entirely up to you. Salads should be free for you to build as you please. Place ingredients where you see fit or in their order of importance. If you are serving someone else, just make it look pretty.






I started with the mixed baby greens plopped right in the center of my plate.





I then scattered carrots and green peppers and cucumbers on the greens and placed my tomatoes around the plate.





Up next the deli meats and cheese. I used sliced monterey jack, and black forest ham, and a house smoked turkey from Whole Foods. The turkey was dry, but nothing a little ranch couldn't fix.








Roll the cheese into the turkey and ham and then slice the rolls. Place the slices evenly around the plate.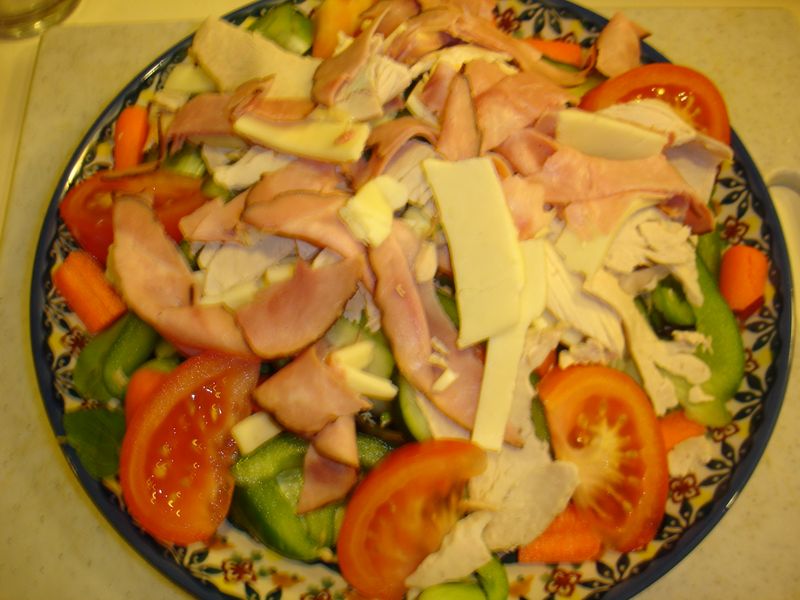 Dress with ranch (or dressing of your choice) and croutons.





This is a nice organic ranch from Whole Food's brand 365. Nothing fancy, but very decent.


I did not take pictures with it dressed and covered in croutons. I am a bit of a crouton whore and don't really feel like showing how much I can actually ruin salads with the amount of croutons.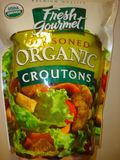 I will give you an idea. I bought a 2 pound bag of croutons from Costco and there are only 2 people in my house. Yeah I know it's wrong on so many levels.


Beer pairing suggestion: I am going for an easy one with this salad. Allagash White. Something clean, effervescent, and light.

Other fun suggestions would be Great Divide's Raspberry Ale. Or even something fun like Unibrou's Ephemere, apple or cranberry. All of which are ligh style ales with fruit flavors that are not disgustingly sweet or over bearing. The nose on the Ephemeres are misleading as you will think this very robust, but isn't overkill on the taste.

If you want to get creative, a nice bread-y lager like Old Dominion Lager would work with this kind of a salad too. The smoked turkey, spiced croutons, and the earthy flavors on the mixed greens would all work well with a good bread-y lager. The sweetness would become more pronounced and become a pleasant marriage. Amber ales will also do the trick.

SIDE NOTE: When it comes to any salad, when you ad fruits and nuts, you can take real risks like pairing a scotch ale with a salad. I once attended a beer dinner event at Cambridge Brewing Company a few years ago where they had a salad with papaya, macadamia nuts, and arugula tossed with a little bit of olive oil and salt as it's dressing. There were other ingredients, but sadly I can't remember what they were, however I specifically remembered why this pairing worked. The simple ingredients were packed full of flavors. The nuts, the earthy taste on the greens, and soft mellow sweetness of the papaya all balanced and married perfectly with their scotch ale.