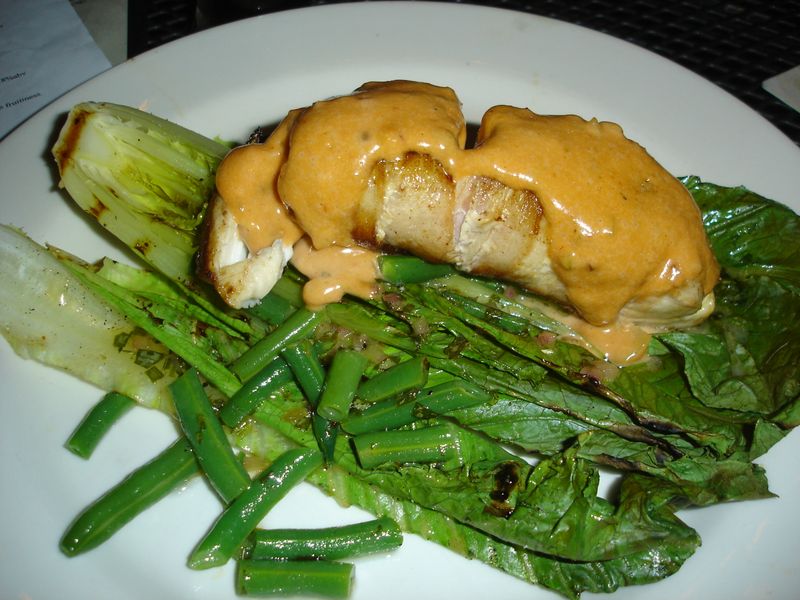 A quiet Saturday evening spent at our local brewpub Cambridge Brewing Company. Last Saturday we went to check out their annual Striped Bass Festival. Main entrees all featuring striped bass and paired with the fine offerings of CBC's beers.

The menu: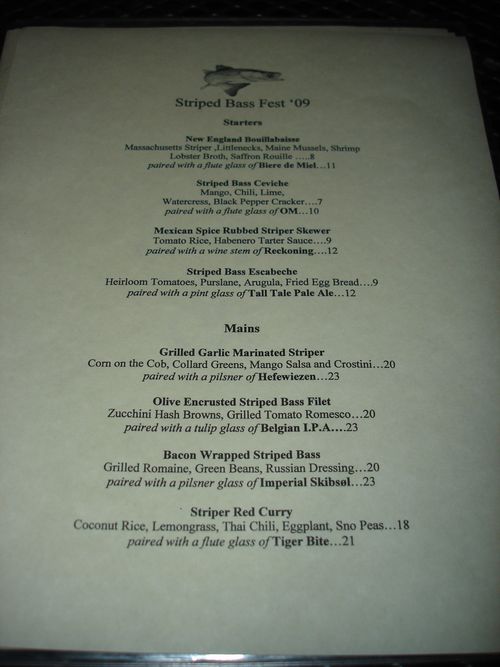 The Beer Menu: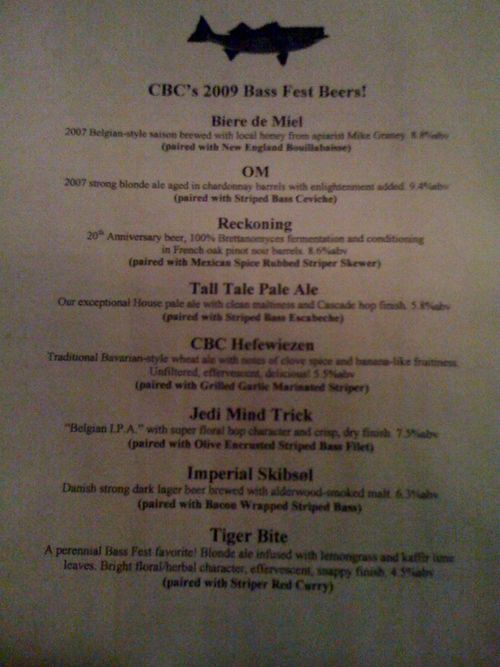 First beer: Jedi Mind Trick a "Belgian IPA" 7.5% abv. (This isn't the beer you were looking for.)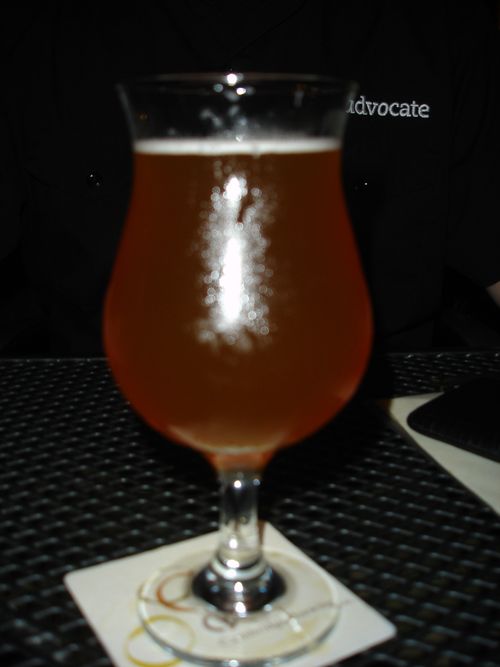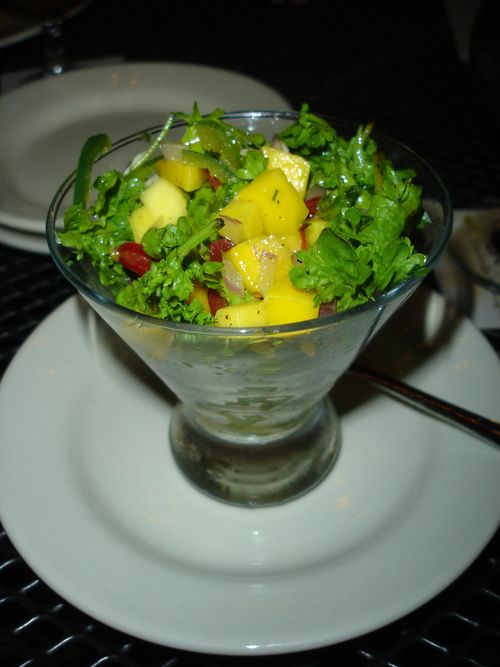 First course was the Striped Bass Ceviche with Mango, Chili, Lime, Watercress, and black pepper cracker paired with a flute of OM.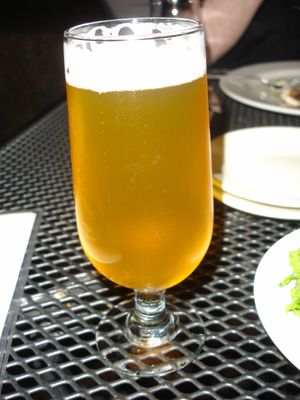 OM: 2007 strong blonde ale aged in chardonnay barrels with enlightenment added 9.4% abv.

This pairing was refreshing. Although you can't really see the seafood in the picture, the pieces of striped bass were plump and delicious and did not have strong fish flavors or oils. The OM was nice and delicate tasting despite being a 9.4% abv beer. Sometimes strong beers are overlooked when pairing things with seafood and fresh fruit. Technically this is a blonde ale which is on the right track for lighter foods, but the abv seems intense. However, it doesn't interfere or become too apparent when tasting this pairing.

Signs of bad pairings are when one flavor dominates the entire palate, the flavors clash too much, or the beer flavors are destroyed leaving nothing but the alcohol flavors from the food pairing.

The greens provided a bit of an earthiness to the pairing and the lime rounded everything out. The beer had spicy notes and the chardonnay barrel aging didn't leave an oak-y buttery finish. Butter flavors in beer a sign of diacytal in the beer and is not always a desired effect. Chardonnays tend to be oak-y and buttery. This beer was clean and spicy.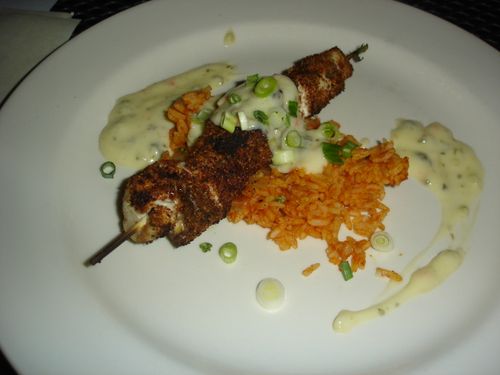 Todd Alström's first course was Mexican Spice Rubbed Striper Skewer with tomato rice, habenero tartar sauce paired with a wine stem of Reckoning.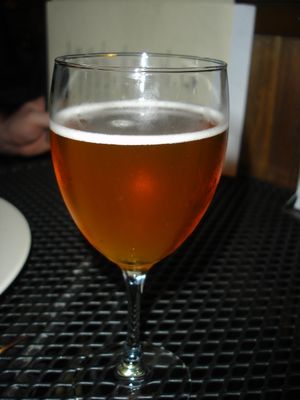 Reckoning: 20th Anniversary beer. 100% Brettanomyces fermentation and conditioning in French oak pinot noir barrels 8.6% abv.

This pairing was actually off as far as matching the beer with the food. This beer didn't belong with these flavor profiles. The Skewer itself was delicious. The tartar sauce was not too hot despite being flavored with habenero.

The beer all by itself was delicious as well. I believe the flavors of the spices were too dominate for this beer. This is one of the bad pairings in which alcohol was the only thing you could taste. No subtleties of the pinot noir barrels and the brett was completely masked.

One description of Brett from Russian River Brewing Company:


Brettanomyces (also known as Brett) is feared by most brewers and winemakers alike. In fact, there are some local winemakers who will not set foot in our brewpub in Downtown Santa Rosa due to our use of Brettanomyces. Brettanomyces is actually yeast, it ferments and acts the same as every other "conventional" yeast, it just has the propensity to continue fermenting through almost any type of sugar, including those natural sugars found in the wood in an oak barrel. Brett is very invasive and if not handled properly can become out of control in a winery or brewery, but, if used properly with care, it can add rich aromas and flavors of earthiness, leather, smoke, barnyard, & our favorite descriptor-wet dog in a phone booth.
Brett beers are usually not my style of beers at all. They wreak havoc on my body and I will just leave it at that. But I was frankly disappointed that this pairing didn't work. When there are styles of beers I don't like, I rely on food pairings to open up the beers true flavors and allow me to taste them more objectively. That's not a recommended tasting suggestion for everyone. Just how I personally prefer to open up to beers I normally may not like. Even if I don't like them I need to be able to understand them and food is the best way for me to do that.
The Jedi Mind Trick was still floating around and it wound up pairing better with the skewers.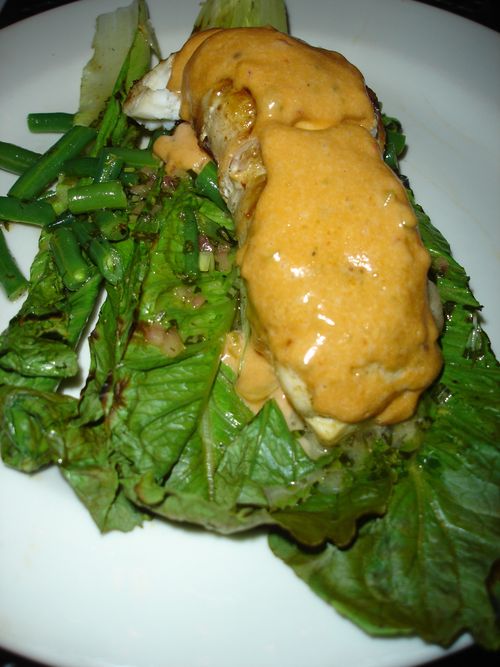 The dinner pairing was Bacon Wrapped Striped Bass with green beans and Russian dressing paired with Imperial Skibsøl.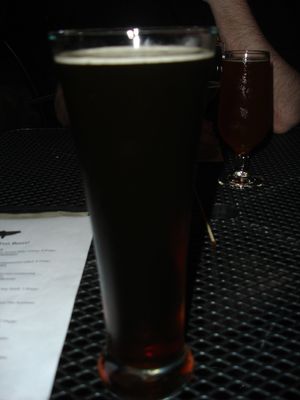 Imperial Skibsøl: A Danish strong dark lager beer with alderwood-smoked malt 6.3%.

The first sip of beer was off. It tasted exactly like root beer due to the left over spices and lingering flavors from the OM. I had to rinse with water for a minute to clear my palate. I was also laughing at the table sitting next to us as they sent back this beer and claimed it to be "too smoky." He was a pussy.

There are only two lines of thought with smoked beers. You love them or you hate them. I happen to be in the "I LOVE THEM" category.

For this pairing the bacon is the key that ties this pairing together. Again its a dark beer being paired with fish that typically isn't first thought of when pairing lighter foods like fish with beer. Bacon and smoked beers are a dream together. The Russian dressing wasn't overly sweet either it was tangy and allowed the sweetness of the dark malts to come through. The green beans added a nice crunchy texture.

This pairing was just all around fantastic. It was hearty and filling yet not food coma inducing. A hearty fish pairing that leaves you feeling good and satisfied and not like you need a nap immediately after.

The beer was so delicious and not overly smoked at all. Well not as smokey as a Schlenkerla Urbock, but along the same lines. Sweet, dark, roasted, and smokey malts with complex flavors yet very drinkable. I should have slapped the wuss next to me who sent his beer back because he thought was too smokey.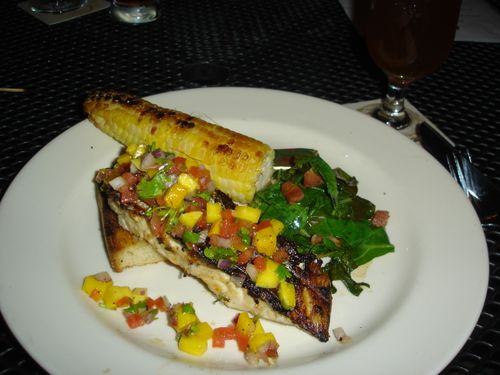 Todd's choice of main course was Grilled Garlic Marinated Striper with grilled corn on the cob, collard greens, mango salsa and grilled crostini paired with Biere De Miel. Grilled by the owner of CBC, Phil Bannatyne himself.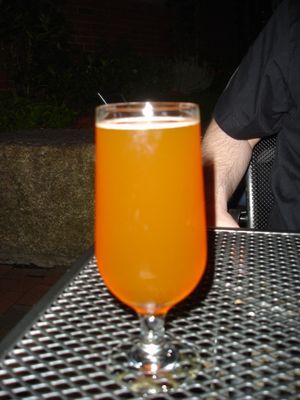 Biere De Miel: 2007 Belgian-style saison made with local honey from Mike Graney 8.8% abv.

This beer wasn't technically the right pairing suggestion. It was supposed to be offered up with the CBC Hefewiezen. The same general rules apply however when pairing the beers with this entree. Citrus flavors, sweet honey flavors instead of the fruity esters of the Hefewiezen, spices, and the same cloudy yeasty profiles. In combination with the sweet grilled corn, and mango salsa balanced with the light garlic flavors and the fish flavors. Not to mention the Biere de Miel is worlds better than the Hefewiezen. Not to impugn the Hefewizen but the Biere de Miel is worlds better.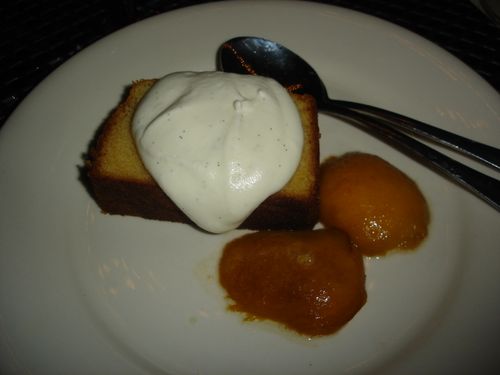 Dessert was simple. A Honey Pound Cake with vanilla cream and braised peaches in Arquebus.

Arquebus: Since I have no picture of this beer though it looked very similar the Reckoning served in a wine stemmed glass, I thought I would give you the CBC description of this beer.


Two questions may have already arisen as you begin this reading; first, what is an Arquebus and second, what is a "summer barleywine?"
Well, this'll be easier than you thought, and completely painless, I promise.
An arquebus was a primitive firearm which came into use in the 15th Century, and was a predecessor to the musket and rifle. A smoothbore with a flared muzzle, similar but more refined and accurate than its predecessor the Blunderbuss (ah, there's the thematic association, Blunderbuss being our winter barleywine…) it was capable of piercing the strong, full-plate armor worn into battle.
Ok then. What, you continue to wonder, is a "Summer Barleywine?"
Well, in our continuing quest to change the way people think about enjoying and understanding beer and beer styles, we have created a barleymalt-based interpretation of a dessert wine, meant to be sipped on those sultry summer evenings on our patio. It is also brewed with local Cambridge honey gathered from hives within five miles of our brewery by apiarists Mike Graney and Dan Geere, plus white wine grapes of the varieties Viognier and Gewurtztraminer.
Our 2009 release is at once light and drinkable yet it boasts significant body, and it is almost syrupy smooth in texture without being cloying. Arquebus' deep golden mien contains beautiful, complex notes of peach and apricot fruit, wildflower honey, toast and coconut oakiness, and soft, tannin-hinted, white grape notes. Malolactic fermentation in the barrel adds a hint of acidity to balance the sweetness of this beer's finish.
Aged for eighteen months in French oak chardonnay barrels acquired from the Silverado and Chateau Boswell wineries in Napa, the residual flavors contributed by the wood offer a mellowness of character not provided by stainless steel fermentation, as controlled oxidation deepens its color, enhances its rich texture, and concentrates notes of fruit.
OG: 1.100/25.0*P FG: 1.016/4.0*P ABV:11.0%
This years batch was a tad more tart than I have remembered in previous years. It was absolutely enjoyable and paired well with the cake. Naturally the braised peaches in Arquebus worked well. I mention the tartness however, because it almost didn't work. A touch more and we would have had another mismatched pairing. The cake and cream had delicate flavors, and although this beer which is pretty fantastic and has it's own unique and complex flavors almost trumped the pairing with the tartness. Overall though it is as the description claims, perfect for relaxing on a patio on a nice summer evening. We happened to be seated on the patio of CBC. A nice way to end the evening.
A side not that made the night even more awesome, the menu items were priced and then the proper beer pairing with it were only priced 3 dollars more for a full pours of the beer. You don't see that anywhere. It made the event more economical.