I spent a great evening last night with the fine ladies of Cambridge Common who threw a wonderful beer dinner featuring Stoudts Brewing Co. and special guest Carol Stoudt.

Carol Stoudt is an amazing lady with lot's of history that all in the beer industry are envious of. She was there before most of the craft brewers on the scene today. Not only was she brewing beer when there was hardly anyone else out there doing it, but she was woman brewing beer when there were virtually no women on the scene!

She is pretty much an icon and idol, and listening to her talk about beer and talk about the industry from where it was to where it is now, was definitely inspiring.


Kate Baker and Suzanne Schalow making the introductions.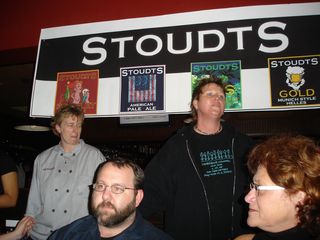 Check out Carol, what a fox. She is just awesome!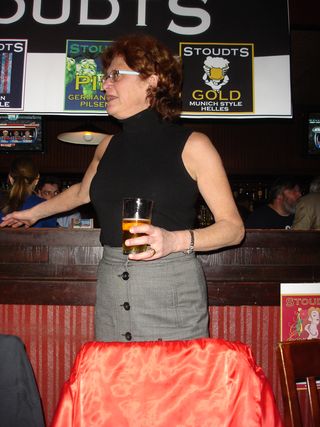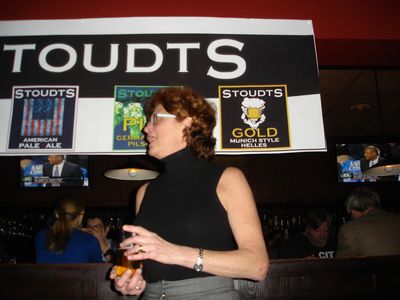 The menu and welcoming beer. Stoudt's Gold, a Munich-style Helles, 5% abv.

I am not usually one to throw back a nice cold lager. I haven't really progressed to them yet. I know that sounds funny, but my palate started backwards. From big sweet Belgians, to super malty double IPA's. Now I want everything dry and crisp. So when I drank this beer last night it was a nice welcomed change to the normal range of beers I drink. It was fresh, clean and delicious. A great way to start this dinner.
First Course: Ploughman's Platter with Grafton aged cheddar, homemade pickles, peppadew peppers, peach chutney, and rustic bread.
Beer: American Pale Ale, 5%

This was a great pairing. The acidity on the pickles was tamed by the peach chutney, the peppers gave off a bit of heat, and the cheddar added a creamy texture and sharp taste. The beer with it's sweeter malts rounded everything out. A simple offering with a lot going on on the palate.
Second Course: Gorgonzola and chive deviled eggs.
Beer: Double IPA, 10%

Don't be fooled by this pairing. Sounds like a simple course, except this one really hit home for nearly everyone at this dinner. Double IPA's and creamy blue cheese such as gorgonzola work based on the alpha acids in the hops cutting through the creamy fatty texture. The steel-y malts interact with the taste of the blue cheese. Adding creamy whipped up yolks to the equation and now the malts of this beer made the offering more like a sweet nectar and not overly bitter.

Everyone pretty much said we should have been sat with a huge platters of these deviled eggs and started off with the DIPA. A little bit of a blurry beer pic, but then again I am not that great of a photographer.

The American Pale Ale also worked out well with these eggs. I still had some left over and tried it. The carbonation acts the same way as the acids in hops. Cuts right through and then the sweet malts do the rest.

Third Course: Choice of Half roasted chicken with white asparagus and warm German potato salad.
Beer: Heifer-in-Wheat, 5%

Or
Pork medallions with a mustard cream sauce and scalloped cauliflower and potato casserole.
Beer: Scarlet Lady ESB, 5%

I went with the Pork but I did get a picture of the chicken as well.
This was so good. The pork was juicy and rich with the mustard cream sauce. The scalloped potatoes and cauliflower were creamy and awesome. It worked out really well with the ESB. At first sip of the ESB it seemed pretty tame and mild. That's because the beer before was a big DIPA. But then with the food it really brought out the hop character and also nutty malts. This was comfort food and certainly was big, filling, and very tasty. I loved it.
Fourth Course: Chocolate bread pudding with vanilla bean sauce.
Beer: Fat Dog Stout, 9%
This was just too much!! The entree course had already sent quite a number of us over the edge, and then this thing came out. I was feeling okay after the entree, and when they sat this in front of me, without thinking I systematically ate it all. And then I hit the wall with food coma.
The sweet sauce was like a frosting you put on cinnamon rolls. It was sticky and delicious. The bread pudding was nice and soft and chocolate-y. Of course chocolate and vanilla are both made for stouts. The first sip of the stout was sweet and rich, and then with a bite of the very sweet bread pudding, the bitter qualities and rich roasted notes came through making it another amazingly delicious pairing.
Simple comfort foods and fantastic beers from Stoudt's really knocked this dinner out of the park. I live a good life where I am fortunate to be invited to events like this. Where I get to imbibe on great beer and delicious food and hang out with some amazing people in the beer industry. As Suzanne Schalow always says; "I am living the dream baby!"