I found this amazing recipe for "Texas Gravy" from an user on FoodBuzz called Don't Burn The Garlic. It called for beer, duck fat, and bacon in this recipe. I was completely down for trying this recipe.

My interpretation of this came out more like a Cincinnati-Style chili. I tweaked this recipe a lot by the spices. It calls for some heat to this chili and I toned it down quite a bit because I am a wuss. I didn't use cocoa chili powder like the recipe called for. I added actual cocoa powder, a touch more chili powder, and I added regular paprika to make a substitution.


I used different a beer for the chili than Dos Equis. I used Dark Horse Fore Smoked Stout. I wanted a richer and more in-depth flavor for my chili. Using the recommended Mexican lager is not a bad call, but again I preferred a much richer sauce. Black lagers would work really good with this recipe as well. I toyed with the idea of using Chatoe Dirtoir from Rogue. A huge Black lager that pours and drinks like a nice big stout.

Feel free to play around with the beer for this recipe. I ended up going with the smoked stout over the black lager, but a smoked porter would have worked just as well. You can also use things like coffee stouts or porters, and chocolate stouts would be great for this recipe too.

The recipe called for 10 strips of bacon, but I don't think this recipe will be altered enough if you used an entire 12oz package. I used what the recipe called for but wished I ended up using the whole thing.

The recipe calls for using Garam Masala as a secret spice ingredient. I found out that using the recommended 4 tsp was way too much. I would recommend starting with 1 to 2 tsp. of it to start. You can always add more if you think it needs it.
Finding rendered duck fat wasn't easy either. Whole Foods did not carry it nor did the local Harvest Co-op market. Star Market didn't carry anything like it either. I had to get it from a local restaurant that I knew was using it for some of their menu items. If you are lucky enough to get your hands on it, it's highly recommeded. It's rich, aromatic, and flavorful.

Look how glorious it looks in the above pic. All I needed was 1 tbls. and I got a take out size soup bowl amount of it. I will have to come up with some other way to use the rest of it before it goes bad.

***Asterisk indicates where I tweaked the original recipe.






Ingredients:

2 lbs. lean ground beef
*1 12oz. package of hickory smoked bacon cut in 1/4's
4 sweet bell peppers - mixed colors chopped
2 Vidalia onions chopped
4 cloves of fresh garlic
4 cloves of roasted garlic mashed
1 tbls. rendered duck fat
2 tbls. soy sauce
4 tbls. Worcestershire sauce
2 tbls. Liquid Smoke
1 12oz bottle of Dark Horse Brewing Co. Fore Smoked Stout
1 28oz can diced tomatoes
*1 15oz can of red kidney beans, drained
*2 15 oz cans of cannellini beans, drained







Spices:
*2 tbls. dried Greek oregano
*2 tbls. chopped Fresh Sage
2 tsp. Kosher Salt
1 tsp. crushed black pepper
4 tbls. Chili Powder
3 tbls. Smoked Paprika
*1 tbls. Paprika
*2 tsp. Ancho Chili Powder

*2 tsp. Garam Masala

*2 to 4 tbls. Unsweetened Cocoa Powder

*2 tbls. Garlic Powder
*2 tbls. Onion Powder

*2 tbls. Chipotle Powder

*2 to 4 tbls. Cumin

*4 to 5 small Bay Leaves

*2 tbls. Dried Basil
*2 tbls. sugar (optional)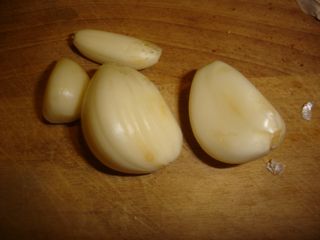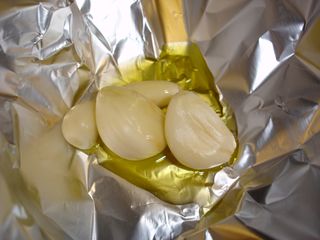 Prepare 4 cloves of Garlic in foil with olive oil and place in preheated oven set at 350°. Takes about 20 minutes give or take to roast garlic. Check on it often and don't start to cook the onions until the garlic is done roasting.

Chop up peppers and onions ahead of time and place in two separate bowls and set aside.
Heat skillet on medium to medium high with 1 tbls. duck fat. Add ground beef and brown. Do not over cook it. Set aside and leave it in the duck fat.
In a large pot, cook the bacon until crispy . Remove the bacon and leave a few tbls. of the bacon grease. Add the chopped onions to the grease and cook for 5 minutes, until tender or soft.
Add fresh chopped garlic and roasted garlic to the onions.

Next add the bell peppers, cut up fresh sage, and bacon to the onions.
Add the beer and simmer for 5 minutes.
Add ground beef, beans, tomatoes, the spices, as well as the soy sauce, liquid smoke and Worcestershire sauce. Mix well and cover. Reduce heat to medium or medium-low and simmer for 1 hour. Add pinch of cinnamon and sugar while simmering. Remove bay leaves before serving.

*My tomatoes are clearly stewed tomatoes. I accidentally told my husband to pick those up at the store instead of diced tomatoes. Use the diced like the recipe calls for, though the stewed were just fine.
This recipe makes for a very spicy and rich chili.
To truly serve this Cincinnati-Style, serve over cooked spaghetti noodles, top with cheddar cheese, chopped white onions, and a side of sweet buttered corn bread.


This chili was great the next day as left overs for chili dogs!