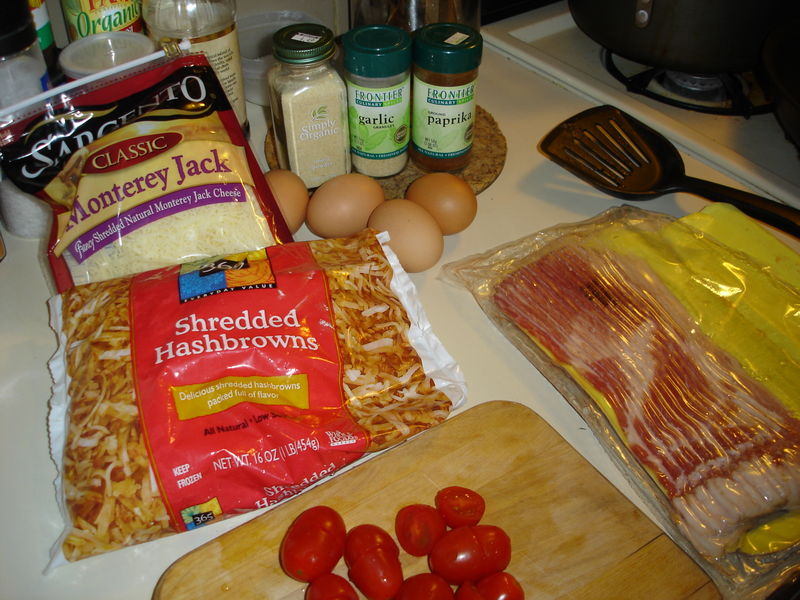 I recently Stumbled Upon a recipe for this awesome and easy idea for a breakfast bake. I sadly cannot find the recipe anymore so I thought I would recreate it with my own flair.
Breakfast Egg Bake (Serves 2)
16 oz Bag Frozen Hash Browns
8 Strips Bacon Cooked (More if you are a bacon lover)
4 Eggs
Grape or cherry tomatoes halved
Shredded Monterey Jack Cheese
Garlic Powder
Onion Powder
Salt
Pepper
Paprika
You will need:
2 individual baking dishes or 2 large, deep set ramekins
Frying pan
Cookie sheet pan (jelly roll pan)

Preheat oven to 375 degrees.




Fry Bacon in pan until crispy. Set aside on small plate with paper towel to drain the excess grease. Drain grease from frying pan, but leave enough to cook has browns in.

Add hash browns to the pan and sprinkle with garlic salt, onion salt, salt, and pepper. Fry until golden brown.

Once cooked, line the bottom of each baking dish with the hash browns, then cover with bacon, and line the edges with tomatoes.
Cover with cheese and make an indentation in the middle for the eggs so they don't spill over. Crack the eggs right in the center and sprinkle paprika on top of the eggs.





Place baking dishes on cookie sheet and bake for 15 minutes. If the center of the eggs are still too runny or not cooked enough, turn the heat up to 400 degrees and cook until the egg whites are more solid.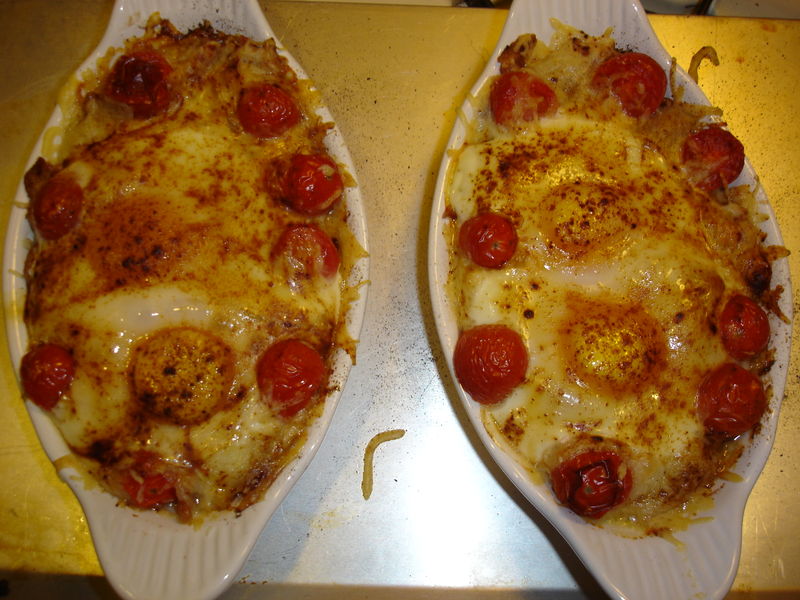 Place dishes on plates and serve.