We had a post festival captains meeting at our good friends house the Fishers last Thursday. Post beer festival meeting with the captains who graciously help me run the show. We just had the BeerAdvocate American Craft Beer Festival at the Seaport and World Trade center in Boston in June. We normally host them at the BCA in the South End but to a much smaller gathering. This festival at the Seaport was nearly ten thousand people.

This was a hard fest to pull off, but we made it and now my captains and I needed to unwind and talk it out. But not without beers and a little BBQ first!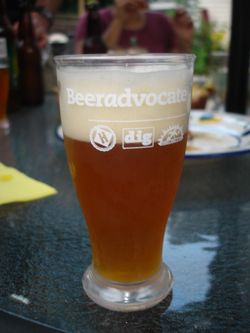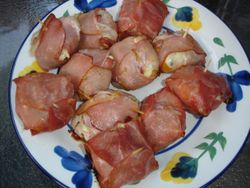 We started out with some spreads and dips which sadly I didn't get a picture of. Then Matt McGrath, who had been quietly working on the grill, presented us with some homebrews. It was a 2005 Belgian style triple. He paired it with grilled stuffed apricots wrapped in prosciutto.It was stuffed with blue cheese and walnuts. This pairing was delicious although a tad messy as the apricots were super soft. The beer had aged nicely as it was well rounded on the edges. No sharp steel-y malt tastes but a light and crisp tripel with subtle notes of citrus. It was very soft and delicate but again delicious. Keeping all the sample glasses from past festivals serves it's purpose well.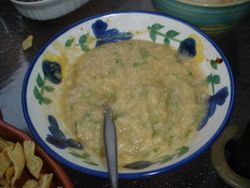 While Matt was grilling the apricots her also had been roasting fresh garlic in Schlenkerla Urbock on the grill. Then he mashed/pureed it for a dip. It wound up being great on the burgers.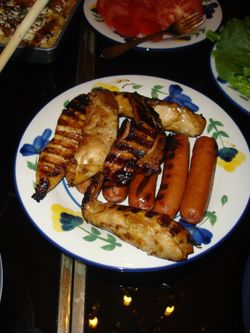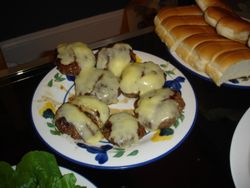 Other foods being served were onion burgers with cheese, teriyaki marinated chicken strips, and hot dogs made by Adam Fisher and Abby Williamson. My Baked Beans with Maple Bacon. Sauteed Kale with a spicy butternut squash puree made by Alana Rivera. And an onion, tomato, and basil tart made by Tyler Hougaboom.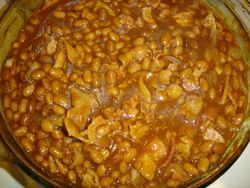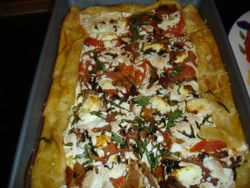 Then we enjoyed homebrews from Adam along with my Dried Tart Cherry Chocolate Chip Cookies with pecans and almond extract.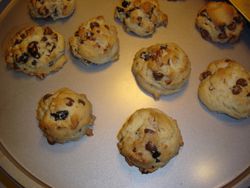 Adam served us with:


10W40 - approx. 17% Abv. - Its loosely based off of a Foriegn Extra Stout. Brewed on 11/24/02 and bottled on 5/8/03.
10W40 Take 2 - 15% Abv. - Don't remember exactly but this one had some weird sugars in it like Molasses, Honey, etc. Brew on 11/23/03 and bottled on 4/21/04.

Really good stuff!

So that's how we roll. A mellow low-key BBQ with some awesome homebrews, good food, and great friends around.