Just wanted to post some fun food pics taken from my phone. Yeah, yeah. Some of these were taken with my old phone. Okay most of them were. But I have long since retired that phone. Bare with me as we go back into last summer with some of these pics.
Buttermilk fried chicken with mashed potatoes, sawmill pan gravy, and peas and corn. Look at those huge breasts in that first pic! Shit was banging yo!
Green Street: Fry of the day of Queso Fresco Taco and the Charcuterie of the day Pork Rillette.
See more pics after the jump.
Green Street: Red wine braised pork shank on gnocchi and Mast Brothers Chocolate mousse with fresh whipped cream.
Cafe Kiraz Celtics Sandwich (Smoked turkey, roast beef, corned beef, coleslaw &
russian dressing.) And Crispy (sweet Thai) Chili Chicken on steamed rice from Thailand Cafe.
Chicken Adobo with ginger, coconut, scallion rice.
Homemade chili topped with onions and cheese.
Left over Chili for chili dogs and Frito Chili Pie from The Gallows.
Bacon Caramel Popcorn with Chex Mix inspired by The Gallows.
Red Velvet Cake with Cream Cheese Frosting.
Vosges Caramel Toffee Chocolate Chunk Brownies.
Almond Macaroons with raspberry chocolate ganache filling.
My version of Giada's Bucatini All'Amatriciana with Spicy Smoked Mozzerella Meatballs. (Spaghetti noodles instead and smoked gouda.)
Island Creek Oyster Bar: Fish and Chips and Buttermilk biscuit with rosemary and honey.
Glazed salmon with peas and rice pilaf.
Homemade chef salad and Beef taco meat quesadilla.
Banana Streusel topped muffins.
Eclid Hall (Denver) Sausage plate and Chicken Schnitzel and Waffles.
Homemade beef tacos and Bourbon cinnamon vanilla baked French Toast with cranberry sauce, herbed scrambled eggs, and sausage.
Green Street: Pork Belly and (Summer) BBQ Chicken with watermelon, potato salad, and grilled corn bread.
Green Street: Baked oysters, corn soup, and single raw oyster with mignonette. Stouts and oysters night.
Wok 'N' Roll Chinese Take out: Sesame chicken, house Moo Shi, pork fried rice.
Mexican/El Salvadoran take out: Beef nachos, beef enchilads and pork tamale, pork papusas, rice and fried plantains.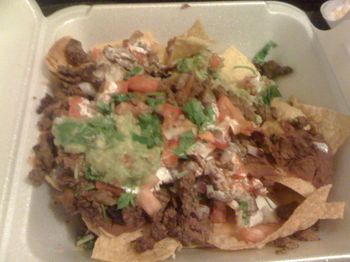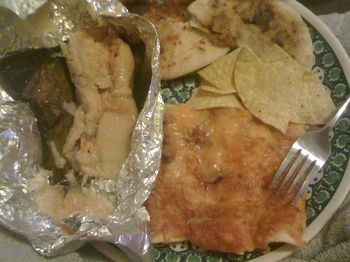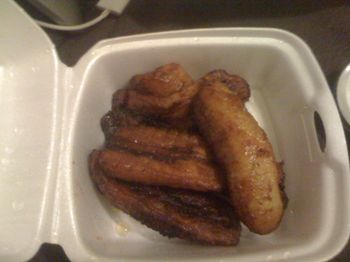 Sam #3 (Denver): Country fried steak smothered in pork green chili and cheese with fried eggs and biscuits and gravy.
Snooze (Denver): BBQ pork eggs benedict, and bacon and eggs plate.
I think that's just about enough don't you?