[Image taken only one day after pickling.]

I was at the grocery store a few weeks ago buying ingredients to make the Founders Breakfast Stout Beef Stew when I panicked and bought a few bushels of beets. I had no idea what I was going to do with them, but I knew I needed to have them.

After asking around about what I should do with them, I decided the best thing to do was to pickle them. I found a fairly easy recipe from Alton Brown and adapted it.

Pickled Beets by Alton Brown

Roasted Beets:

6 medium beets, cleaned with 1 inch stem remaining
2 large shallots peeled
2 sprigs of rosemary
2 tbls olive oil


Preheat oven to 400 degrees F.
In a large bowl toss all of the ingredients.
Place into a foil pouch and roast in the oven for 40 minutes.
*Roasting times will vary. Most people who have used this recipe found that they needed more than hour to roast the beets. I personally had to go longer.
Pickling: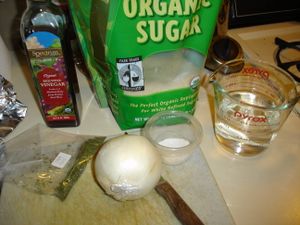 Roasted Beets, recipe above
1 large white onion Frenched
1 cup tarragon wine vinegar
1 1/2 teaspoons of kosher salt
1/2 cup sugar
1 cup water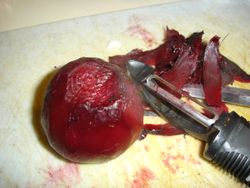 Remove the skin from the Roasted Beets and slice thinly.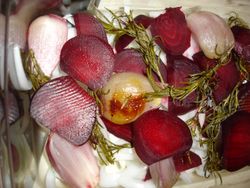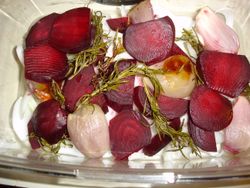 Arrange in 1-quart jars alternating layers with the onion.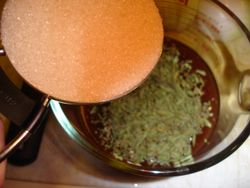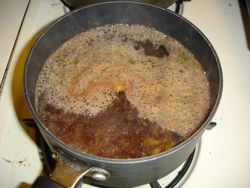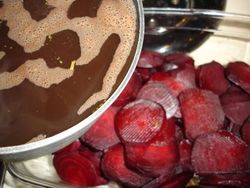 In a small pot boil the rest of the ingredients and pour over the beets.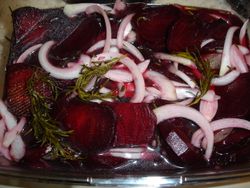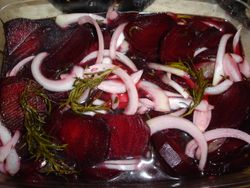 Tightly lid the jars and place in the refrigerator for 3 to 7 days before serving.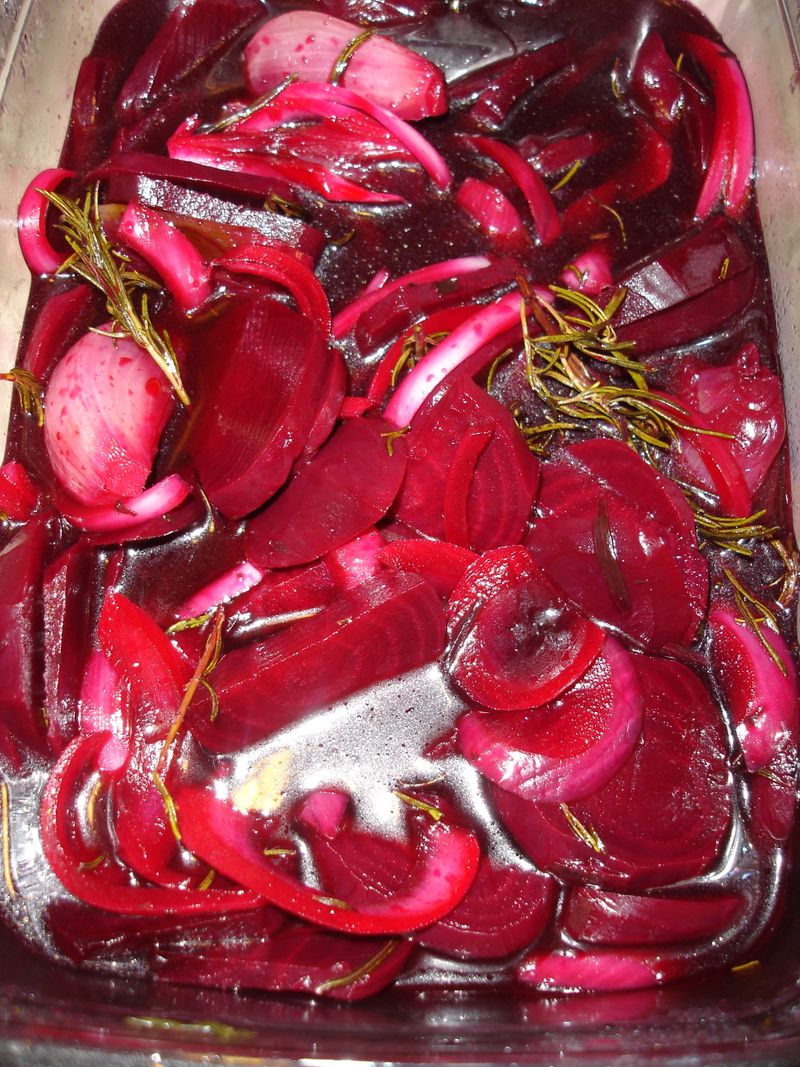 A couple of things I tweaked for this recipe. I used a white onion and not a red onion like the original recipe calls for. I also used red wine vinegar and 2 tbls of chopped tarragon in the boil instead of tarragon wine vinegar and I did not strain it out. I also tossed the left over shallots and rosemary from the roasting in with the onions and beets for pickling. No sense in wasting it. It will add a robust rosemary kick to the beets coupled with the tarragon, but I liked the bold added flavors.