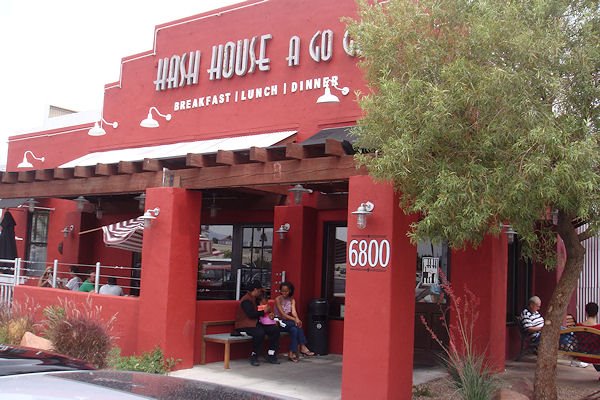 [Image via A Place For My Taste]
I have been told over and over by friends that I must check out Hash House A Go Go while in Las Vegas. Well, I went last week and it was the best thing ever. Apparently it is a California chain that has made it's way to Vegas.

This is my kind of place. The portions are insanely massive, and the food is completely amazing.
I started with one of their famous coffee drinks, The Smore's Mocha.

Just look at that sticky mass of coffee and burnt marshmallow mess. It was so delicious.

Then I asked about the Chicken and Waffles. I was told to order this monstrosity from friends who know I am soul food addict. I wasn't scuured until it came out.
As described from their website: Sage Fried Chicken with a hardwood smoked bacon waffle tower, hot maple caramel and fried leeks. It's 4 waffles with bacon cooked inside the waffle. And I am talking about a big crispy strip in each waffle. Two large pieces of fried chicken on top as well. It's unbelievable.

And just in case you are not sure how big this plate is, It's bigger than both of my hands fanned out. I found this image of some guy who looks horrified by the size of the plate while searching for a picture of the building and thought this was a good image to show you just how massive it is. I am in the second picture, a Twitpic my husband took with me in the background. Notice my hands in the second pic.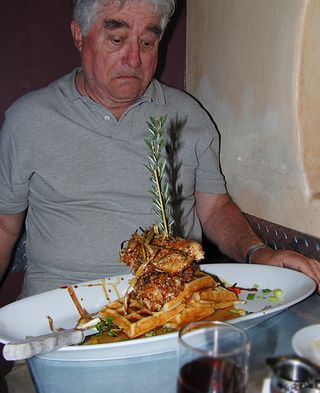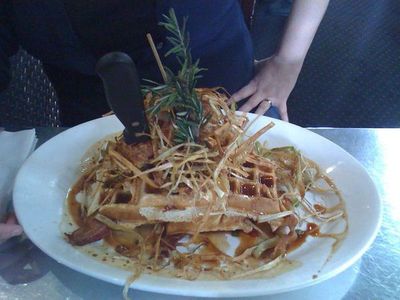 [Image via ZoomStreet and twitpic]

My husband looked and around and saw pancakes as round as basketballs. He decided to play it a little safer and get the smoked salmon skillet.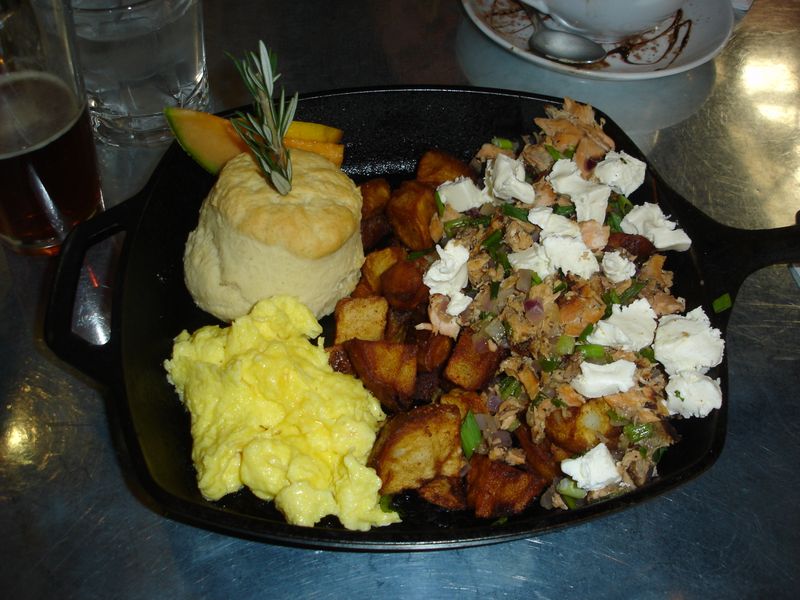 He wasn't let off the hook size wise. This thing was massive too and completely loaded with salmon. So many times with salmon you get the shaft on how much they give you. Not at Hash House A Go Go. They also had homemade jam on the table made with pears and strawberries for the biscuit. Nice touch.


And then I finished up with a double shot Bloody Mary. With pickled beans in it as well. I am starting to think that if there are no pickled beans for the Mary's, then they are probably not worth it. I love pickled beans so much and especially in Bloody Mary's.
Hash House also carried Stone. Todd drank a few Pale Ales and I was torn between the Bloody Mary and an Arrogant Bastard. With Las Vegas being a beer wasteland for the most part, any chance to get good craft beer should be taken advantage of. So not only can you get awesome food, but you can have an Arrogant Bastard with it too.

This place is off the beaten path from the strip. It will cost you just over 20 bucks in cab fare if you don't have a car. But there is a cool little brew pub with video poker down the street called Big Dog's. You can eat and then walk 2 blocks down, trust me you will need to walk after this meal, and play some video poker and wash it all down with some fairly decent beers. Big Dog's had a good Pumpkin Ale and a West Coast Style IPA on hand while we were there.
Whatever you do in Las Vegas, take the time out to visit Hash House A Go Go. Trust me.