I was told by several people, if you want to get the best buffet on the strip in Las Vegas it's either at the Belagio or at the Wynn. We went with the Wynn. We did not lose on this deal. And although I haven't seen the Belagio's Buffet, I feel confident enough to say that Wynn Buffet was the best.

The Wynn hotel is amazing. It's gorgeous, has all the high end shopping and beautiful gaming areas. The only problem I had with the Wynn is that you can't win on their video poker machines that well. Their Black Jack video poker removed the double down feature. Total bullshit and scam. Nothing was paying out for me over there.

But this post isn't about the gambling. It's about the food.

The Buffet at the Wynn is huge. It has a whole separate room for just desserts. Of course it has meat carving stations, but everything is super clean and steril and broken down into regions. Asian section, American food, Italian, ect.

Before we went over to the brunch, we stopped to have a drink at Up Parasol while waiting for a friend to join us. I was in the mood for a Dirty Martini and they made me the best Dirty Martini ever. It was so smooth and tasty and I could have had 50 of them.


Up Parasol is a beautiful lounge in the middle of the gaming area. It's bright, colorful, and comfortable with sofas and couches everywhere. The waitress was the friendliest person we had come across in Vegas. And that's saying something because everyone is cool in Vegas. At least to us anyway.

Our friend finally came and joined us and it was off to the buffet. Keep in mind it was a Sunday at noon and the lines to get into the buffet were long. It didn't take too long, but be prepared anyway.

They also offer a cool deal. For $60 bucks you can eat there all day. Breakfast, lunch, and dinner. It's a good way to economize while you blow all your money on gambling or drinking.

I went the hot route first.


Okay there is a lot going on on this plate. Let me break it down. Sausage, bacon, scrambled eggs, french toast, pancake, waffle, eggs benedict, stir fried shrimp, cornish game hen in southwestern sauce and corn, pulled pork with cole slaw on corn bread, and a cheese and beef enchilada.

Every last bit of it was awesome! And you better believe I ate it all.

The cold route.


Shrimp cocktail, Mediterranean tuna ceviche, Tropical scallop ceiche (in cup), sushi rolls, Chow Shao Bao, and smoked salmon.
There was so much more food to be had, but my belly only had so much room. My husband managed to get some carved meats. Although I wanted them, I am glad I didn't get any carved meats. It would have sat like a lead brick in my belly and I wouldn't have been able to taste all the desserts we had.

Now for the dessert. A small disclaimer is that I did not, I repeat did not eat all that is pictured. I had a bite of each and shared. After the last two plates, there is no way anyone could eat all things I am about to show you.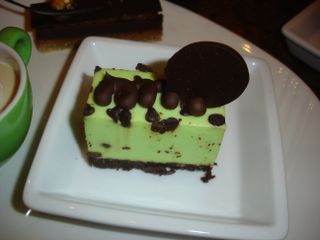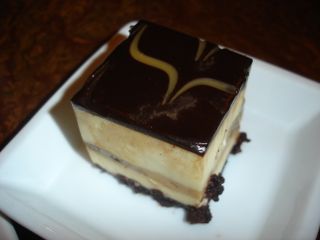 Grasshopper Mint Slice and Banana Cream Slice.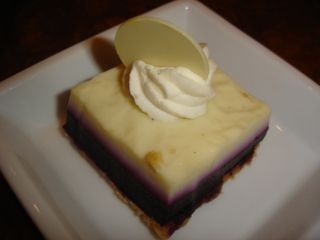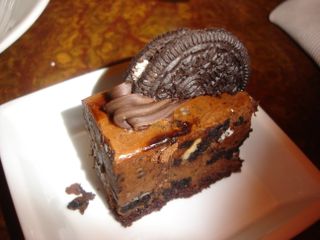 Blueberry tart and Oreo Mousse slice.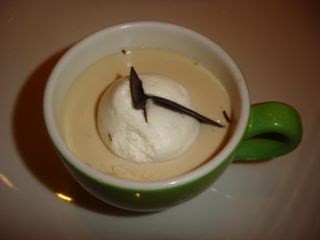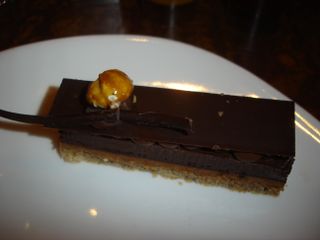 Bailey's Panna Cotta and Hazelnut Chocolate Decadence.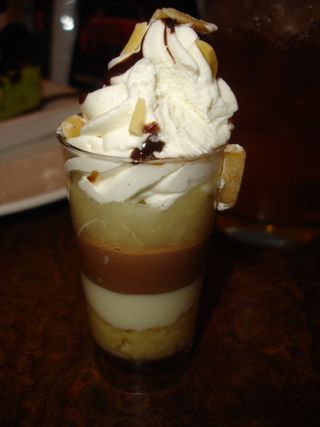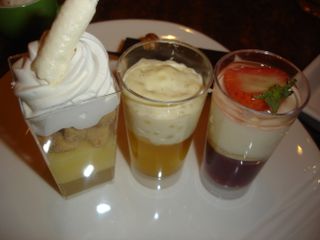 Caramel, Chocolate parfait and Lemon Meringue Pie Parfait , Mango and Lychee Parfait with Tapioca Pearls, and Strawberry Parfait.
And Caramel and coffee ice cream. The coffee ice cream came highly recommended and was amazingly good and creamy.

After this we were the walking dead. Zombies who have succumbed to the dreaded food coma.