I originally wanted to title this post "Why fine dining restaurants should always be more receptive to beer." Why? Because they always far and away exceed their expectations with the parings. Master chefs and their knowledge of food and understandings of flavors are not far off from brewers hand crafting beer. It's a little more than just waiting for grapes to ripen.

Beer Monday is normally Wine Monday at L'Espalier. They offer a dinner with featured wine pairings. This particular Monday was dedicated to beer and was titled "Quit your wine-ing, it's beer!" This was put together by sommelier Erich Schliebe. Erich is also a lover of beer and working on learning more and exploring more of the world of beer.

An interesting note to make here, during the introductions for this dinner, he mentioned that part of the reason L'Espalier was interested in beer as one of the ways to liven up the restaurant and possibly help draw in a younger crowd. This is not the first time I have heard this. Upstairs On The Square in Harvard Sq. also went through something similar. In order to entice a younger, more hip crowd, they are finding themselves turning to beer to do it. We couldn't be more pleased to hear this. It's a good tactic to use. But for us, the folks who own BeerAdvocate.com, we think beer and fine food speaks for itself and should be the focus drawing in crowds of all ages. The explanation of fine foods and ingredients, the care and craft put into each dish should be the same tactic used when talking about beer and how it's made when opening up this new world to people.


We started our first course off with Victory Brewing Company's Prima Pils 5.3% abv. paired with Pastrami carpaccio with macaroni salad and roasted beets.



This is a perfect lighter offering to a summer beer dinner. The beets were out of this world fantastic. They acted almost like a palate cleanser to the dish. I always forget how good they can be and this was a perfect reminder. And the splash of color always adds eye catching interest. The macaroni salad was simple and flavored with nice spices. The pastrami is made local from Chef Frank McClelland's organic farms where he is an advocate for locally grown vegetables, herbs and naturally cared for livestock. It was perfectly peppered and added right amount of salt balance to the dish.



Victory's Prima Pils has no doubt, been the beer of the summer. It's a near perfect American Pilsner. I emphasize American because the hop balance on this beer has a much bigger kick than a typical Euro pilsner despite being made with German and Czech hops. For me this is a good thing as I live for hops. But it's clean, refreshing, and served cold. All the things you want in a beer when it's so hot outside. Monday was particularly humid as well.

The hops in the beer worked well with the beets and and macaroni salad. Hops have the ability to cut right through fats and oils so this helped with the macaroni salad and the pastrami. The salt in the pastrami allowed the sweetness of the malts in the Prima Pils to stand up a bit more as well.

I didn't want this course to end as simple as it was. You don't need to be too extravagant when your working with easy summer ingredients.



Our next course was Westmalle Tripel 9.5% abv paired with Duck Leg Confit and sweet corn relish.



With duck being a fatty meat, and prepared as confit which is generally soaked in it's own rendered fat, it's easy to see why this pairing worked out. The effervescent carbonation in this case helps cut through the fats. In other circumstances it's the alpha acids in hops that cut through the oils.

The sweet candy sugars helped draw out the natural sweetness of the corn and red peppers. The light use of cilantro acted as a palate cleanser. But the fats of the duck actually brought out more of the very subtle hop notes on this beer. Hops are not typically the dominate flavors of a triple. The steel-y metallic malts and sugars are the dominant flavors coupled with the grains. This was a most excellent effect to the pairing. But an curious note was that the meat soaked in rendered duck fat was perfect with this beer, but the fatty skin actually didn't work as well. The skin is usually where all the fat is. But when I bit into the skin and sipped the beer the strong alcohols overwhelmed the palate. That is usually a sign of a bad marriage between the pairings. Curious that it was only for the one bit of the skin. Otherwise this pairing again hit all the right marks.



Westmalle Triple known as the "Mother of all Triples" is a classic interpretation of the traditional Belgian Trappist ales.

From their website:


The Westmalle Tripel is indeed called the "mother of all tripels". This type of beer was first brewed in Westmalle abbey in 1934 when the new brewing hall came into use. The current formula has stayed practically unchanged since 1956, thus more than 50 years.

Usually a triple means it has triple the candy sugars added to it during fermentation. More sugars means more happy yeast and higher alcohol content as a waste product of the yeast.

This beer is one of the finest examples there is of a Triple. It's clean and not too cloying, crisp and refreshing.



The main course was presented with Weihenstephaner Hefeweissebier Dunkel 5.3% abv. paired with grilled lamb with red pepper pesto and pommes fondant.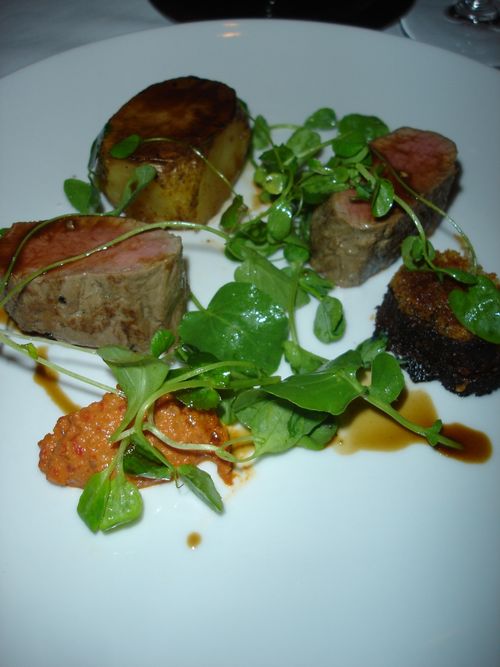 This is almost a no brainer when it comes to brown ales and lamb. Deep dark, sweet malts (especially if they are roasted malts) in brown ales and the flavor of lamb is perfection to the palate. With dunkelweissen's you are getting more spices that come into play. The typical banana nose, and spicy flavors sweetened by dark malts played with this dish. The red pepper pesto was sweet and delicious. And this time the potato was the acting palate cleanser of the dish.
There was one minor issue with this dish. The meat was slightly over cooked and a little dry. It was presented medium rare to more medium. It should have been served more rare. This did not effect the taste of the pairing and it still worked extremely well.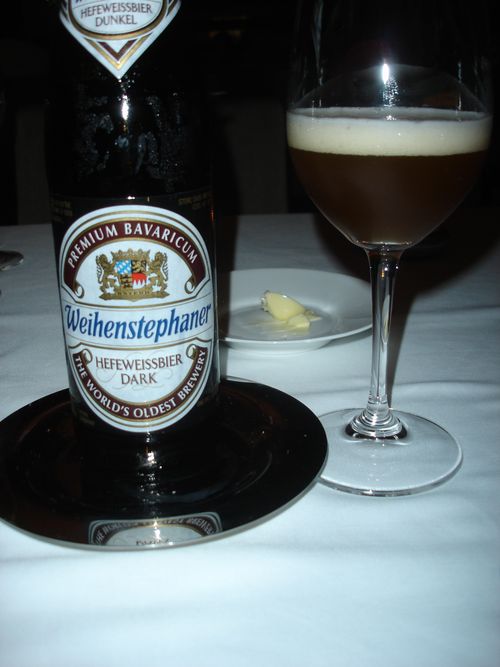 As the label indicates, it is one of the oldest breweries in the world. Originally a Benedictine Monastery brewery, now a brewery owned by the freestate of Bavaria. It deserves more than a few sentences written about it, so read a little about them here: Total Beverage Solution.

This beer had all the classic hallmarks of a beautiful dunkelweissen. Hazy rich brown coloring, sweet banana nose and a creamy texture that made it close to banana pudding, but the caramel notes made it more like rich bananas fosters.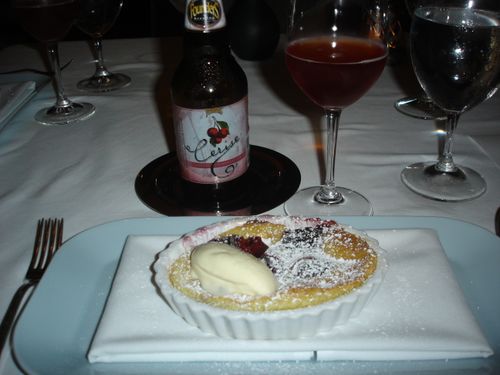 Founders Cerise Cherry Fermentated Ale 6.5% abv. with Cherry clafouti with crème fraîche.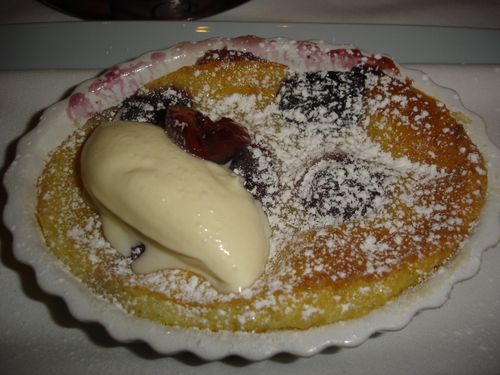 All hail the season of the cherry. Cherries have been very popular this summer. From my friends on FoodBuzz geeking about getting new cherry pitter kitchen tools, to everyone baking their own Cherry Clafouti's, to my obsession this summer with Cherry Chocolate Ice Cream. It is definitely that time of year.
This dessert was perfectly balanced. The crème fraîche was nice and tart and a little sourish, almost like sour cream which I thought was so delicious with the sweet and buttery clafouti. Also the balance on the dessert matched really well with the beer as the exact same sweet and tart notes were happening with the beer. This dessert actually brought out more of the cherry flavors on the beer and tamed it's malts. It was also nice and light, nearly custard like with good plump cherries in it. Not nearly as heavy as it looks in the picture. Which was a good thing after the previous rich courses.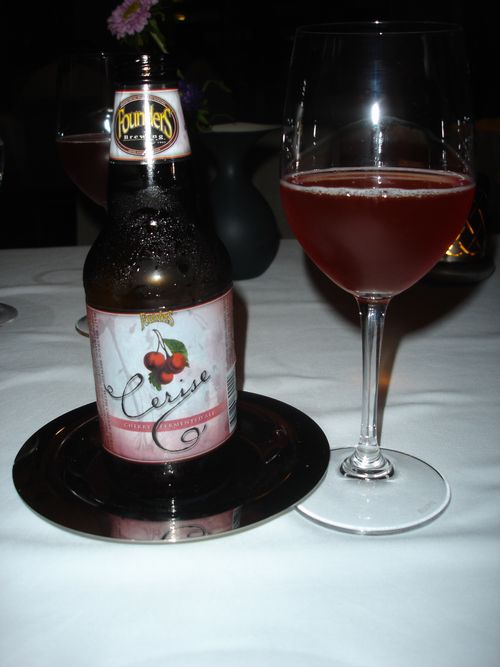 This lovely pink ale defines a big fruit beer. Made with Michigan tart cherries and loaded with big malts, it tastes almost like cherry pie filling. Not thick and syrupy though. That's certainly not a bad thing for me. The crème fraîche helped tone down a bit of the malts and allow more of the actual tart cherry flavors to pop. Took down that cherry pie filling taste and allowed it to taste more like a lambic sans the acid burn a lambic can leave on your throat if it's too sour. Quite enjoyable for me to say the least as I am too sensitive to unbalanced ph levels.

Over all this was a lovely pairing and a perfect way to end the night.
And once presented with a the check, they sent us lovely little house made jellies and chocolates. White peach jellies, like a pâte de fruit topped with a raspberry and thyme marshmallow. And house made mint chocolates.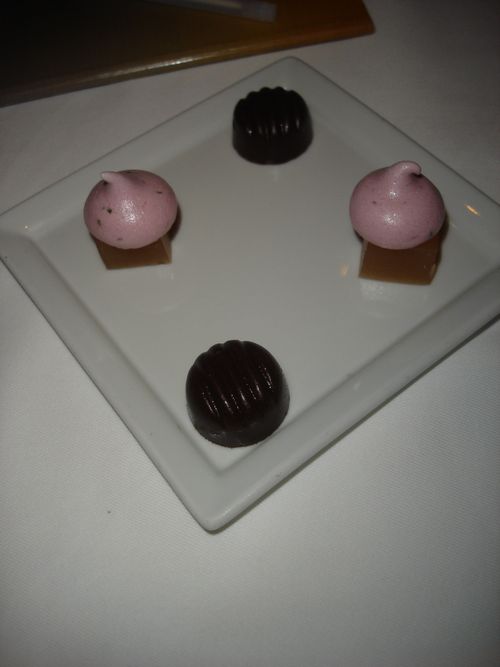 When food is carefully thought out, from ingredients, to preparation and presentation, it's no wonder you can see why beer can be and very much is the perfect compliment. The same thought out carefulness that goes into these lovely dishes, is the same carefulness that goes into making craft beer. And with the range shown in this one beer dinner of the versatility and variety that can be accomplished with beer, it's no wonder it's foods perfect compliment indeed.
I challenge more fine dining establisments to reach out and be more adventerous with their pairings. It's cool, it's delicious, and makes perfect sense.