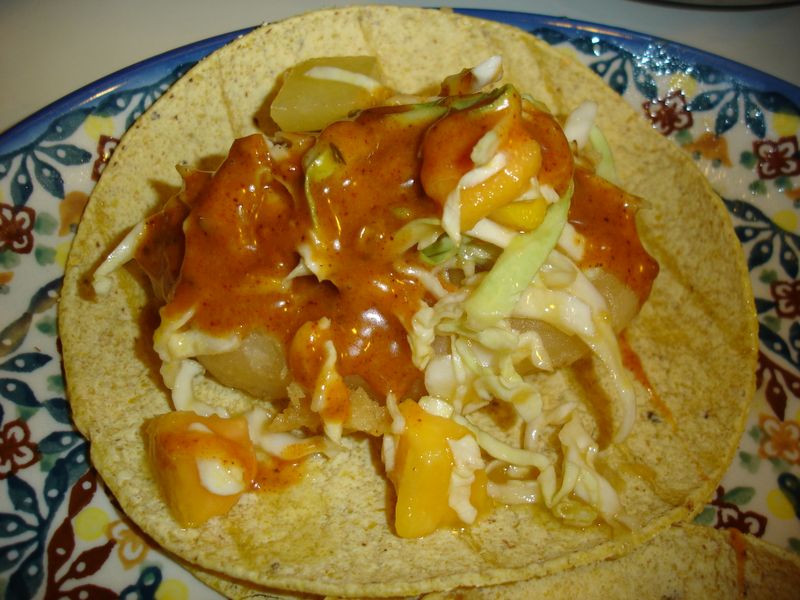 Yep I made beer battered fish tacos. I am a bad ass.

I have decided to cook more verses baking sweets and desserts. I am through being intimidated with actual cooking. I can do anything in a kitchen, the harder it seems the easier it is for me. But for some reason I avoid cooking actual meals and bake instead. Silly.

So in an effort to take more control of my kitchen I made fish tacos. And even better, I modified this recipe for a much more suitable outcome.

For this recipe I will only link the original source. A lot of it is intact but I will reference every thing I have changed with an asterisk.

Also included in this recipe, is a recipe for Sopa Fideo. My brother-in-law used to make this all the time. I thought it would be good for a side dish to the fish tacos. That's why you will see other ingredients in the picture below.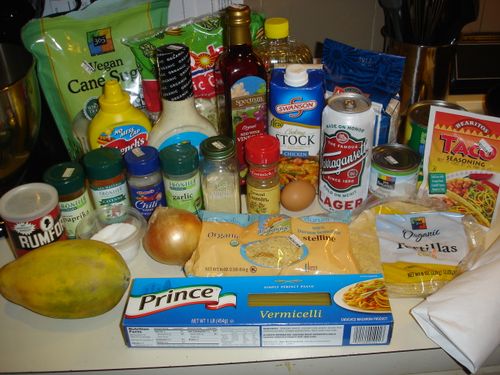 Fish Tacos with Pineapple and *Papaya Coleslaw

By Matthew Goudge and Modified by Candice Alström


Ingredients:


For the coleslaw: Make 2 hours in advance

*1 cup of cabbage, shredded (I used 2 cups coleslaw mix)
*1 cup of red cabbage, shredded
1/2 cup red wine vinegar
*1/2 cup canned cubed pineapple with juice
*1/2 cup fresh Papaya skinned and cubed or 1 half small papaya
1/4 cup sugar
1 teaspoon salt
1 tablespoon mustard
Mix all of the ingredients for the coleslaw in a large bowl and let sit in the refrigerator for several hours to let the flavors combine.

For the fish:
*Fresh Cod cut in to 6 to 8 two inch pieces
*2 cups all purpose flour
*2 cups or one 16oz Tall Boy Narragansett Lager
1 egg
1 teaspoon salt
1 teaspoon baking powder
1 tablespoon garlic powder
1 teaspoon cayenne pepper
2 teaspoons onion powder
Oil for frying
8 corn tortillas for serving
Mix the flour, beer, egg, salt, baking powder, cayenne pepper, and garlic powder into a bowl until it has the consistency of pancake batter. Dip each piece of fish in the batter and then put aside so the batter sets.
*I dropped the fish in the batter and left it in there until my grease heated to proper temp. The original recipe called for rice flour. I used the 2 cups and found my self still using all purpose flour to thicken the batter and actually make a real batter. The rice flour was gritty and terrible. I didn't mind it as much blended but it still had a gritty texture. Skip it and use regular all purpose flour. Just make sure your batter has the right consistency and is not too thick or runny.
Also, the use of Narragansett was the right beer for this batter. Something highly carbonated and tasty. So many people (Beer Geeks) think they have to use extravagant beers when cooking. You absolutely can, but why not drink the good stuff and use the cheap stuff for the cooking? Not that Narragansett isn't worthy of drinking. Unless you need a beer with a specific flavor, like when I used a raspberry beer for Belgian Raspberry Brownies with Espresso Ganache. But we're talking about a beer batter here. Blonde ales or effervescent carbonated beers work just fine. Narragansett is a classic cheap lager that tastes great and added good flavor for this batter. And being in 16 oz tall boys, it's perfect for the recipe calling for two cups.
Heat the oil to 350 degrees or medium high heat. Fry each piece of fish until golden brown and cooked, about 6 minutes. Remove to a paper towel and sprinkle with salt.

For the sauce:
1/2 cup ranch dressing
3 tablespoons taco seasoning
2 teaspoons sugar
To make the sauce, mix the ranch and the taco seasoning right before serving the fish tacos.
Wrap the corn tortillas in a wet towel and microwave for 30 seconds to make them pliable. Use two tortillas to form the shell instead of one. Fill the taco with two pieces of fish then add a heaping pile of slaw and top with sauce.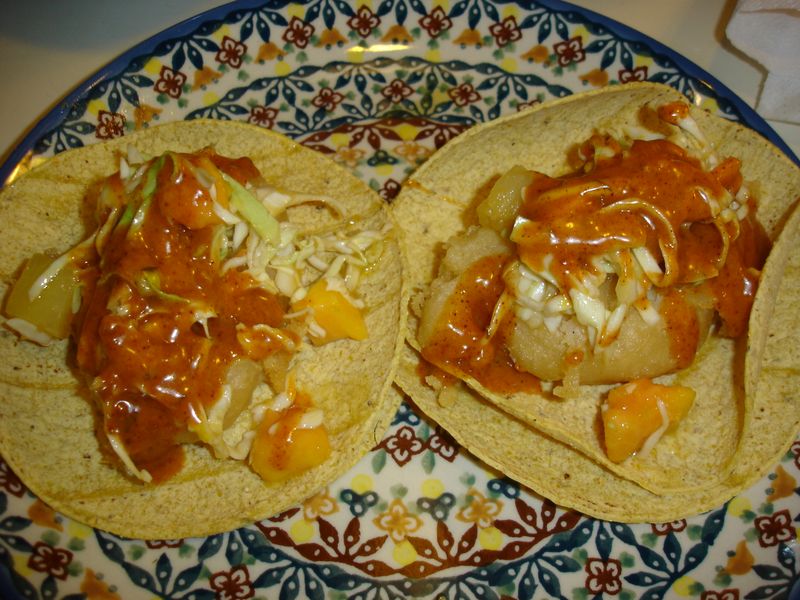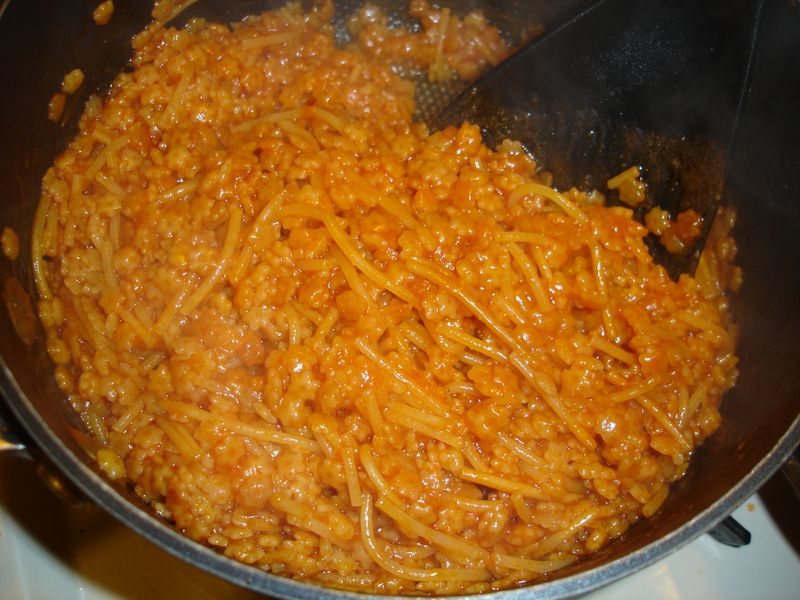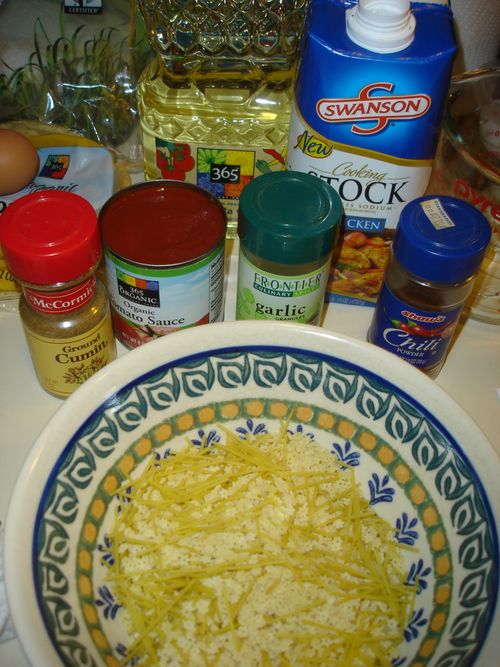 Sopa Fideo

Ingredients

8 oz Fideo or Italian Vermicelli (I mixed the vermicelli with small pasta)
1 8 oz can plain tomato sauce
1 tsp garlic salt
1 tsp cumin
1 1/2 cup chicken stock
1 tsp chili powder
2 tbls canola oil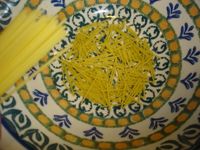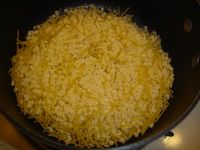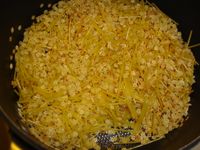 In a small pan add canola oil and heat on medium to medium high heat. Add pasta to the oil and coat with the oil until pasta begins to brown.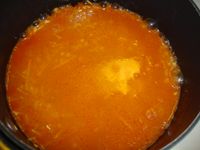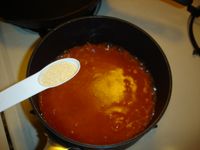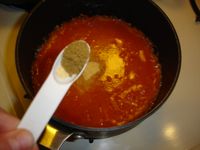 Add half of the can of tomato sauce and 1 cup of chicken stock to the pasta. Add spices and stir. Cook until pasta has soaked up nearly all liquids.

Add rest of tomato sauce and stock and and simmer for ten minutes until thick and creamy like. Remove from heat serve hot.