(I love that this picture shows hot steam coming from the plate.)

There is no real correlation to the name and this particular meat sauce. It entered my head and refused to leave. Mean Jean Meat Sauce is what this sauce will be called henceforth.

This is a meat sauce that I like to make from time to time. It varies with some of the ingredients, but you will notice the "optional" next to the ingredients I use or sometimes skip.

This is a recipe ideal for large families or for freezing copious amounts of leftovers. Be advised to have a pot or pan large enough to cook this massive recipe in. I use a large wok and still this sauce was almost too big.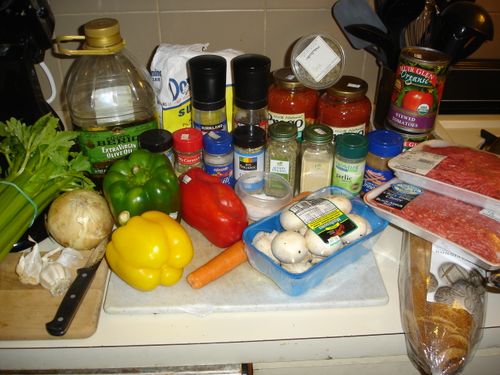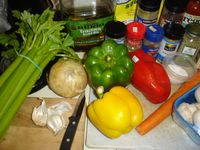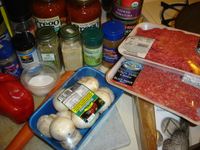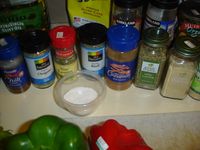 Mean Jean Meat Sauce

Ingredients:

2# ground Beef or Turkey
2 1 pound jars of Pasta Sauce (Prego ect.)
2 cans Stewed Tomatoes not drained (optional)
1 large White Onion
1 large Green Bell Pepper
1 Large Yellow Bell Pepper
1 Large Red Bell Pepper
10 to 15 large White Mushrooms
1 to 2 Large carrots
2 stalks Celery
4 or 5 cloves of Garlic finely minced
1/2# Pancetta or a big chunk of a Prosciutto End (optional)
2 Bay Leaves
1/2 tbls. Chili Powder
1/2 tbls. Sage
1 tbls. Oregano
1 tbls. Basil
1 tbls. Italian Seasoning
1 tbls. Onion Powder
1/2 tbls. Garlic Powder
2 or 3 dashes Cinnamon (Optional)
1/3 cup Sugar (Optional)
Salt and Pepper to taste


*A couple of notes before we start. The stewed tomatoes are optional. I add them because I like them in my sauce. If you build a base sauce without the pasta sauce you can add plain tomato sauce and tomato paste with the stewed tomatoes. Just spice the sauce heavily. It's much easier to use a premade pasta sauce though.
The Pancetta or Prosciutto end add a wonderful salted pork/ham flavor to the pasta sauce. It's totally optional but I find it works well. It was a tip given to me by a cook a few years ago that I have adopted and kept on with. You won't need much salt added to the sauce if you add this step to your sauce.
I also add a pinch of sugar and cinnamon to my sauce. The sugar helps tone down the acid in the tomato sauce. If you have heart burn you might want to think about adding sugar to your sauces. I add a touch of cinnamon for a unique angle to my sauce. It will make your sauce smell like cinnamon but does not overwhelm or dominate the sauce. Believe me when I say, I know how weird this sounds. It's just and interesting option that I happen to like when balancing the salty meats added to the sauce. Sweet and Savory.

Method: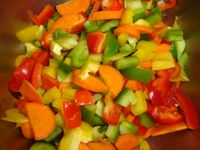 Wash all vegetables. Peel carrots and thinly slice them. Slice bell peppers in half and empty the cores. Cut the ends from the celery. Finely chop the peppers and celery and place in a bowl and leave on the side for now.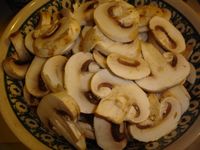 Next thinly slice mushrooms and place in a separate bowl an leave on the side.
Chop onions and garlic and very fine.
In a large pan or pot begin to cook ground beef or turkey on medium high heat with onions and garlic. Once the meat is fully cooked drain off any excess water and grease.
Reduce heat to medium. Add sauce, stewed tomatoes, spices, vegetables, and mushrooms.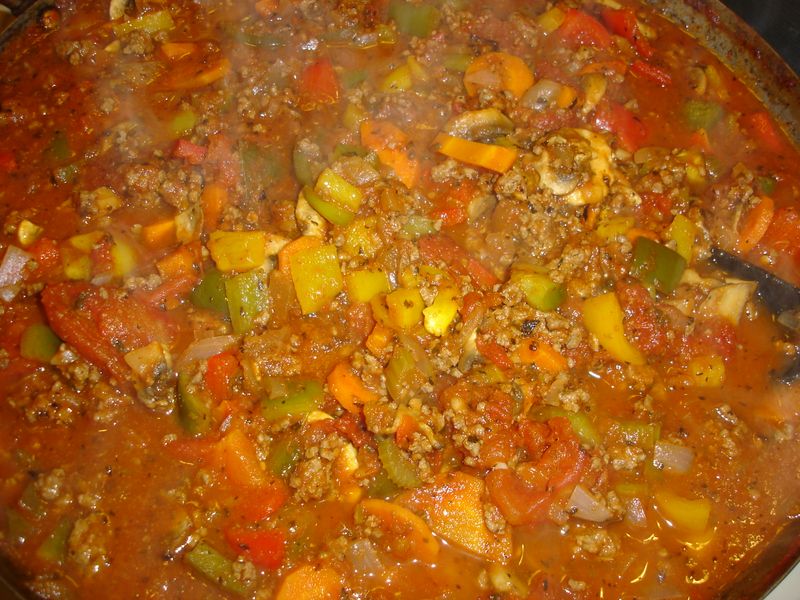 Allow the sauce to cook for a few minutes. Then add pancetta or prosciutto end and allow sauce to simmer for 20 to 30 minutes. Stir occassionally while simmering. Adjust heat to make sure you have a perfect small bubble simmer.

While the sauce is simmering begin prepping Garlic bread.
Once the sauce has simmered, remove pancetta from the sauce. Trim the fat from the pancetta and dice the meat and stir the meat back into the sauce.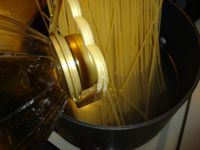 Allow to simmer for a few more minutes and then turn the heat off of the sauce. Begin boiling your pasta adding some olive oil and salt.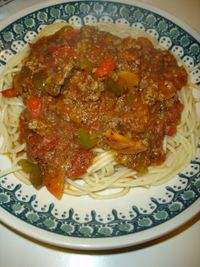 Once pasta is cooked, drain and add a touch more olive oil to prevent noodles from sticking. Plate the noodles and cover with copious amounts of sauce. Serve with garlic bread.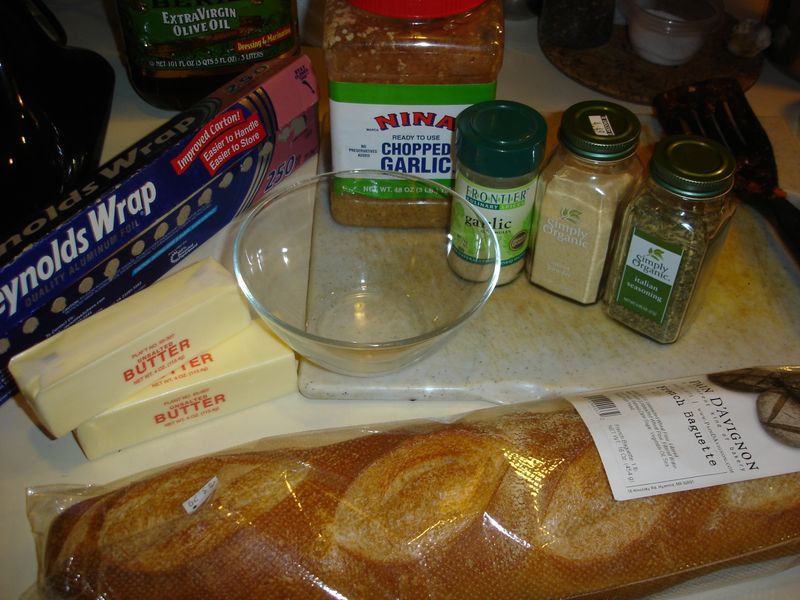 Garlic Bread

1 large French Baguette
1 to 2 sticks of butter (I used two because my baguette was large.)

1 tbls chopped garlic
1 1/2 tbls Italian seasoning
1 tsp garlic salt

1 tsp onion salt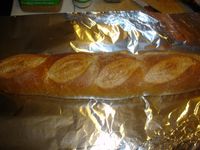 Preheat oven to 375° Slice baguette in two inch pieces without cutting all the way through. Place baguette in foil and slightly wrap it up in foil.
Melt butter in microwave. Add garlic and spices and mix well. Drop a teaspoon of garlic butter between each slice of the baguette. Coat the top of the baguette with remaining mixture. Finish wrapping baguette in foil and place in the oven for 15 to 20 minutes.