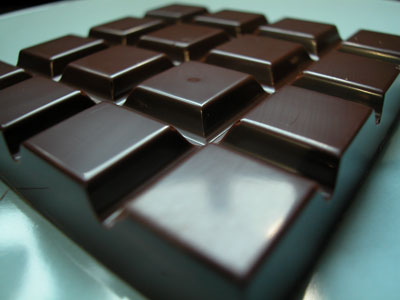 [Image via ansto.gov.au. This article is a fascinating article about the molecular science of chocolate.]


I have decided to thrust myself forward into the delicious world of chocolate. As I read more books, and gather advice from friends and people involved in the chocolate community, I am finding myself more and more fascinated.

Chocolate seems simple enough to get into as a hobby, you just eat it! As someone who makes the best chocolate cake you have ever had, and bakes all the time with chocolate, it seems like a natural fit for me.

However, it's not as easy as some would think however. Learning about say the fermentation of cacao beans, or delicacies of how each bean tastes from different regions is a lot of information to retain. It won't happen over night. It was like my journey with cheese when I worked in a high end cheese shop. I was put on the floor and started selling immediately and I didn't know anything about cheese regions, and varieties and all the nuances that impact the flavor of cheese. It was get what the customer wanted and ask questions later. I worked there for two years. And even until my last day, I still struggled with learning about the vast amounts of cheese. Partly because I spent all of my time in the bakery where the chocolate and the beer was!

After I left, I suddenly remembered everything. I was pissed about it too. Where was this so called retained information when I needed it for selling points to customers in the store? None of that matters now. I don't care if I ever sell it again. I do however, know exactly what I am looking for now.

This journey into chocolate for me I feel will end up being a lot like cheese. One day I am just going to be able to talk about chocolate without any prompting or having to reference my notes on flavor profiles and guides. I can sort of do that now, based on flavors, but I am still learning why certain chocolates have berry flavors, why there might by high or low acid contents, and what really happens when cocoa beans are fermented. It's a lot to digest. Literally and figuratively.

So what I thought I would do here, is take a variety of single origin chocolates that I written extensive tasting notes on and discuss them here. Review them. I will post them one at a time to give each one I review it's fair share of time.

These are my opinions and my own individual palate talking. An important note to make, taste is subjective. I cannot stress that enough. Everyone has different palates. They might not be able to taste certain flavors, or maybe they taste a dominating flavor too much. It's all relative because it is up to the individuals mouth.

This is a very good guide for understanding how to taste chocolate. Two sources from The Nibble. This is a good way to bulk up and get familiar with where I am going in the tasting of these chocolates.

Flavors and Aromas of Chocolate and Flavors and Aromas of Varietal Chocolate.

Also a quick note about bean varietals from All Chocolate.


So without further delay, let's get in to some chocolate shall we?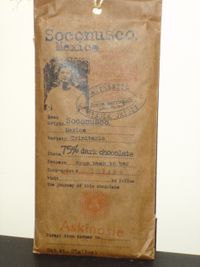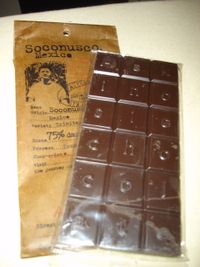 [Click images to enlarge.]

This first review is all about Askinosie. I first encountered them at the Great American Beer Festival in Denver a few years ago. I was very excited about a single origin chocolate company coming to a beer festival. I am so over wine and chocolate. Despite loving red wine, beer and chocolate is so much more adventurous and fun. It's nearly limitless with the possibilities for pairings.
Side note: Two of the most unique chocolate and beer pairings were Avery Brewing Co. Samaels, a 14.5% ABV Oaked English Strong Ale paired with Venchi Puro Cocao 75% Chili Pepper chocolate. The rich buttery oak and huge sweet malts, married well with the slow heat of the chili peppers and the chocolate wrapped everything on the palate up without being too robust. Even at 75%.

And Stone Ruination, a 7.7% ABV clean and robust DIPA with Elbow's chocolate covered Fleur De Sel Caramels. The hops cut right through the butteriness of the caramel and allowed fresh bittering hops to play with sweet vanilla and sugars. It was interesting and I never would have pegged this to work.

Askinosie can now be found at Formaggio Kitchen in Cambridge, Ma. for anyone who is local. I recommend ordering from Askinosie online though. FK puts 100% mark up on their products. Especially rare imports or hard to find items. To have them shipped from FK would be even more. They are however, one of the few places that carries some of these chocolates. You might have to take the hit on some of the prices if you can't locate them some where else. It's worth it in the long run, but you need to know that you are getting hit with huge prices.

This company works directly with the farmers. They pay higher than fair trade wages. They travel to Ecuador and Mexico and share 10% of the net profits with their farmers. They also work closely with the farmers about giving their input on the early stages and fermentation process of their beans.

They also use their own cocoa butters. From their site:
What's the big deal about your cocoa butter and your natural cocoa powder?
The big deal is -- we are the first small batch chocolate maker in the U.S. to press our own cocoa butter AND the only makers of natural cocoa powder. Our Natural Cocoa Powder is made right in our factory using the same beans we use to make our dark chocolate. We have a custom press in our factory that we use to make the cocoa press cake from chocolate liquor that we create with beans from San Jose Del Tambo, Ecuador and Soconusco, Mexico. The cake is then refined to a powder that is easy to bake with. It is an authentic single origin powder that is unsweetened and non-alkalized. The true flavor of the beans translate into a rich dark cocoa powder great for baking.
Our cocoa butter is also pressed in our factory using the same custom press as the natural cocoa powder and we are the only small batch chocolate maker to do this. But don't take our word for it. Emily "Duff" Anderson, chocolate guru for Zingerman's Delicatessen, writes--

When I found out that Shawn and his team from Askinosie are actually pressing their own cocoa butter from the San Jose Del Tambo and Soconusco beans, I was pretty impressed. This means that the "cocoa butter" on the ingredient list of the bars is coming from the same beans used to make the chocolate, which is pretty cool.
Soconusco 75%

Bean Origin: Soconusco, Mexico
Variety: Trinitario
Cocoa percentage: 75%

The Nose: It smells very smoky. The roasted chocolate aromas are very subdued compared the amount smokiness I picked up. There is a slight berry essence on the nose. It's very slight.
Texture: Smooth texture. No grittiness, slightly chewy and waxy.

The Taste: This is a progressive ride on the palate. Immediately you taste it and it's very smooth. Low acidity.


Side note: How you can tell if there is a high amount of acid in the cocoa or not, is by your neck. It's one of the ways that acid can stand out. If you get that sharp sensation in the gland area of your neck just below your ear and jaw line, that can indicate that there is too much acid in the chocolate. That can come from the fermentation process and lactic acid is one of the key factors among others that gives it that sharpness.

It starts off smooth and there is upfront bitterness that lingers into a citrus flavor, that then sort of morphs into a delicate berry flavor. It has a tangy flavor, but then mellows out in to earthy roasted finish. So much going on with this chocolate.

Despite this kind of roller coaster on the palate, it's very balanced and smooth as well as rich. It's very complex and a fantastic representation of Mexican chocolate. It shows how sophisticated Mexican chocolate can be. Mexican chocolate can be over looked or lumped in to a flavored category with spices added to the chocolate. I also adore any dark chocolate with high amounts of cocoa that makes me forget how strong it actually is. The balance of the flavors and control of the acid contents really contributes to this factor.
~~~~~~~~~~~~~~~~~~~~~~~~~~~~~~~~~~~~~~~~~~~~~~~~~~~~~~~~~~~~~~~~~~~~~~~~~~~~~~~~~~~~~
This type of result from Askinosie is why I personally prefer Italian chocolates. This is what you would expect from Italian chocolate makers. Even though Askinosie is an American company out of Missouri, I have to congratulate Askinosie on a job well done. This is good quality chocolate.

I have a slight bias when it comes to how the Italians make chocolate. Nearly everything I have had from Italian chocolate makers has this same kind of smoothness, and richness that allows the real flavors of the chocolate to come out and not be overtaken by shoddy processing of the beans. They care for it, they have mastered it, and it shows.

The French in my opinion have never mastered this when it comes to their bars or straight chocolates and single origin chocolates. But I will go on record and say I am not familiar with newer versions of single origin bars. I am ready and willing to have my mind changed. But I do not favor Cote d'Or (Belgian but the same quality as the French), or Valhrona. Maybe for baking, but not so much for eating. The acid contents again always hit my neck with too much force. They are however, masters of beautiful truffles, and superior with flavors in truffles.

I have yet to get into too many Swiss chocolates. If Lindt Chocolates is any sort of indication of what is superior to the Swiss, I might have a problem with them. To be fair though, you never know unless you go there and find little shops and hand made chocolates. Since I haven't been there yet or haven't had enough variety from them, I typically leave them out of the discussion. For now anyway.

The Belgians are considered the worlds master chocolate makers. I am not on this bandwagon. I appreciate their affinity for milk chocolates even some of the newer Dark/Milk blends (higher cocoa percentages to milk chocolate), but over all I feel like they fall in the same lines as the French. They make beautiful chocolates and have a great way of incorporating flavors, but pound for pound their origin chocolates, are no where near the quality of the Italians.

While visiting Germany a few years ago, in Bmaberg, there is a small chocolate shop there that specializes in making Aecht Schlenkerla Rauchbier truffles. Smoked beer truffles. They were delicious. They also had the best piece of Stollen I have ever had in my life. But while visiting I picked up a bunch of single origin bars. Sadly during all of the multiple stops and having to pack and repack my bag about 60 times, I left them behind somewhere. I hope it was a maid who cleaned up after us found them and enjoyed them.

I am quite sure these last opinionated paragraphs are fighting words to some, but I invite all to challenge this idea. Find chocolates and taste them, compare them and review them.

Be Advised: Once you get into tasting finer chocolates, it's a door you can open, but cannot close. I will leave you to experience that statement on your own.