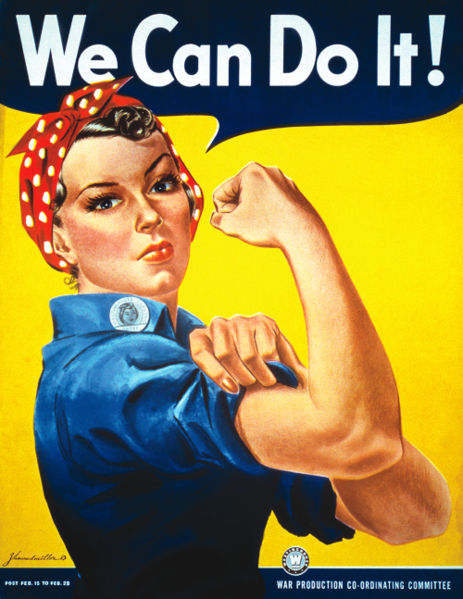 As I have blogged about before, I have been invited to sit on a panel at the Craft Brewers Conference this month here in Boston. The panel includes Sebbie Buhler of Rogue Ales, Teri Fahrendorf of Pink Boots Society, and Jodi Stoudt of Stoudts Brewing Company.

Our gracious moderator Sebbie, requested a few answers for some questions during the panel. Here are the questions and answers. I will make a few notes in the middle of this.


Beer According to Women:
How Women Brew, Present, Pair and Sell Beer (yes, gender matters!)


Sebbie Buhler, Rogue Ales (moderator - I asked the questions)
Candice Alstrom, Beer Advocate
Teri Fahrendorf, Pink Boots Society
Jodi Stoudt, Stoudts Brewing Co.


The panel will discuss issues related to women in the beer industry and women as consumers of craft beer, from the perspective of several women who are brewsters, retailers, and industry advocates. Below are the questions/answers we exchanged prior to CBC. I selected a two part question to ask the 2009 CBC panel members from the RealBeer 2002 American Beer Month roundtable that Daria Labinsky organized with Cornelia Corey, Lucy Saunders and Lisa Morrison. Their responses are in the footnotes, and online at http://www.realbeer.com/edu/abm/roundtable.php

a) Is there a reason to distinguish "women" beer drinkers from beer drinkers in general?
b) With women drinking 25 percent of the beer sold in the United States, does it still make sense to discuss beer in terms of what appeals to them as a separate group?

Candice a: Only when it comes to other women. In general there is no reason to distinguish women beer drinkers. Women should however, be the advocates and the ones reaching out to other women more often then men unless it's their husbands or boyfriends. Women should bring their girlfriends out to beer dinners, or beer festivals and other various social beer gatherings. Take the friends who may not be in to beer and expose them to fun happy gatherings and show them how social and fun they are. When you are having fun, you are more apt to try or like things you didn't before. Or at the very least be more open to trying new things.
Side Note: This is a good discussion about where women are with beer. Worth a read all the way through.

How Many Female BA's Are There?

This thread was the first time we have seen such an overwhelming response from female BA's. There is no real need to separate the genders but there can be a need to ask certain people or users to stop taking shit, making sexist jokes or generalizations about women even if they are lighthearted.

Normally when a thread appears on Beer Advocate about women, it's usually about how to get women to like beer more and the same typical shit happens. Some users make sexist remarks, men answer for women, and weak recommendations for beer like Lindemans (which tastes like Kool-Aid and even though is beer, is not a good representative as a gateway beer to say liking a hop bomb or a pilsner. Certain people do this because they think "all women like Smirnoff Ice and fruity drinks." Or they think it's funny.) All the meanwhile, the real women on BA sit on the sidelines and let these kinds of threads go because they either done with, annoyed, or disgusted by the answers they see. I can't say I blame them.

Yes it is a stereo type that women don't like beer all that much. Most stereo types are based on some truths, but it's changing so rapidly when it comes to women that the dialogue should change. No one should assume anything about anyone and give misguided opinions about what to drink.

There are many cases where it has been the women who got their men in to beers. They shouldn't be excluded. The way I discussed the answer, it's as though only men turn women on to beer and that is simply not true. It was an unintended effect. The rules apply the same to both genders who may not like beer. Take them out and expose them to what is out there and just maybe, they will change their minds. It's just usually better received from their friends of the same sex. Men and women both have these habits.

Candice b: I don't think discussing beer only according to women really helps all that much. If women feel like they need to have that, then be my guest. But the wide world of beer includes many facets and many opinions from men and women alike.

Teri a: Yes, first we must notice that women are drinking beer, and not just young women. Reaching out to this growing segment of the beer drinking population will need to take a different form than what has been practiced since the 1970's. Also, the aging population doesn't act old anymore. I have gray-haired widowed grandmothers who shop at the beer store where I work. They ask me to recommend IPAs, and they tell me, "The more bitter, the better." I've seen them depart with two mixed six-packs of IPAs in tow. That's12 different IPAs, and it's all for them! Now, I live in Portland, Oregon, but where Portland goes with beer, so goes the rest of the country. Or at
least Portland demonstrates the potential that is out there for beer sales and demographics.

Teri b: Women constitute 50.1% of the population. They are not yet 50.1% of the beer consumers, but the percentage of women beer drinkers continues to increase. As brewers, brewery owners, and brewery shareholders, we must respect that women are our customers. I think the large international breweries shoot themselves in the collective foot with their "Swedish Bikini Team" –style sex and skin advertising, including the nameless "Bud Girls" and the "Coors Light Twins." These ads may sell cheap beer to teenage boys, but they sure don't attract the growing ranks of women beer drinkers. Nor do they encourage beer to be taken seriously as an adult beverage. These ads only encourage beer to be consumed as a legal high.

For a taste of how gender-biased beer advertising has become, go to Google Images and search on these words: "Beer Woman," and "Beer Man." Beer Woman gets you lots of hot women draped across giant phallic beer bottles. Beer man gets you some dorky superhero costumes and fat guys. If you search on "Beer Ad," you see a few examples of old ads from the 1940's-1960's that were sex-neutral and seemed to respect everyone's enjoyment of beer. Of course some showed the little woman waiting patiently at home for her man, cold beer and slippers in hand.

Jodi a: No. There is no reason to distinguish, women like the same styles men like. The only distinguishing character is the palate.

Jodi b: No. Not as a separate group, but it is very important as a brewer to understand your demographics as a whole and pay attention to whomever is purchasing your product.


What was your most recent beer epiphany, what made you stop in your tracks and savor the sip?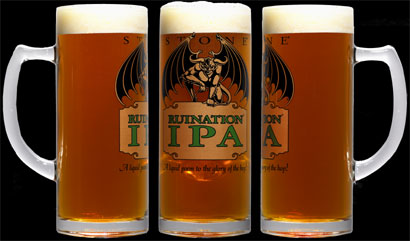 Candice: It was Stone Ruination at last years Beer Advocate American Craft Beer Festival. I was working too much and for far too long without having one sip of beer. This unfortunate situation had gone on all day. It was at the end of the Friday night session. Mike Saklad the regional Stone Rep. and personal friend handed me a full cup of 2 week old Ruination after the fest was over.

It was so crisp, so fresh and so refreshing. As it went down my throat, it felt like it was covering my entire rib cage with this cold, glorious, bitter nectar of the gods. It tasted so clean and was so refreshing, I thought I could hear angels in the background and a halo appeared over my head. Mike quite possibly saved my life at that moment.

I had already been familiar with Ruination, but it was like being reunited with a long lost love. I now continue my search for young, and über fresh Ruination.

There has been talk and video of a keg stand I did of Founders Kentucky Breakfast Stout at the last EBF, but that's a story for another day.

Side Note: Yes, the keg stand really happened. No, it doesn't respect beer at all. But in a nut shell, there were some harsh words exchanged earlier in the day, later a challenge and a dare was presented where my ego could not say no, and then a kegstand took place. It was a real let down too as I was only able to go for 5 seconds due to the keg being kicked and nearly all foam at the end. It was an embarrassingly short amount of time.

Teri: Olfabrikken Porter: The flavor went beyond the Baltic Porter style I was expecting. The chocolatey richness was due to some secret barrel aging that was not listed on the label.

Jodi: My first beer after giving birth to my daughter and thanking God that I was not pregnant anymore. Stoudt's Munich Helles Gold

What beer trends are you excited about? (wood, extreme, vintage, blends, etc.)?
Candice: I am excited for more lagers and brown ales. My palate is finally accepting lagers. I love biscuit flavors and sweet, bread-y lagers after visiting Germany. Alt beers are making an impact on me too. I am also looking for that next brown ale that will get me to stop talking about Ellie's Brown Ale all the time.

Teri: Wood-aged beers. Also Experimental beers that cross and crisscross style boundaries. One example is a draft barleywine from Oregon that I tasted recently: 2/3rds of the batch was your standard malt and hops, but fermented with lager yeast. The other 1/3 was made up of plums and brown sugar fermented with champagne yeast. Half the lager barleywine was then blended with all the plum wine, and then resplit into two barrels: a port barrel and a bourbon barrel. After aging, the two wood beers were re-blended, and then enough of the original lagered barleywine was blended back in until the right flavor balance was reached. It was lovely: complex, and delicious.

Jodi: Being a foodie I admire the challenges that brewers meet incorporating herbs, food/fruit and spices in beer. To have a final outcome of a well designed beer that sells great and tastes good is a challenge. Innovation and creativity separates you from the next brewer.

Do you think women beer brewers will take advantage of these trends?

Candice: If it is conducive to their brewery and their market they will.

Teri: Where they have creative input – absolutely. New Belgium's Loren Salazar has a huge impact on New Belgium's sour and wood-aged beers. Bend Brewing's Tonya Cornett is very creative with her beers, and has the medals and awards to prove it.
Jodi: All genders should take advantage of these trends. Who does not want to sell more beer? Even if it is a trend. Some trends have put brewers and breweries on the map.
Do you think these trends will attract more women beer drinkers?

Candice: If the beer comes out good, then it will attract men and women alike.

Teri: Yes – Flavor is what it is all about. These trends introduce new flavor profiles, outside of mainstream lagers and ales.
Jodi: No, they should attract both men and women.
What flavors or hooks are you looking for in beers -- for brewing, retail sales, or food pairing opportunities?
[Images via Randomduck on Flickr.]
Candice: For me it depends. When I was trying to match beers for a beer dinner where the theme was Aztec foods and ingredients, we brought a few braggots out to taste. They were to represent a fermented honey drink Aztec priests would drink. One of the braggots we tasted was from The People's Pint called Slippery Slope. It had virtually no characteristics of a braggot. The ginger was so dominating and something I didn't want to drink more of. But watching the chefs taste this beer, they were very excited about it. You could see the wheels turning over their heads as they were thinking about what food ideas they could come up with for this beer. Japanese themed dinners came to mind. That changed my mind about what could be done with that beer. I would probably like it with Japanese food.
Overall, the most important thing is Balance.

Teri: An old-fashioned flavor sensation that's been out of favor for a while: It's called balance.

Jodi: A true-to-style, well balanced beer that tastes good. A clean, consistent quality product matters. Sure, all of the above are pertinent, but what it really comes down to is what you are drinking.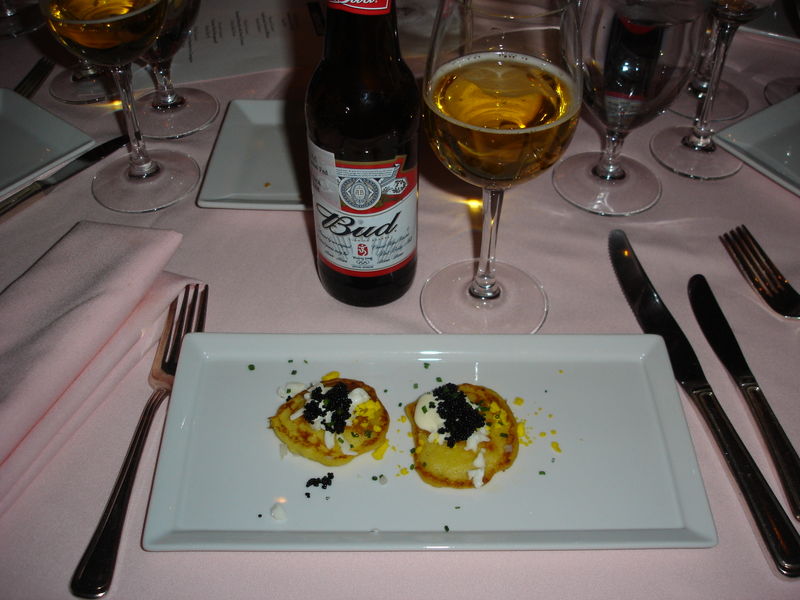 [Image via From Russia, With Love beer dinner. Course is Corn Blini's with caviar, a traditional set up of boiled egg and creme fraiche, paired with Bud sent to us from Russia. It is sweeter and maltier and has less of a husk or grain taste on the finish. Excellent pairing.]

Are food and beer pairings more important for attracting women beer drinkers than men beer drinkers?
Candice: I think it's more important for attracting NEW beer drinkers. And it's important to make that distinction because gender doesn't really matter in this case. But for people who are new to beer or want to explorer it more, food can really open up a palate to beer.
Teri: As a percentage of total beer drinkers, I believe food and beer pairings are more important for attracting women beer drinkers. Many men are also interested in food with beer, but I believe a higher percentage of men beer drinkers are interested in beer for the buzz. That's certainly what the international breweries' ads directed at men have promoted.

That said, young women and men have more co-ed friendships than they did 30 years ago. Encouraging young women to socialize with their male friends while enjoying food and beer, could temper the male tendency to drink beer without food.

Jodi: I do not believe so. Out of respect for the food and the beer, you should choose which ever would compliment the the dish and the beer the best. Really has nothing to do with gender.
Are beer dinners likely to attract women beer drinkers?
Candice: No more than men. I still see more men at beer dinners than women, but I am working on changing that.

Teri: Yes, as well as male beer drinkers. And hopefully both will invite friends of the opposite gender to join them.

Jodi: I think that they attract both men and women. At Stoudt's beer dinners, we actually have had more men attend then women.

What mistake did you learn the most from?

Candice: That there is a language barrier when it comes to slang in Germany. Just ask Harry Schumacher! (seb: of Beer Business Daily)
Side Note: A hilarious story took place while on the Beer Writers Tour of Bavaria in 2007. A miscommunication of slang led one of our tour guides to believe that Harry Schumacher was actually mentally handicapped. At first we dismissed it and laughed it off that maybe the tour guide didn't even notice, but then Harry was given special assistance on to our tour bus. He will never live it down.


Teri: Don't underestimate young men and their beer choices. I've been astounded at the number of just turned 21-year-olds, both men and women, who visit the beer store and invest a significant amount of money in very high-end beers. I've also been surprised to see what single moms of teenage sons are buying. One mom bought a mixed six-pack of very expensive beers, including Goose Island's Bourbon County Stout, to share at home with her son. This mom told me her relationship with her son had improved dramatically
since she began their weekly beer tasting sessions together. She was proud to report that her son doesn't seem interested in cheap beer abuse, because his taste buds are now conditioned to more flavorful beers. This divorced mom of a teenage son is a craft beer customer, and I've met several moms who have independently discovered this path.
Jodi: That you should never open a manway on a mashtun, even if it is dripping ever so slightly, without looking into it first. Also, that is can rain anytime. Especially at Fenway Park.
What is the most surprising thing you've noticed in the last five years regarding women beer consumers?
Candice: All of the hop heads. Women love hops!
Teri: Only that the international mega-breweries continue to ignore women beer consumers, or worse, insult us.
Stereotypes suck, but let's flip-flop the whole mega-beer advertising thing for a moment with a mental visual: Imagine, Joe 6-Pack. He just got home from work. He drops his lunchbox or briefcase on the kitchen counter, pops open his favorite beer, and sits down to watch a few minutes of TV before dinner.
On comes an ad, you know the one, with a nice-looking middle-aged woman sharing an oatmeal stout with two friends at a sports bar, they start arguing something about "Tastes Great, Less Filling," when suddenly the Swedish Speedo team drops down from the ceiling: Three hunky young bodybuilders in G-strings, bearing 6-packs of light frothy beer, beer that is neither great-tasting nor less filling because of the excess carbonation.

Now remember Joe 6-Pack. Just how do you think that visual affects Joe's feelings about the beer in his hand? I just hope he was drinking an oatmeal stout!

Jodi: That both men and women are becoming more educated and care about what they are drinking. I really do not hear people calling it an Indian Pale Ale anymore. What a relief!

If you were building your own brewery/pub today,
a) what would you do differently (than where you have brewed in the past, and the beers you have brewed)
b) how would you differentiate your beers and brand from the other local and national brands.

Candice: n/a
Teri: a) When I began my professional brewing career in 1988, and was given the responsibility and opportunity to design beers in 1989, I created what was then cutting edge beers. These included every world beer style that I could read about, but couldn't buy, as nobody was brewing them commercially or importing them. The first commercial IPA I ever tasted was mine, and I intentionally recreated a traditional (not modern) English style IPA with American ingredients, which wasn't being done much in those days. Then I experimented with grains, fruit and combinations that nobody had done yet. Now IPAs and Rye beers are nearly ubiquitous.
Today the cutting edge moves farther away from tradition. If I worked for someone else, I would be mindful of my responsibility toward them and their trust in me, and I would play it safe.

If I owned my own brewery, I would take greater risks: I would include a barrel aging room. Maybe two barrel-aging rooms, so that one room's barrels could be inoculated with brettanomyces without affecting any other beers accidentally. I would collaborate with winemakers, still spirits makers, cheesemakers and bread bakers. I would experiment with incorporating more food ingredients, crazy stuff, maybe wild mushrooms, like a chanterelle beer. And I would ferment with crazy things, like blue cheese culture. Of course I would have a lab and QC/QA program to keep order where necessary.

Teri b) I would take a page from the high-end winemakers marketing playbook: Expensive, rare, sublimely delicious, and collectable for aging.

Also, I would blend beers, and design beers specifically for blending, in order to expand the repertoire of flavors I could achieve in a single finished beer. My experiments may expand what is commonly thought of as beer, blurring the boundaries with other beverages. My beer experiments would definitely link to food, as beer is good food. I'm a huge proponent of balance, so, taking a page from Frank Lloyd Wright's playbook, in addition to designing the beer, I would want to design the ambiance and the whole meal; everything that could contribute to an ultimate beer and food pairing experience.
Jodi: I would absolutely, without a doubt, put in a silo.

I would continue to make cutting edge craft brews that my customers enjoy and expand the repetoire of beers to keep the clientele happy.

--------------------------------------------------------
Question 1, the 2002 response from Lisa, Cornelia and Lucy.

Why differentiate women beer drinkers?
During American Beer Month 2002, four members of the majority gender in the country shared some of their beer knowledge with Real Beer. We concluded with a roundtable discussion led by Daria Labinsky.
Daria Labinsky: Is there a reason to distinguish "women" beer drinkers from beer drinkers in general? With women drinking 25 percent of the beer sold in the United States, does it still make sense to discuss beer in terms of what appeals to them as a separate group?
Lisa Morrison: If beer companies want to actually attract that 25 percent of the beer-drinking population, than, yes, they should pay attention to them. They should be concerned with what appeals to women.
Here are some hints: Focus on THE BEER. If you have a good product, you don't need a bikini to sell it. Women are pretty savvy consumers. We do the majority of the shopping in the majority of households. We seek value, quality and consistency.

Cornelia Corey: I don't think you need to appeal to women as a separate group. I do think that better marketing could be done to portray beer as a beverage for every adult. The macrobrewers' rarely mention the beer - it's all about what other wonderful things can happen to you if you drink that particular beer. Seldom is the message simply drink this because it's good.

Lucy Saunders: Only from a marketing standpoint. The brand builders target malternatives to women more than men, for example. It's difficult to recall an ad that shows women enjoying glasses of oatmeal stout in a relaxed, low key environment. But this weekend, I saw three women doing just that in the ale house beer garden at the Norwich Inn in Vermont.
http://www.realbeer.com/edu/abm/roundtableb.php
--------
Other Links:
www.terifahrendorf.com/pink-boots-society.htm (Teri!)
www.stoudtsbeer.com (Jodi, Carol et al)
www.beeradvocate.com (Candice's hub)
www.bellaonline.com/articles/art35902.asp (a nod to Jodi, Denise & Carol!)
www.realbeer.com/edu/abm/corey.php (Cornelia, Beer Drinker of the Year!)
www.beerlass.com (In Pursuit of Ales, Suzanne Woods Philly area ladies beer club)
www.lefthandbrewing.com (Ales 4 Females club)
www.womenenjoyingbeer.com/
www.cookingwithbeer.com
http://appellationbeer.com/blog/fantasy-beer-dinner-5-lisa-morrison/
www.roguechocolatestout.com
http://aleuminati.ning.com/group/womenwholovebeer
http://www.drinkfocus.com/articles/beer/women-and-beer.php

Women and Beer: The Facts. Here are some facts about women and beer:

* The sale of beer to women is a growing market.
* Women currently acount for 25 percent of beer consumption in the USA.
* Women between the ages of 21 and 30 are drinking more beer than women in other age groups.
* Beer drinking among women in the 50-plus age group is on the increase, a fact that has not gone unnoticed among beer advertisers worldwide.

Cheers,
~ Sebbie / [email protected]
www.RogueChocolateStout.com