This is a little easy trick my mom used to make for us as kids. It's so simple and delicious and perfect for the warmer months.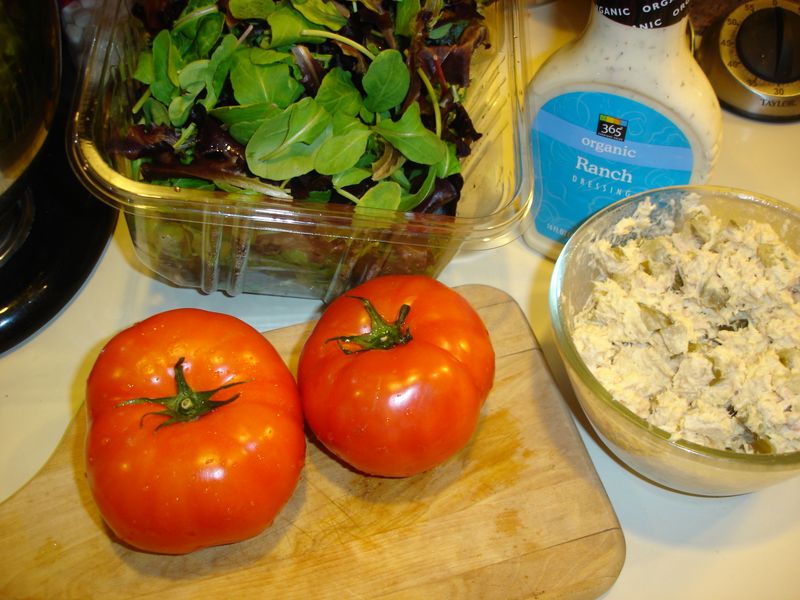 Tuna Salad Stuffed Tomatoes
Serves 2 to 4

Sweet Pickle Tuna Salad

2 cans of albacore tuna
1/2cup finely chopped sweet bread and butter pickles (not relish)
4 tbls of Mayonnaise
1/3 cup of finely diced white onion
1/3 cup of finely diced celery
3 dashes of celery salt
1 tbls yellow mustard
1 tbls grainy mustard

Mix all ingredients in a bowl making sure all is blended in and the mayonnaise has coated everything. Use more or less mayonnaise as you see fit.

Stuffed Tomatoes

2 Large tomatoes (Heirlooms if you feel like taking the price hit. They do taste the best, but cost the most.)

Mixed baby greens
Ranch Dressing (or Honey Mustard dressing)
Croutons (optional)

Place mixed greens on a small plate as base for the stuffed tomatoes.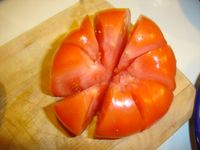 Core the top stems from the tomatoes. Cut tomatoes into 8 slices without cutting all the way through the tomato.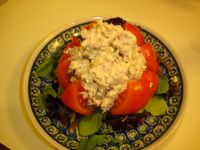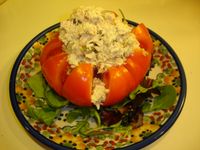 Stuff tomato with tuna salad. Dress with ranch dressing and garnish with a few croutons around the plate and serve.

Easy spring and summer lunch or dinner ideas. And you got to love dinner ideas that only need a small salad plate to be served on. It's a very filling meal without making you feel heavy and gorged.



Beer Pairing Suggestion:

A nice clean pilsner is recommended. Fresh tomatoes and pilsners are made for each other. The tomatoes help bring out a sweet flavor on the beer. Czechvar or Neumarkter Lammsbräu are recommended. You can get the Lammsbrau in the states, but I am pretty sure they come in different bottles than the one shown in the link. It looks like their Edelpils bottle.

Read about Lammsbräu Sustainability. They are a bio/organic brewery doing so many amazing things that they put nearly all organic breweries to shame. Yes including New Belgium as amazing as they are. They run their trucks on salad oil, bought the farms north and south of them to control the water and clean it so that fresh water is brewing the beer, and they use all organic malts and hops. The pilsner is also very crisp, fresh and very hoppy. More so than the average pilsner. This is good for fish oils. Alpha acids in hops can get through tough fish oils like oils in cheeses. It cuts right through and allows the true flavors of the grains in the beer and the true flavors of the fish and cheese to come through. It's brilliant.