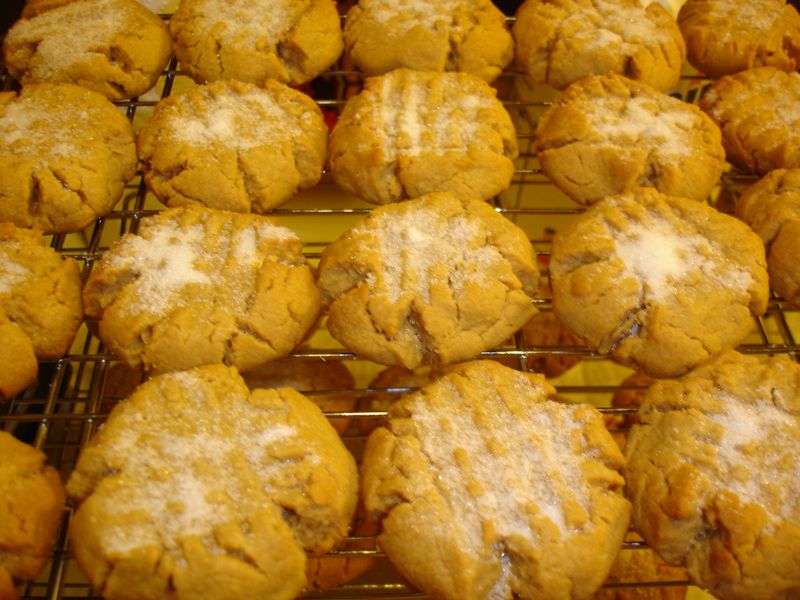 This ain't yo mama's plate of cookies and milk!

If you are a lover of fine beers, then you probably already know how awesome peanut butter cookies and porters are.

If you don't know how good it is, please allow me to break it all down for you.


So last week on Twitter, Logochannel posted a recipe for their favorite peanut butter cookies. I decided to give them a day in court. I also had some delicious Mayflower Porter on hand.
Side Note: I meant to post this recipe and pairing last week as well, but haven't been able to get around to until now. Also sadly I didn't realize that the quality of my images this time around are very poor. I snapped my pics quickly and they looked okay on my image screen, but low and behold they came out in poor quality.

Whole Jar Peanut Butter Cookies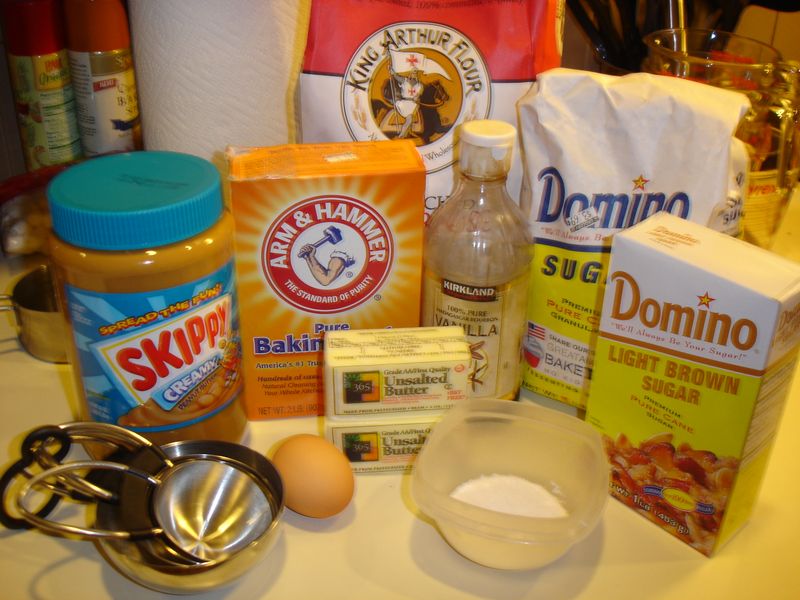 Ingredients:
1 cup butter, softened

1 cup white sugar

1 cup packed brown sugar

2 eggs

1 egg yolk

2 teaspoons vanilla extract

1 (18 ounce) jar peanut butter (or 2 1/4 cups)


2 cups all-purpose flour

1 teaspoon baking soda

1/2 teaspoon salt

1 cup chopped peanut

s (optional)

Directions:





In a large bowl, cream butter, white sugar, and brown sugar until smooth.






Add the eggs, yolks, and vanilla; mix until fluffy.






Stir in peanut butter.
Sift together the flour, baking soda, and salt; stir into the peanut butter mixture.
Finally, stir in the peanuts. Refrigerate the dough for at least 2 hours.

Side Note: I didn't use peanuts. For some reason I do not like chunky peanut butter or peanuts in peanut butter cookies. Plus I only had walnuts and pecans, but no peanuts anyway.

Preheat oven to 350 degrees F (175 degrees C). Lightly grease a cookie sheet.
Roll dough into walnut sized balls. (Mine were a little bit bigger than walnut size.)
Place on the prepared cookie sheet and flatten slightly with a fork.
Side Note: I always sprinkle sugar on the tops of my peanut butter cookies. I also use a wet fork to press my cookies with a fork. After the cookies are done baking. I add a touch more sugar to the tops for a nice appearance. I do it while they are still hot and cooling so the sugar sets on top.


Bake for 12 to 15 minutes in the preheated oven. Cookies should look dry on top. Allow to cool for a few minutes on the cookie sheet before removing to cool completely on a rack. These cookies taste great when slightly undercooked.
[These two should have been my money shots and they ended up blurry. I am super pissed about it.]
This a wonderful porter brewed by my friend Matt Steinberg at Mayflower Brewing Company. He was the brewer for Offshore Ales for quite some time, but then he left to come back to the mainland in 2007 to start up Mayflower Brewing Company.

Since then, one of my favorite session beers has been Mayflower Porter.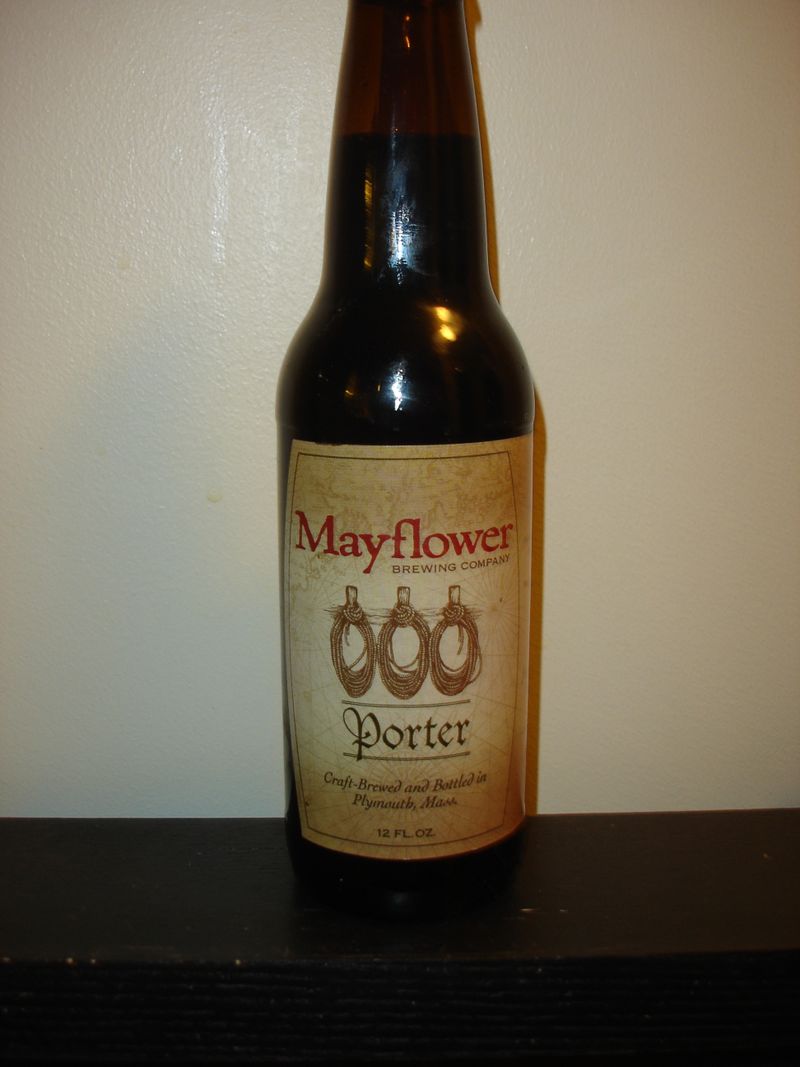 This porter is a rich brew and chock full of flavor. Rich coffee and chocolate notes. To me however, it is not very English like the style suggests, but is very much a robust American style porter. What that means is, the roasted malts are much more apparent in American style porters. They are much more rich and flavorful. They tend to be thicker and slightly heavier. It's not always the case with American versions of English porters, but in some of the best porters and brown ales coming out America right now, nearly all of them have these characteristics. English Porters tend to be a little thinner, and a tad lower in ABV.

I personally love it. So when you think of roasted coffee and chocolate flavors with a just a hint of bitterness, paired with a sweet and warm peanut butter cookie, it's absolutely to die for. This is how pairings should be. Each flavor stands up and marries each other without being trounced by one and other. This allows for the richness in the beer to come out even more, and the cookies help tame it to be a smooth drinking beer.

What I mean is, it's all flavor with this pairing, but not over bearing. The peanut butter allows the roasted malts and chocolate notes to stand out without being too much, and in fact makes it much easier to drink. If that's even possible on an already smooth and drinkable porter that's only 5.5% ABV.

I prefer the beer very cold. It will open up even more as it warms to room temp. I prefer it to be cold like a nice glass of milk with cookies, and then I want the beer to warm up by my own hands. I dislike cellar temp. beers. I need them to warm in my hands so that I can taste the progression and taste the beer open up. It's a quite an experience and you can learn a lot about a beers flavors this way. If they start out already opened up, a lot of times the beers become cloying and hard to choke down as they get warm and flat. The only time I find cellar temp. beer acceptable is with Real Ale/English Cask Ale. They are meant to be drunk and not sipped on. They are some true session beers. Have a couple of pints, they are not too strong and quite delicious.

The temperature issue is my own personal thoughts. You should enjoy beer however you want and at whatever temp. you prefer. I am sure many will disagree with me about what temp to serve a beer at, but this is how I like it, and this is how I learn about it.