I went to Las Vegas for my 30th birthday last October. While visiting and imbibing on food, gambling, and copious amounts of booze, I had an ultimate Las Vegas experience that ended with me seeing Alice Cooper playing live for a packed bar called Aces & Ales.

I must preface this and say it was an epic day, but it certainly didn't end up like The Hangover. And it didn't up like the last time I was in Las Vegas and got married completely shit faced. Yes, that is a true story. I was married in Las Vegas 5 years ago. I am living proof that if you get married the way you want to, doing it for fun and happiness and not doing it for all the bullshit, other people, and all the planning, it will last much longer than the $20k to 100K weddings.

It went down like this. My birthday was on a Friday and I got the fuck out of dodge (Boston), to celebrate such a landmark birthday and headed to Las Vegas. I had fun, I ate filet mignon and drank wine for breakfast in bed on my actual birthday, drank a lot of booze and beer, won $400 bucks gambling, and went to Hubert Keller's restaurant for a fabulous, but bank breaking dinner at Fleur de Lys in Mandalay Bay.

The Saturday after my birthday, we decided to hold a pub crawl with the local BeerAdvocates. Before we headed out to Vegas, the bar owner of Aces & Ales Keri Kelli, sent us a beermail (email via BeerAdvocate) telling us he owned this great new craft beer bar off the Vegas strip and that we had to come visit. He said he loved BeerAdvocate and would love it if we came and saw his place. He added that he was the guitar player for Alice Cooper, and that Alice was playing in Las Vegas while we were visiting. He mentioned that Alice Cooper might come in and visit the bar. It turns out that rockers are big fans of craft beer. The hangers on and the groupies still latch on to the PBR and Bud Light, but Alice Cooper and his band drink good craft beer.

Only after I got back from Las Vegas, did local brewer Will Meyers of Cambridge Brewing Co., tell me that Alice Cooper had been into CBC and sat down and had his beers. He said they were great. The whole crew came in and sat down and asked a lot of questions and drank good local American craft beer.

I don't care if you like Alice Cooper or not, the fact that he is a craft beer drinker and that one of his band mates owns a craft beer bar is unbelievable.

So we started on the Las Vegas strip because there is really fuck all for craft beer on the Vegas strip. A few places and then we went outside of the strip. We wanted to get it over with.

We started at The Pub in the Monte Carlo where we were staying. I started knocking back cocktails because I am not a full day beer drinker. I can't or I will get too bloated to continue on. It's unpleasant to talk about but it's the truth of the matter. Mixing it up can be a bad thing, but in my case it keeps me on the same page as every one else and allows me to continue on all day.

The Pub was cool because we met a few BeerAdvocates from the area and one of our long time friends named Uncle Jimbo from Boston, whom happens to love Las Vegas, randomly flew out just to party with us.
We then made our way over to Mandalay Bay where The Burger Bar is located. That is one of the only places on the Vegas strip where craft beer can be located. Lots of the casinos have one or two imports like Duvel, but the strip is a craft beer wasteland.
Not only did The Burger Bar have Stone Ruination and DFH 90 Minute IPA, which despite being able to get almost anywhere, was truly a godsend on the Strip, but they also had a collection of the Firestone Walker series. Only true beer geeks can appreciate how rare and awesome tasting 10, 11, and 12 at the same time really is. They also offered an array of beer floats with different beers. I appreciated this because beer floats are great.

After treating ourselves right to a good base of grease and meat, we then headed off the strip over to the Freakin' Frog. This is a total craft beer oasis in the middle of the barren dessert.
And before I forget, there was a pit stop before the Freakin' Frog at the Crown and Anchor British pub. Interesting place. Crappy beers, football (soccer) scores, and video poker machines. I kind of enjoyed it because I took time out to drink a glass of red wine to settle my stomach after those burgers and play some rounds on the video poker which it turns out I am pretty good at.
The Freakin' Frog also has a special room upstairs of the owners Adam Carmer's, private collection of tequila's, scotch whiskeys, bourbons, and other rare offerings which Adam generously offered us tastings of. I think my taste of the Rey Sol tequila, 100% pure blue agave, was like a $50 taster. Very generous indeed!

This part of the post will be a little bit tedious, but I urge you to click and enlarge each picture to see this rare collection.
The Monk.

The Tequila's. Some of the images came out a bit blurry, but you get the idea just by looking at them.
The Scotches.
The Bourbons and Rye's.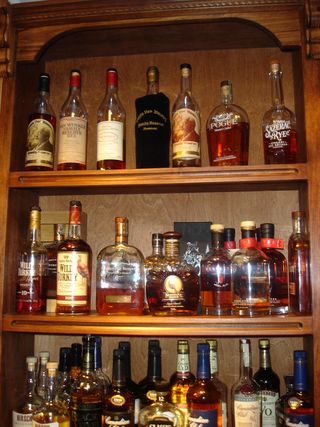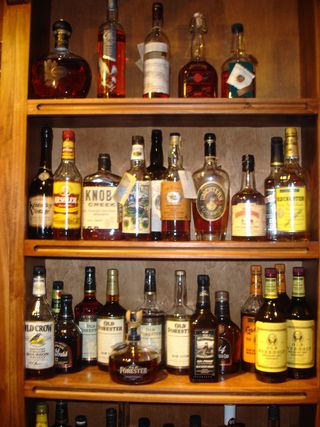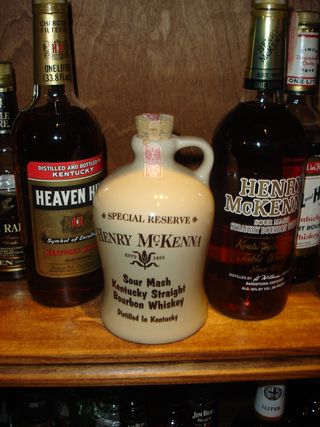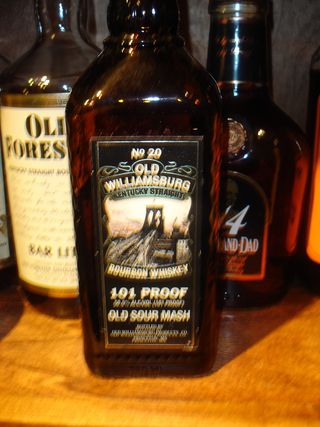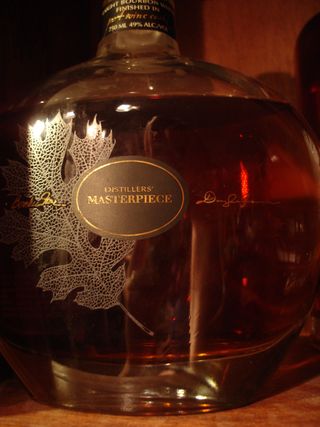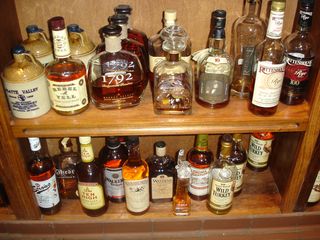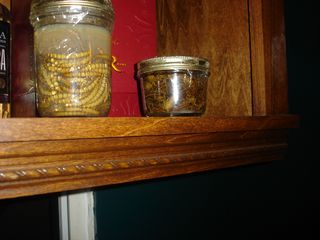 At this point it's fair to say we were all pretty well lit. Now we make our move to Aces & Ales.







We knew we were in the right place with a huge Deschutes barrel sitting outside.
So here is how this all went down. We show up and the bar is packed yet closed for a private event. We called the owners of the bar and they met us outside and ushered us into the packed bar. They took us off to the side in the VIP area for the night. They said "have whatever you want we'll be running around all night."

The next think you know, we got Stone Ruination's slammed in front of us with some Valley Brewing Co. beers, and bombers of Stone Smoked Porters. The place is completely mad and jam packed. All rocker types and they are looking at us like "who the fuck are you and why you are so special to sit in the VIP area?" So many groupie hoes around too, it was hilarious. We did meet some cool rocker guys who knew who we were and told us about how they will be opening a brew pub in L.A. soon. Good news for the L.A. area.

Bands are playing, Keri is on stage rocking out with some other groups. Next thing you know we were all kicked out of the VIP area because Alice Cooper was coming and he was going to make his entrance through that area. So we moved off to the side to the less crowded side of the bar. Sure enough, in walks Alice Cooper and he plays a few of his hit songs. It was incredible. He sounded so good live. He truly is a legend. And how awesome is it to be seeing a rock god playing live with a Stone Ruination in your hand? Life was good at that moment.

We went back to the hotel after this quick performance. We were going to hang out for a bit because Alice Copper left and the VIP room was opened to us once again. But then we heard it would be emptied out again because The Steve Miller Band was heading over. I would have liked to have seen that too, but we were all smashed and exhausted from a long day of drinking. Not that many stops, but some serious drinking.
A great time with great BeerAdvocates in Las Vegas. And the generosity from the Adam at the Freakin' Frog and Keri from Aces & Ales was unbelievable.
The next day was Sunday, which meant huge Las Vegas buffets to look forward to. Nothing better than being hungover and having booze to wake up to and a huge buffet. I love Las Vegas!
Sunday Brunch Buffet @ The Wynn, Las Vegas